So you're looking to get fireplace glass replacement.  The question: Is it worth getting the broken pane replaced, or should you just buy a new set of glass doors?  If you decide to just replace the pane of glass, will it match the other panes or just stand out like a sore thumb?
Bottom Line:
I recommend replacing the glass if:
The door's hardware will allow it.

  Many doors use an adhesive silicone strip that makes it very difficult to replace the glass; some doors use permanent clips that are very hard to work with.

Your doors were expensive or difficult to replace.

  If you spent a lot of money on high-end, custom doors that go perfectly with your living space, a new pane of glass will probably cost less than replacing them.
I recommend getting new doors if:
Replacement is not easy.

  Sometimes it's difficult to get to the hardware channel holding the glass in place.

Your doors are old or worn.

  If you're due for an update anyways, why extend the life of doors that look bad?
Your remaining glass is dirty and soot stained.  In this case, the new glass will stand out, and the whole set of doors will look odd and out of place.
Replacing the Glass: Tips
Before buying your replacement glass, clean your current glass thoroughly.  If your glass is stained with soot, remember that the clean glass will stand out.
Then, please contact a professional.  Ask about the time and cost commitment of replacing glass.  Remember, new fireplace doors start at just $200.
You may want to talk to the customer service team here at Brick-Anew about exactly how much new doors will cost you.  You may be surprised to find new doors are cheaper or the same price as glass.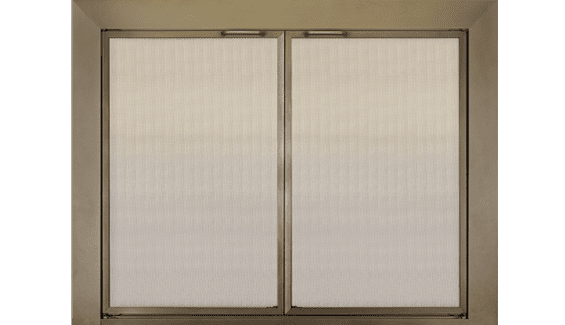 Don't forget to:
Get glass that is a minimum of

⅜ inch thick

.  Any thinner, and your glass will not withstand the heat of a fireplace.

Get

tempered

glass.  Tempered glass is more expensive than regular glass, but it has to be custom cut and heat treated.  Expect to pay anywhere between $50 and $100.  Tempered glass is made to withstand high temperatures; regular glass would shatter almost immediately next to a burning fire.
The pros: With certain fireplace doors, replacing the glass can be an easy fix that you may even be able to do yourself.
The cons: Many homeowners buy the glass, mess around with it for a couple of hours, and can't get it looking the way they want.  They end up needing new doors anyways.
Buying New Doors: Tips
If you're not sure about buying new doors, remember that they'll update your space and add value to your house.  Especially if your doors are worn or outdated, a new set can dramatically improve a living space.
If you've decided to get some new doors, here are the steps to find the perfect door:
Brick-Anew offers stock doors that can ship almost immediately after ordering or custom doors that have decorative styles to fit your living space perfectly.
The pros: New doors update your space and take less than half an hour to install.
The cons: Depending on your fireplace new doors may be a bit more expensive than just glass.
Fireplace Doors: Safety
Whether you're going to replace your gas or get new doors, you'll want to take the proper precautions.  It would be terrible if the glass breaks again.
Let's talk about the difference between fireplace glass doors and wood stove doors.  The glass panels on fireplace doors are made of tempered glass.
Tempered glass is heat treated.  It's strong and heat resistant.  However, it's only heat resistant to a point.
If you close your fireplace doors while the fire is burning, the firebox becomes a heat trap.  It will heat up to insane temperatures that tempered glass cannot withstand.
Keeping your doors open ensures proper ventilation, safety, and that the heat from the fire can flow into your room.
If you want to have a barrier between your house and the fire, invest in a mesh curtain or mesh doors.  These are made to stay closed while the fire burns and stop sparks, charred wood, and ash from escaping the firebox.
If you have a gas stove, pellet stove, or wood stove, your door is made of a ceramic glass panel.  Ceramic glass can withstand higher temperatures than tempered glass, and that door is made to stay shut.
So why not use ceramic glass on fireplace doors?  Stove doors are supposed to stay shut.  This increases the temperature of the firebox which radiates into the room from all sides of the metal unit.
Glass however, is not conductive.  So when your fire is burning in a firebox, the only way heat can warm the room is through the front.  Blocking the front with glass means all the heat will stay inside the firebox.
Ceramic glass is also much more expensive than tempered glass.  With a wood stove designed to be a primary source of heat, this is worth the investment.  However, on fireplace doors that should stay open anyways, it's a waste of money.
So remember, keep your fireplace doors open!  This will ensure the safety of the glass and your family by maintaining proper ventilation and temperatures.
Fireplace doors when used properly increase the overall safety of the fireplace.  Especially for young children or aging seniors, fireplace doors are a great safety investment.
Final Thoughts
Broken glass on fireplace doors is always a frustrating experience.  But it can be a great opportunity to get some new doors to update your space.
If you decide to get new glass, relax and make it a fun DIY project one afternoon.  Enjoy your fireplace all the time, even during the maintenance process.
Related Posts