BRICK-ANEW
COLOR GUIDE
Choose the right Brick-Anew paint color for your fireplace
3 DESIGNER COLOR SCHEMES TO MATCH ANY DECOR
Your brick fireplace should perfectly compliment the decor in your home. That's why we've consulted top-class designers and used the experience of professional painters to select the 3 color schemes—Twilight Taupe, Misty Harbor, and Frosted Sunshine—for the Brick Anew Fireplace Paint Kit. You'll notice Brick Anew fireplace decorating specialists say "color schemes" instead of "colors" because each fireplace paint kit comes with 4 shades of a paint and a glaze formulated to adhere to your brick and withstand the heat from your hearth. Look over our Brick Anew fireplace paint color palette and then select the one that's right for you on our ordering page. With Brick-Anew, you'll find red brick fireplace painting has never been easier.
Which color scheme should I choose for my fireplace?
Not sure which color scheme is right for you? The good news is there's really no wrong choice; all of our themes do a wonderful job of brightening your room and each result is unique due to the way the paint brings out the natural details of your brick. However, in order to produce the best possible results for your fireplace makeover, answer questions these questions and then browse the color descriptions and photos below to find what color is the best fit for your decor.
What type of flooring do you have? What colors are in your carpet, hardwoods, or rugs?

What color are your walls?

What color and type of furniture do you have in the room?

Do you have window treatments or curtains?

What colors are your countertops, cabinets, and walls?

Do you tend to decorate with tan and taupe, light pastel colors, or shades of gray?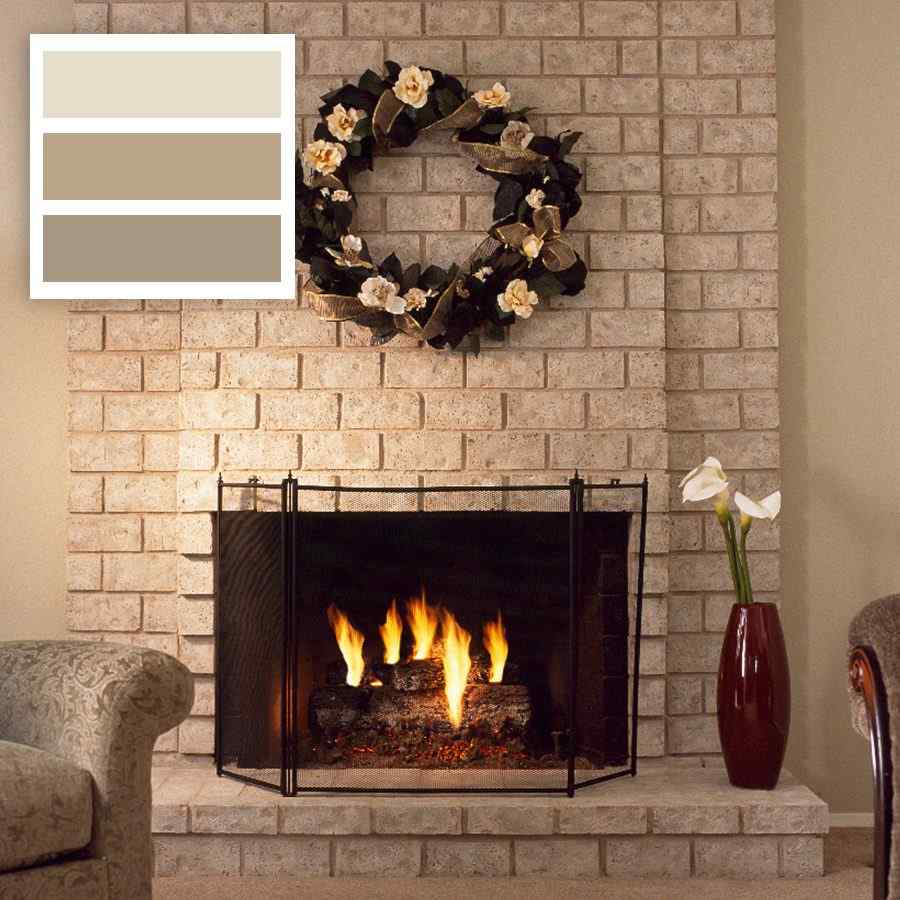 Twilight Taupe
Tan, Beige, Cream
Description: The Twilight Taupe kit has a base coat of  light taupe with undertone colors of  tan, beige, and cream. This color combination works well with brown and tan hardwood floors and woodwork. If you have tan or beige carpet and warm tones in your decor, twilight taupe will complement your room nicely. Think warm and fresh.
Works with: Brown/tan hardwood floors & woodwork, tan/beige carpet, decor with warm tones, and anything with tan, taupe, beige or medium color tones.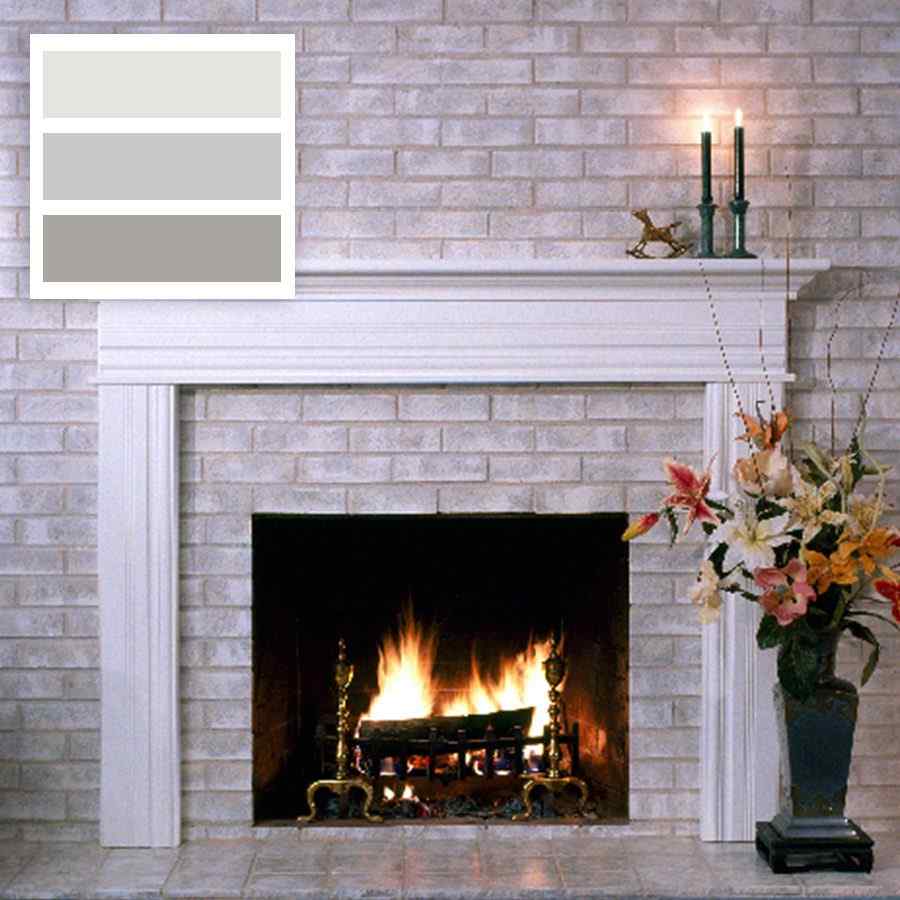 Misty Harbor
Gray-Beige, Tan, Ivory
 Description: The Misty Harbor kit has a cool light gray base coat with undertone colors of tan, gray-beige and ivory. This color works well with wood floors and carpet  with gray tones as well as decor that incorporates shades of gray. Think modern and cool.
Works with: Wood floors, carpet, and furniture with gray tones. Matches well with contemporary designs and cool color tones.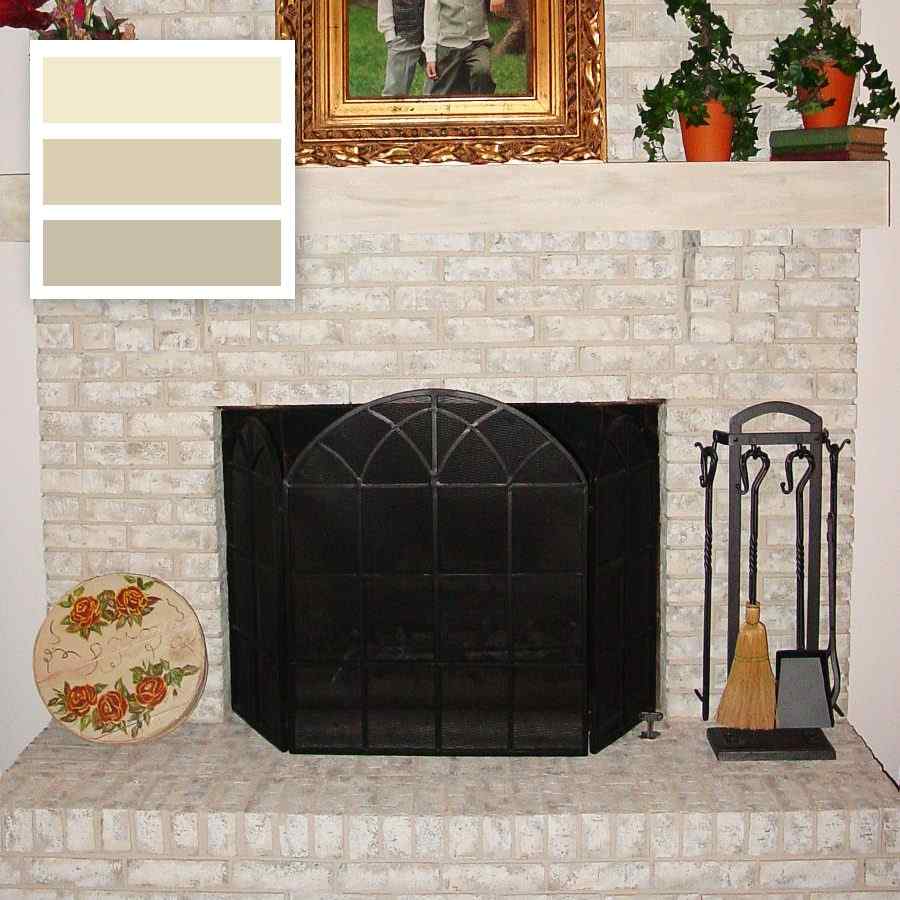 Frosted Sunshine
Yellow, Cream, Light Gray
Description: The Frosted Sunshine kit has a base coat of tan with undertone colors of  light gray, light tan and yellowish cream. This color works well with cream or yellowish walls and light colored decor that incorporates creamy yellow undertones.  Think light and airy.
Works with: Cream/yellowish walls, light colored decor, and anything with lighter colors like pale yellow or light tan.
Help! I'm stuck between two colors!
Give us a call or send your questions to sales@brick-anew.com and one of our fireplace specialists will be happy to assist you!
BRICK-ANEW FIREPLACE PRODUCTS