BRICK-ANEW GUIDE
HOW TO PAINT YOUR BRICK FIREPLACE
IN 5 EASY STEPS
Clean Your Fireplace
Get rid of all dust, dirt, loose mortar, and soot on your brick. This ensures that the base coat/sealer completely bonds with your brick and lasts for years to come. You can try using soap and water or household cleaners, but we recommend our Fireplace Brick Cleaner. It is formulated to dissolve the toughest creosote and ash residues without containing dangerous acids. No need to worry about stains on your brick since they will be covered by the Fireplace Brick Base Coat/Sealer.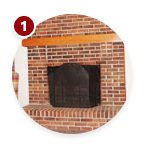 Apply the base coat/sealer.
After taping off your fireplace, paint on the base coat/sealer over all your brick and mortar using the included paint brush (see everything Brick Anew Fireplace Paint Kit includes for your complete fireplace makeover).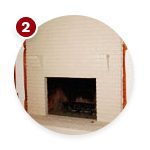 Apply the color.
Use your small roller or sponge to apply color (choose your fireplace paint color first) 1, followed by the glaze, color 2 and color 3, letting the paint dry between each step. The easy to follow written instructions and tutorial video will show you exactly how and where to paint to make your work look like a professional did it.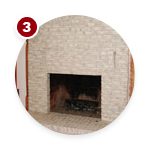 Apply the clear matte finish.
Apply the optional Clear Matte Finish after allowing the paint to dry completely. Voila! You're done. Replace your accessories, light the fire, and enjoy the beautiful fireplace you've created. You'll kick yourself for not doing it sooner.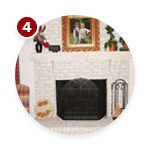 Enjoy your beautiful new fireplace.
Here is the final look – brick with the look and feel of real brick. Note: If you have a question in the middle of your fireplace painting project, send us an email even if it's the weekend or after our regular office hours and we'll be glad to help.