How To Measure For New Fireplace Doors
Determine which type of fireplace you have.
When you are looking to add or replace your fireplace doors,  you want to get the perfect fit. In order to get that perfect fit it requires just a simple amount of instruction.
Before measuring, determine if you have a prefabricated (Factory built) fireplace or a masonry (all brick) fireplace.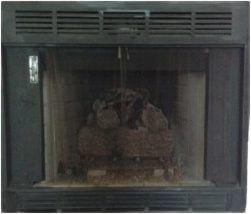 PREFAB
(Inside of fireplace is made of sheet metal)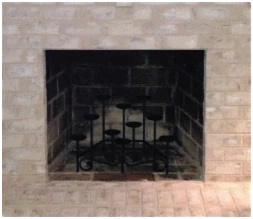 MASONRY
(Inside of fireplace is made of real brick)
How To Measure For Masonry Fireplace Doors
Measure in two places for each dimension. (left/right side for height – across the top – across the bottom for width)
When placing your order use the smallest measurement.
We are always here to help you in this process and will take the time to get your doors right the first time.
For a complete list of how to articles, guides, tips, tricks, and other information related to fireplace doors, check out our Fireplace Door Information Center.
How To Measure For Prefab Fireplace Doors
When placing an order for a prefab fireplace door, we require that our customers send a few measurement photos to help ensure that your door will fit correctly. If you have located your model number, you will only need to send us your fireplace width and height measurements. Please follow the instructions below on how to take proper measurement pictures.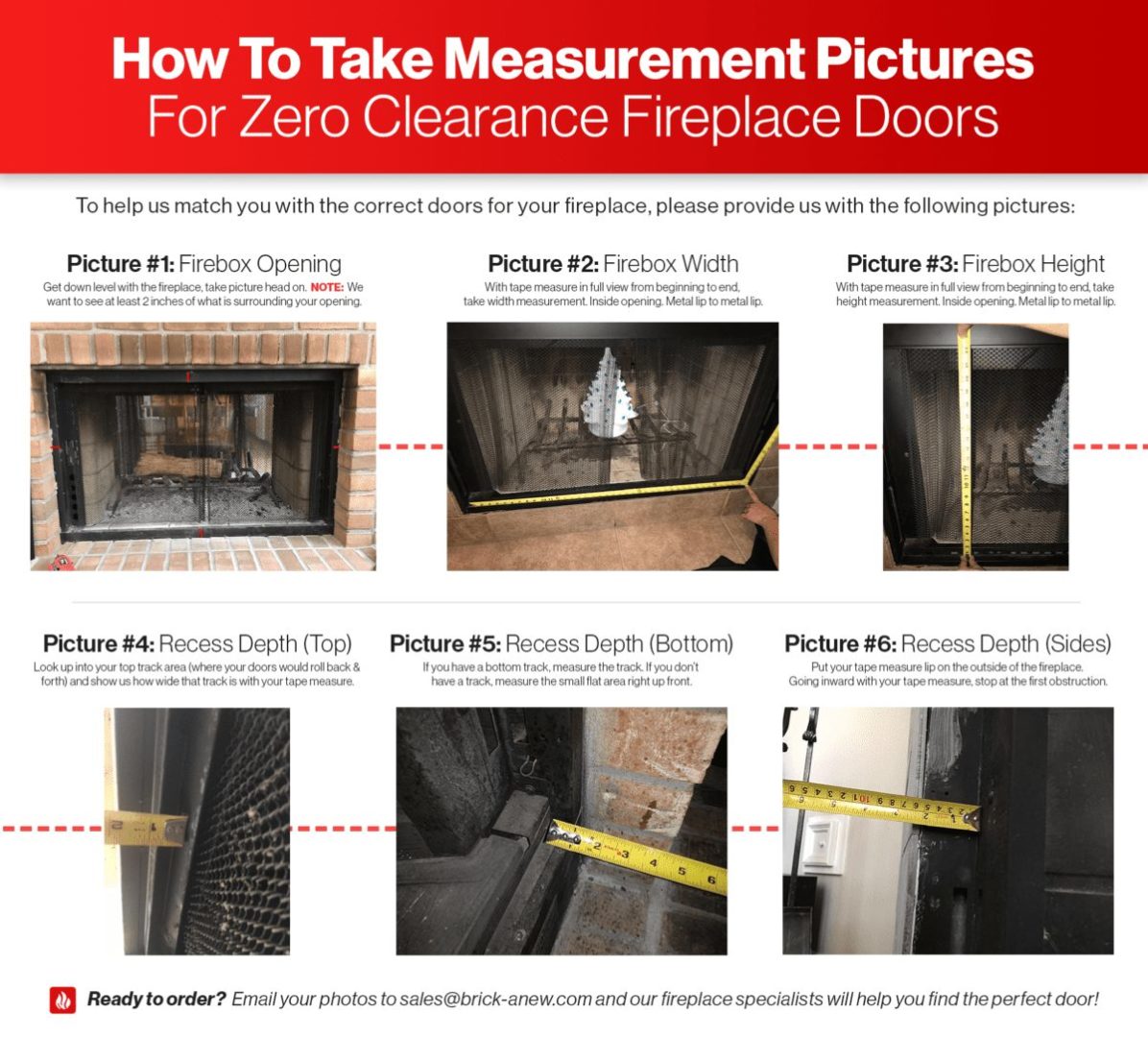 How To Take Measurement Photos
(If you know your fireplace model number, just send us pictures #1-3)
Firebox Opening
Get down level with the fireplace, take picture straight on, up close.
*We want to see at least 2 inches of what is surrounding your opening.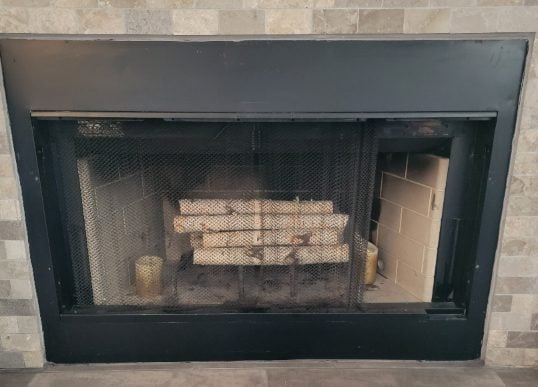 Firebox Width
With tape measure in full view from beginning to end, take width measurement. Inside opening at the front of your firebox. Touching black metal to black metal. If you have raised screwheads on the sides right inside your firebox, touch screwhead to screwhead.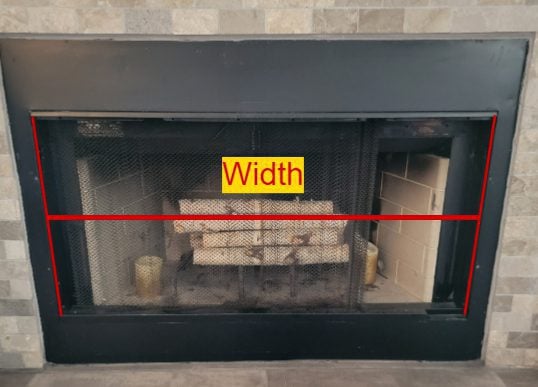 Firebox Height
With tape measure in full view from beginning to end, take height measurement. Inside opening. Metal lip to metal lip. You may have a track in the top and or bottom. This track will be removed prior to installing the EZ Door Series doors. You will remove the track(s) and take your measurements as shown.
*If your fireplace model number is listed feel free to place your order after measuring. If we find a discrepancy in your dimensions we will email you for additional information. We double check everything!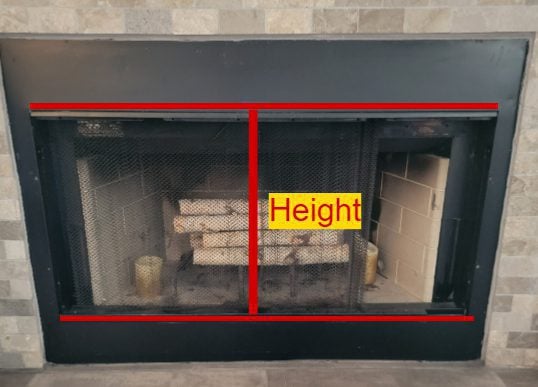 Recess Depth (Top)
Look up into your top track area (where your doors would roll back & forth) and show us how wide that track is with your tape measure. Note: This fireplace has a strip of metal that would be an obstruction for some fireplace doors. It is important your stop at the first obstruction and measure. If you do not have an obstruction, you will measure to your mesh curtain rod inside the firebox.
Recess Depth (Bottom)
If you have a bottom track, measure the track. If you don't have a track, measure the small flat area right up front. If you have a track that can be removed, remove it and then measure the recess depth as shown.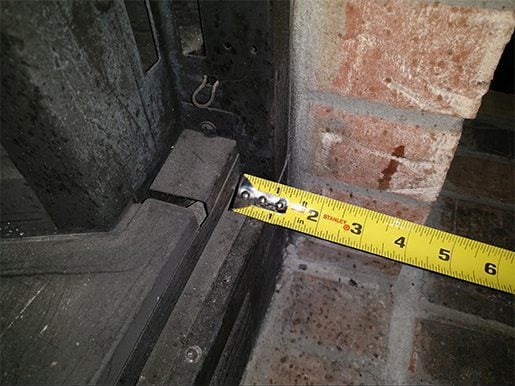 Recess Depth (Sides)
Put your tape measure lip on the outside of the fireplace. Going inward with your tape measure, stop at the first obstruction. Look on both the left and right sides for any obstructions. Flue handle, damper control handles, flared out vents and angled sides. These things can prevent our door system from properly installing.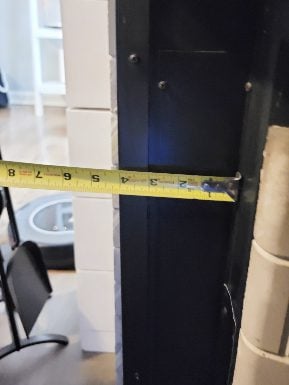 Ready to order?
If you still aren't sure please email your photos to sales@brick-anew.com and our fireplace specialists will help you find the perfect door!