A fireplace is something that can make a room, especially since it's usually the focal point for everyone to look at. That's why you want to be careful with your design and decor. So many trends out there promise to be 'the best,' but sadly, these can go out of style very quickly. Therefore, you want to go for something classic that withstands the test of time.
Farmhouse is a classic style that can completely transform your fireplace, and luckily there are many different ways you can incorporate this look into your room. However, choosing the best one for you can be difficult, so we have provided you with 20 of the most inspirational farmhouse fireplace decor ideas.
Shiplap surround
A classic yet modern farmhouse style often comes with a shiplap fireplace surround. If you're unfamiliar with the term, it basically involves board and paneling overlapping the one below it. It offers a unique yet mesmerizing look, so you may want to consider installing shiplap paneling around your own fireplace.
But of course, you can't just do this idea alone. You also need to determine the color palette to complete the entire look. We recommend painting the paneling in a neutral color, like light gray or white, which you can do by using our brick fireplace paint kit. This will give the fireplace a fresh and clean appearance. It is classic, yet it works.
Barn beam mantel
Fireplace mantels come in all shapes and sizes, so why not opt for one that is a bit more unique? One of the best farmhouse living room ideas is refurbishing an old barn beam so you can place it on top of your fireplace. It offers the space a certain kind of rustic charm, and you'll no doubt have people asking you about it.
This idea is a great way to add a bit of history to a room and can act as a statement piece to the rest of the fireplace. Combine it with black paint, a wooden coffee table to match the beam, and some decorative accessories, and you'll undoubtedly be happy with the result.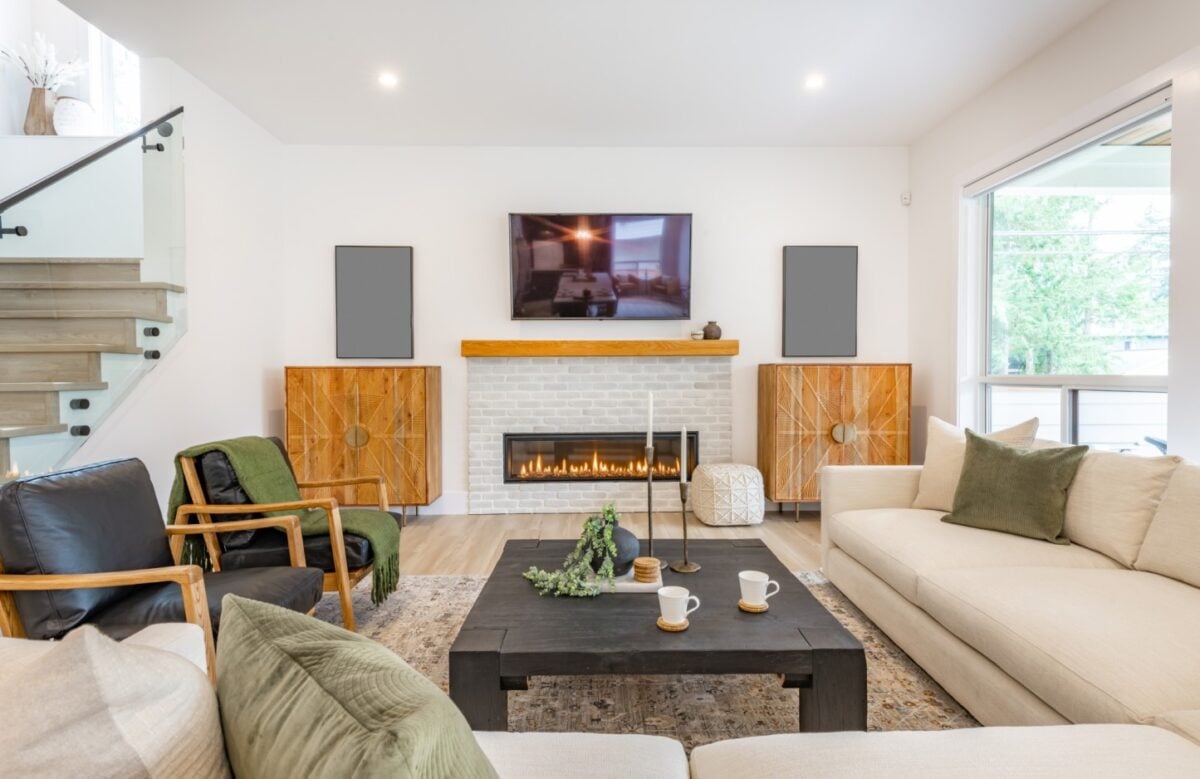 Distressed brick fireplace
A brick fireplace is the perfect addition to farmhouse decor, and it is even better with a distressed look. You can change the entire aesthetic of the room by building a fireplace with old or already-used bricks. After all, who wants something perfect anymore?
To add to the brick fireplace's weathered look, you might opt for white or light-colored paint. This will also depend on the rest of your home decor. If your room uses a neutral color palette, then this is perfect. You can consider darker shades if you use more daring and bright colors.
Farmhouse chic tile
A modern farmhouse fireplace is one that uses tile. However, there are so many options regarding the patterns and textures on tiles that it can make it difficult to find the right one for your room. To make the choice easier for you, we recommend using tiles that come in earthy tones like beige, gray, or muted blue.
Once you've chosen the color and pattern, it's then up to you to decide how to arrange them on the fireplace insert and surround. We think the best way to create that modern look is to arrange them in a herringbone or chevron pattern for even more visuals to admire.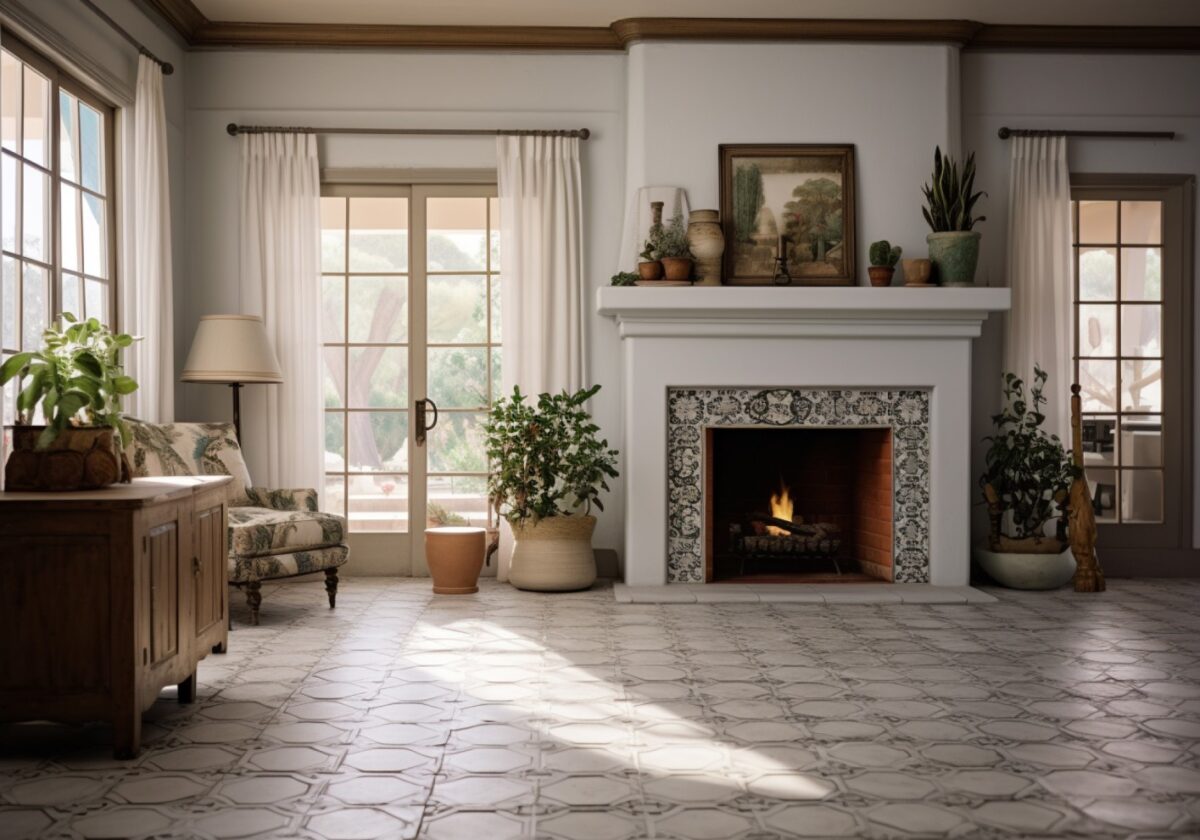 Rustic stone hearth
Homes are all about comfort, so you might want to find the most cozy farmhouse style for your room. This is especially great if the fireplace is located in your living room or any other space where you like to entertain friends and family.
A large and rustic stone hearth offers a high level of warmth around your fireplace, particularly if you opt for a brown or copper color scheme. You can perfectly complement the stone hearth with a reclaimed wood mantel and decorate it with antique accessories to provide an extra comfortable atmosphere.
Sliding barn doors
Now, this idea is incredibly creative and perfect when you want a more rustic farmhouse fireplace decor. It is exactly what it sounds like. You treat the opening of your fireplace just like a barn. Instead of purchasing a basic metal cover, you'll place small-scale sliding barn doors on either side of the fireplace.
This fireplace design makes you think you're back in the country, even if you're living in a high-rise city building. It is also not something you see every day, so it is a great conversation starter when people visit your home and want to know how you completed the look.
Double-sided fireplace
This concept isn't for everyone, but it can work with an open floor plan in your home. It is a great way to separate the kitchen from the living room. It's an easy way to place a fireplace in two rooms, so the heat and style can be enjoyed by multiple people at once.
A double-sided fireplace is quite a modern approach, so you want to vamp it up with a few extra touches. You can create an authentic farmhouse look with white walls and reclaimed materials. Use old wood for the farmhouse mantel and surround; you won't ever need to change it. With ideas like this, you'll never need to hire an interior designer again.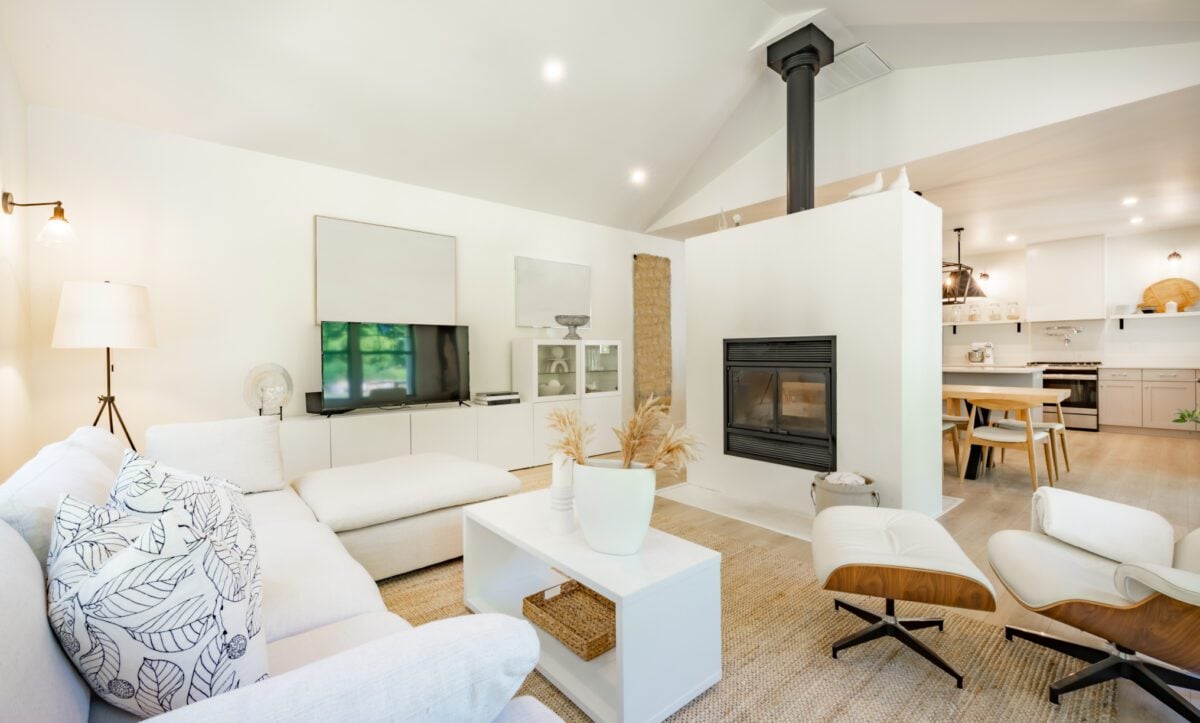 Vintage fireplace tools
This doesn't have anything to do with the fireplace itself, but it can definitely add to the farmhouse aesthetic. Whether you have a stone fireplace or a white shiplap wall, adding a few vintage fireplace tools near the hearth can transform the entire atmosphere in the room.
The types of tools you find are important. You don't want to go to your local hardware store and purchase brand-new tools. Instead, you might want to venture through second-hand charities or interior design stores to find antique iron tools with intricate details. This will provide you with the best result.
Exposed wood beams
This idea only works if you already have exposed wood beams in the ceiling of your room. You don't have to actually remove them, but you might want to incorporate them into your farmhouse mantel and fireplace design. There's the choice to match the beams to your fireplace or vice versa.
One way you can do this is by painting the exposed wood beams in a lighter color, especially if you already have a white fireplace. You can also leave them natural for a warmer and more inviting look, but then you'll have to match your fireplace to this color scheme and pattern.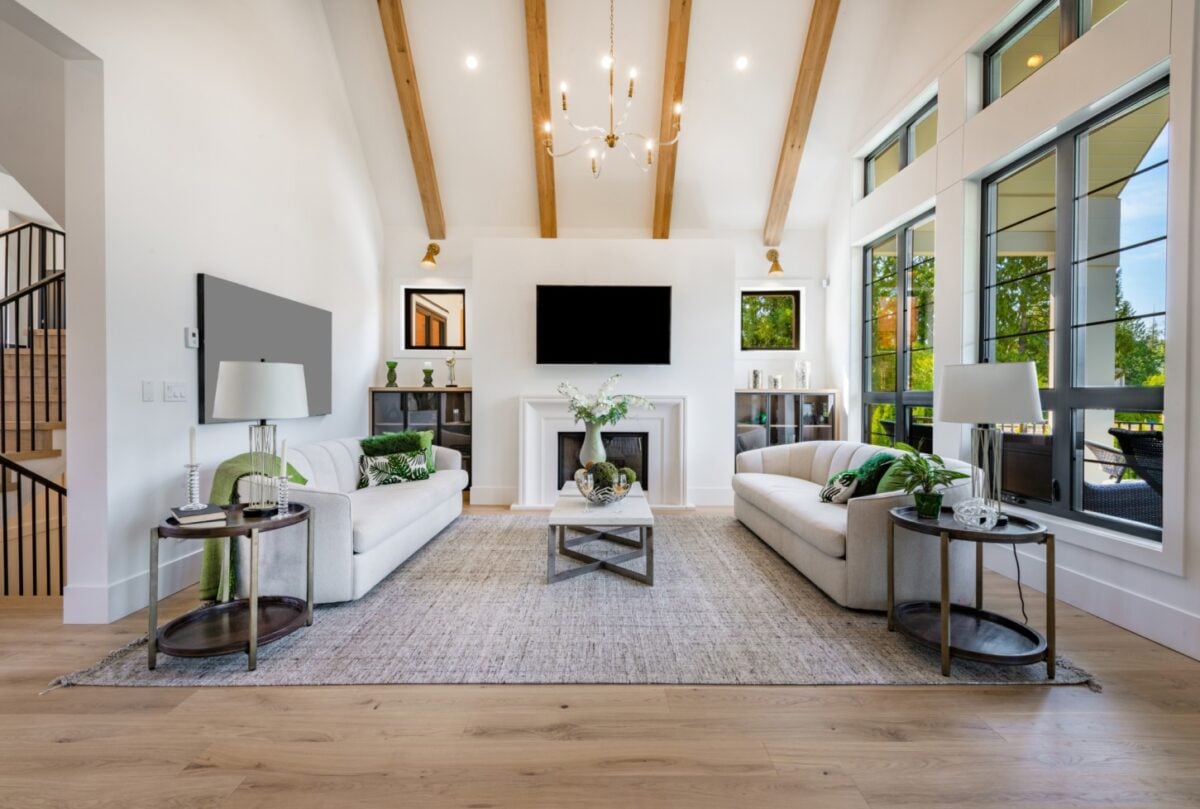 Built-in bookshelves
If you love to read and have an extensive book collection, then you'll love this farmhouse fireplace decor idea. Instead of placing a mantel above the fireplace, you can instead frame the outside with built-in bookshelves that match the tone and color of the surround.
Placing all your books around the fireplace makes it seem much more cozy and functional. You can also add a range of farmhouse decor to empty shelves to add to the aesthetic. However, be careful with building the bookshelves, as you don't want your books damaged by the fire.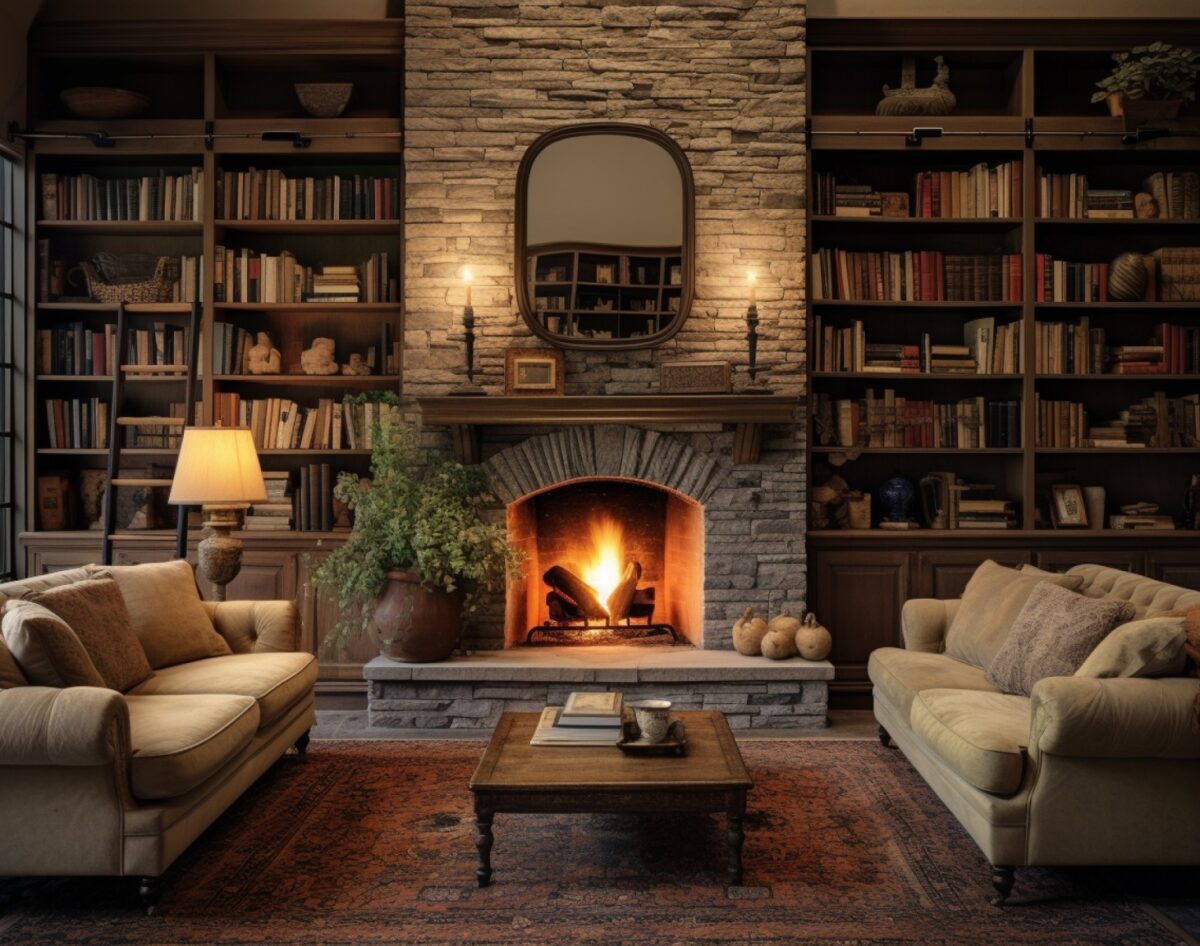 Whitewashed brick
A white brick fireplace is a perfect addition to any room, especially if you want a more subtle farmhouse look. You don't have to go all out with a solid coat of white paint, but you can instead opt for a whitewash finish which provides the room for a more light and airy feeling.
Brick is a fairly rustic material anyway, so you don't want to take away from it too much. By opting for a whitewash instead of an opaque finish, you can still maintain the charm of the brick. It will also brighten the room and make the space seem more pleasant.
Antique fireplace screen
If you want to pass on the sliding barn door idea for your farmhouse fireplace decor but you still want something that covers the insert, you might want to opt for a fireplace screen. However, far too many new screens look cheap and modern, so you want to go for something with an antique design.
An antique screen matched with intricate fireplace mantel decor can add a touch of elegance and character as long as it matches the fireplace surround. You want to look for a screen that has been designed with beautiful metalwork or one that uses vintage stained glass.
Oversized stone mantel
What goes great with a stone fireplace? An oversized stone farmhouse mantel! You want to ensure it is much bigger than the entire fireplace and spans several meters across the wall. It is eye-catching and a beautiful statement piece that will make the room appear grand and rustic at the same time.
You may want to choose this idea for a modern farmhouse fireplace, and you can add to the farmhouse aesthetic by incorporating a few decorative accessories to sit on top of the mantel. Choose anything from flowers to photo frames, and you will have a complete look.
Reclaimed wood wall
The wall behind the fireplace is something just as important as the fireplace itself. It can add to a big portion of the interior design, so you must think carefully about it. You can increase the farmhouse look by replacing the back wall with reclaimed wood planks.
You can do this if you think your original fireplace will match the natural texture and warmth of the wood or if you don't already have a fireplace and are looking to add a brand-new one. It is best suited with a white brick fireplace or a stone one in the same color.
Herringbone brick pattern
We've already mentioned a herringbone pattern when it comes to arranging tiles around your fireplace surround, but what if you want the surround to have brick? In this case, you can arrange the brick in the same pattern, as it will provide a unique and visually appealing design.
This might take a lot of work, so we recommend hiring an expert to help. You can also consider the type of home decor you wish to place around the fireplace that matches the herringbone pattern. Either way, it will definitely grab people's attention once it's finished.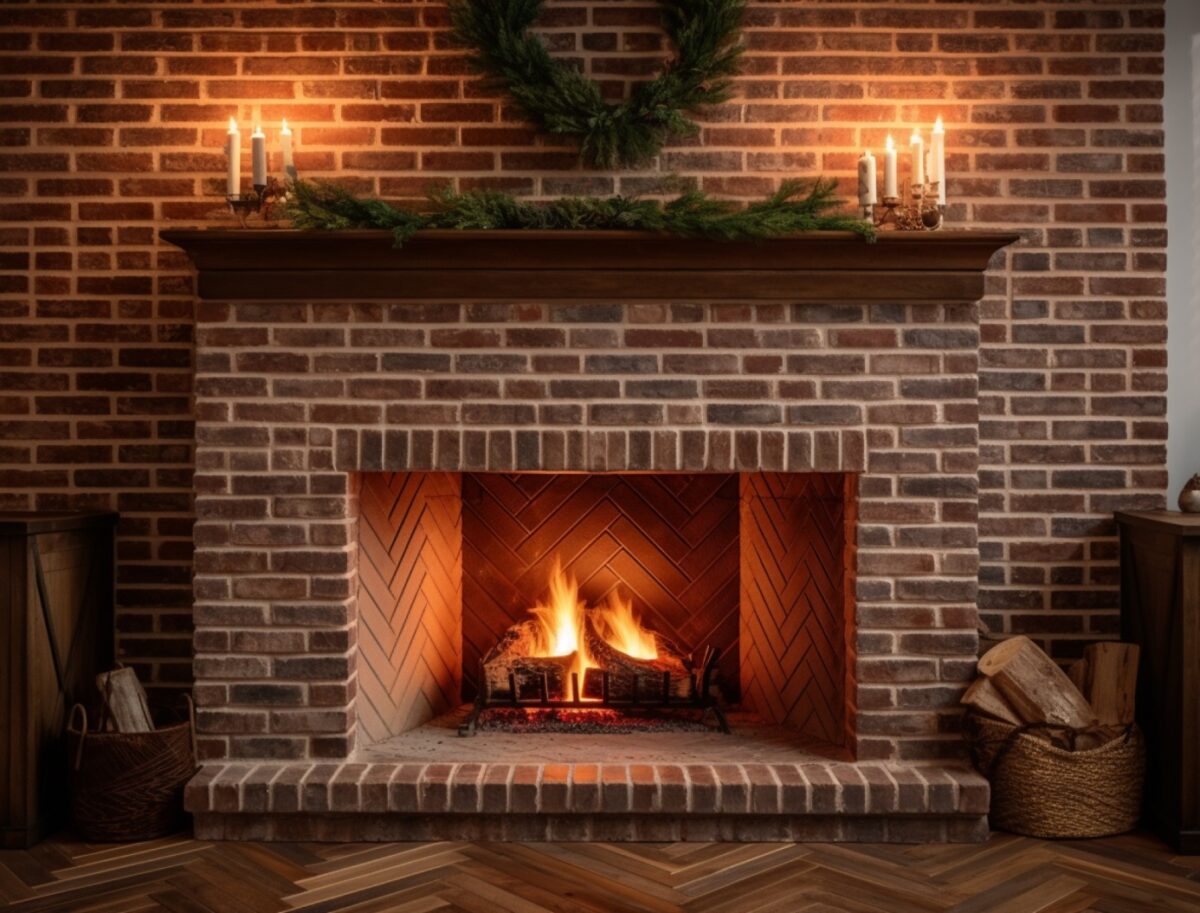 Rustic lanterns
While a fireplace can add some aspect of light to your room, you don't want to rely on it as your only source. If you're someone who doesn't use your fireplace very often but still wants to make it the focal point of your room, then you might want to consider placing a pair of rustic lanterns on the mantel or beside it.
Adding the lanterns into the vicinity of your rustic farmhouse fireplace decor will give it a cozy and nostalgic touch. If you're thinking about what light to use with the lanterns, we think LED candles are the best option as they offer a safe and flickering flame effect.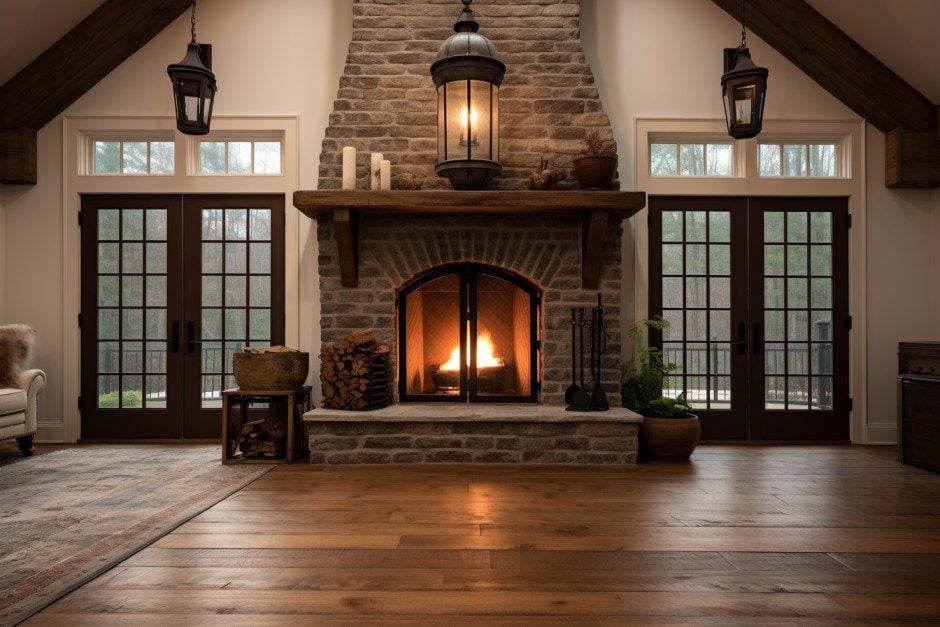 Farmhouse artwork
Whether you have a wood mantel or white fireplace, you can always enhance the aesthetic by hanging some farmhouse-inspired artwork or vintage signs above it. It shows people the look you're going for and gives them something more to admire.
You may obviously purchase the artwork from a gallery or an Etsy store, but we think it's best to look at a flea market for something a bit more vintage. It can make a fun trip trying to find the perfect pieces to complement your fireplace and the rest of the room.
Vintage fireplace surround
The surround is an important aspect to consider when designing your fireplace, so it's best to take a vintage approach when you are putting together a farmhouse look. The first thing to consider is the type of material you wish to use for your fireplace surround, and then you can go from there.
Once you know whether you want to use brick, metal, stone, or wood, you can look for the right surround. The best way to ensure a vintage aesthetic is to source salvaged materials from an architectural salvage store or flea market. It should have a distressed look or ornate details.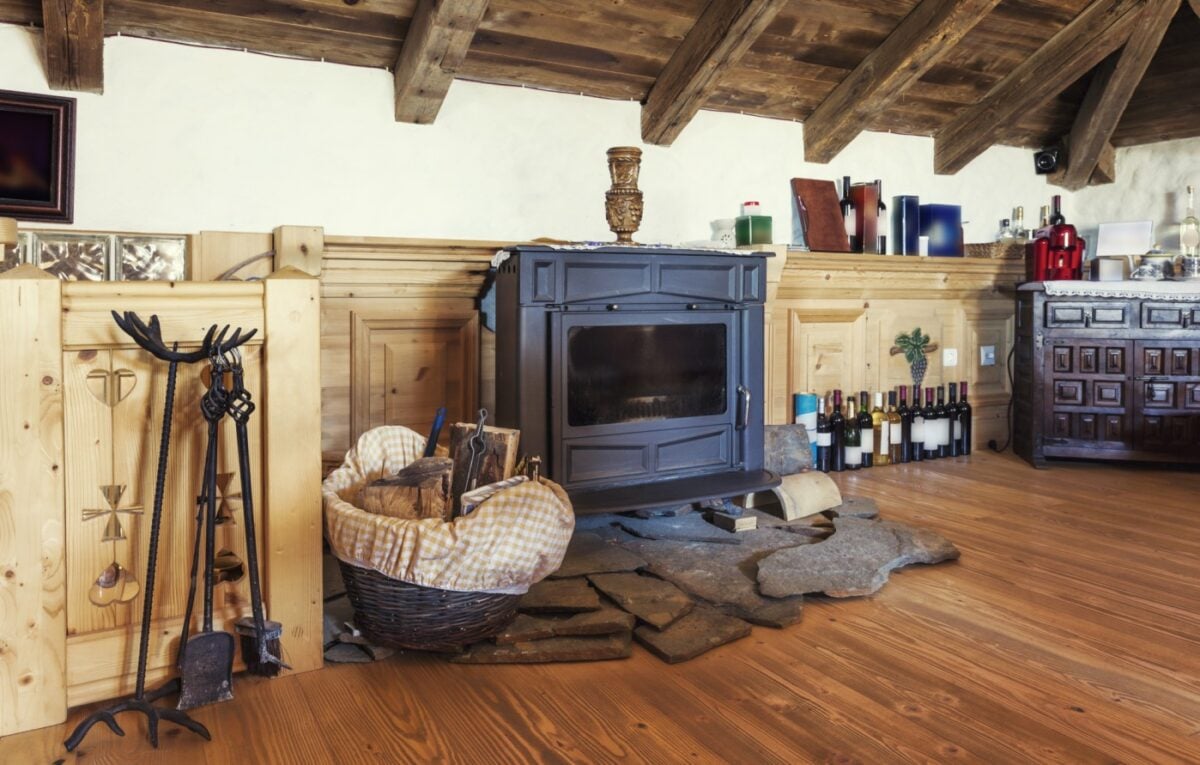 Farmhouse tile surround
We've just spoken about a vintage fireplace surround, but if this isn't for you, then you can opt for a farmhouse tile surround. Instead of the aforementioned herringbone pattern, you can install subway or hexagon tiles in a neutral color around the fireplace.
How you arrange the tiles can contribute to the farmhouse aesthetic, but you can also enhance the effect by using a contrasting grout color for added visual interest. It is unique, but we guarantee the end result makes it all worthwhile.
Cozy seating nook
What better way is there to enjoy your fireplace than putting together a cozy seating nook? How you design it is up to you and the type of furniture you like to rest on. However, we think that placing a pair of comfortable armchairs and a small side table in front or to the side of the fireplace can create a farmhouse charm.
With the seating nook there and ready to be sat in, it invites people to come and check out your fireplace. It offers a place to sit back, relax, and encourage conversation with others in your house. You can also take some time for yourself and read a book with a burning fire.