The space above your fireplace opens up a wide range of design possibilities, Whether you are after a more minimalist look or prefer to have loads of ornaments and trinkets on your mantelpiece. The decor above your fireplace says a lot about you, your home, and the members of your household. 
As one of the more personal spaces in your home, your above fireplace decor should speak to what you love, so it's a great place to experiment with different looks and design trends. If you have an area above your fireplace that you want to decorate, then take a look at the ideas for decor above your fireplace we have listed below.
Oversized Artwork
There's no better way to make a style statement than by having an oversized art mural above your fireplace. Art encompasses so many different styles and techniques which are made so much more dramatic when you put them on an oversized canvas. Installing an oversized art piece above your fireplace ensures that the fireplace becomes a talking point of the room while allowing you to express your own style.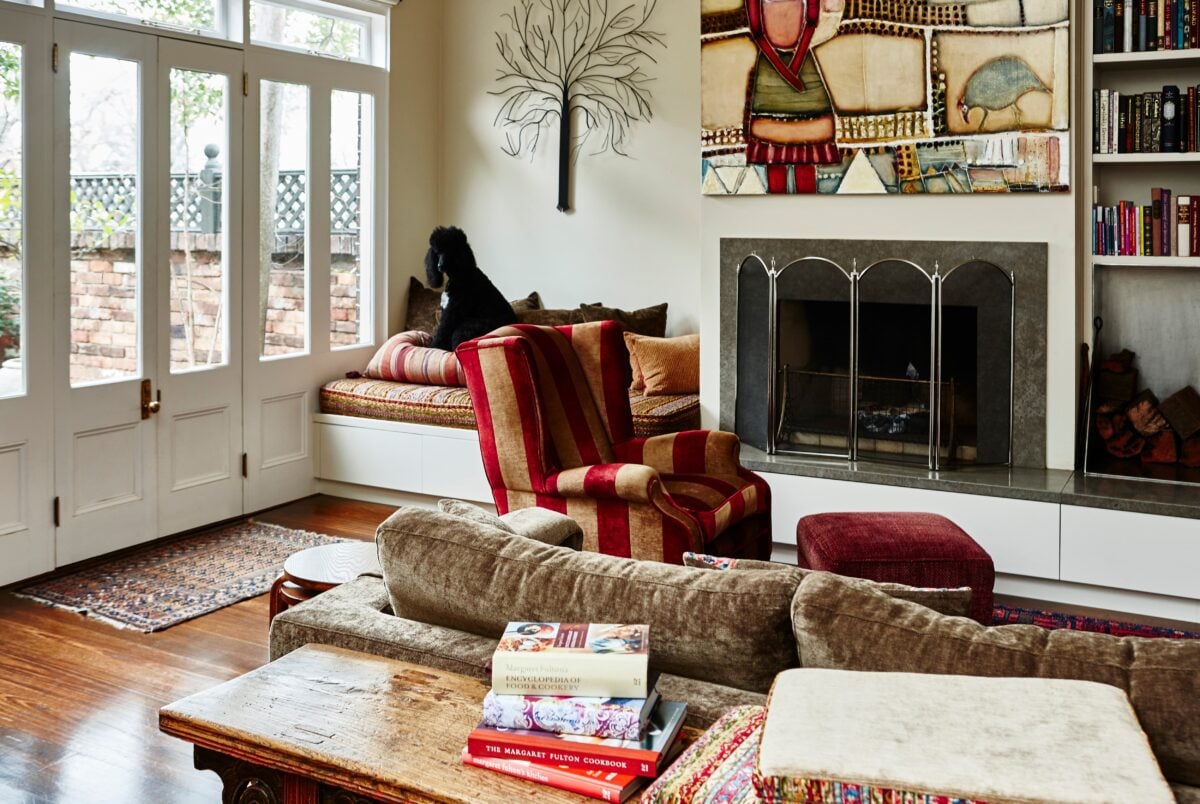 Vintage Mirrors
Whether you install one large vintage mirror above your fireplace or several smaller ones, you'll create the illusion of having more space in the room than there actually is. Mirrors also add more elegance to a space, creating an ambiance of serenity and airiness. You can also jazz up your mirrors by setting them in interesting frames. Dark frames are great for rooms with many clean lines that aim to encompass the minimalist look. However, for that hint of glamor, consider going for gold or silver frames.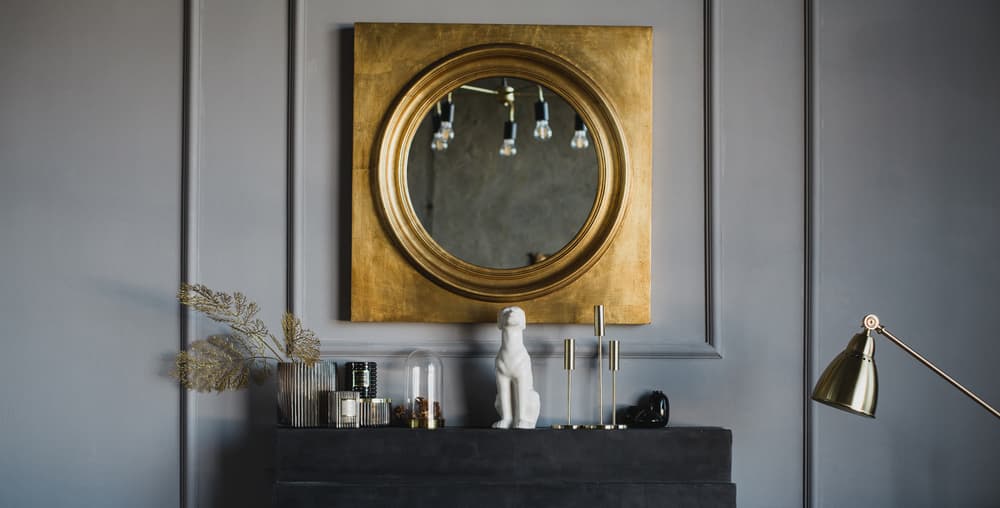 Seasonal Themes
One of the great aspects of the space above your fireplace is the fact that the decor is interchangeable. So why not change the decor according to the season? Autumnal decor may encompass warmer colors like oranges and browns, with branches and pine cones to complete the display. 
For spring and summer displays, bring out the vases and the flowers to fill your mantel with. Designs with flowers are the perfect way to bring a little sunshine into your home. Even for the winter, adding candles and LED lights to your mantel display will create a cozy atmosphere.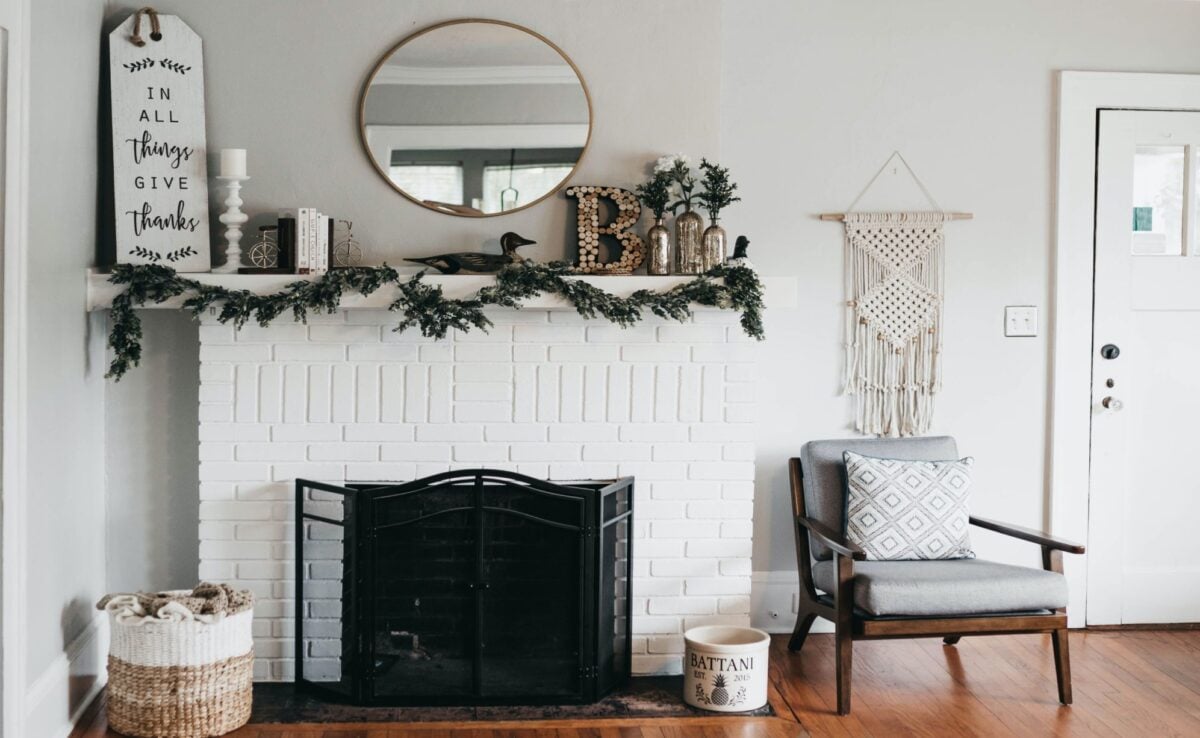 Personal Touches 
A fireplace is a feature of a home that brings everyone together. If your living room is all about family, one of the best ways to add that special personal touch to your fireplace decor is to incorporate loads of family photos and pictures of loved ones. This will evoke memories for anyone close to you who is in the room and will create an atmosphere that's welcoming and homely.
Integrate Your TV
If you are all about the relaxation vibes, then having your TV above the fireplace is definitely the right design idea for you to go for. This is also a great design idea if you are living in a smaller home or somewhere that you would prefer to save space. 
Most areas above the fireplace are well insulated so you won't have to worry about your piece of tech overheating. This is a popular design idea for anyone who loves to settle down in front of the fireplace and enjoy those weekend movie nights.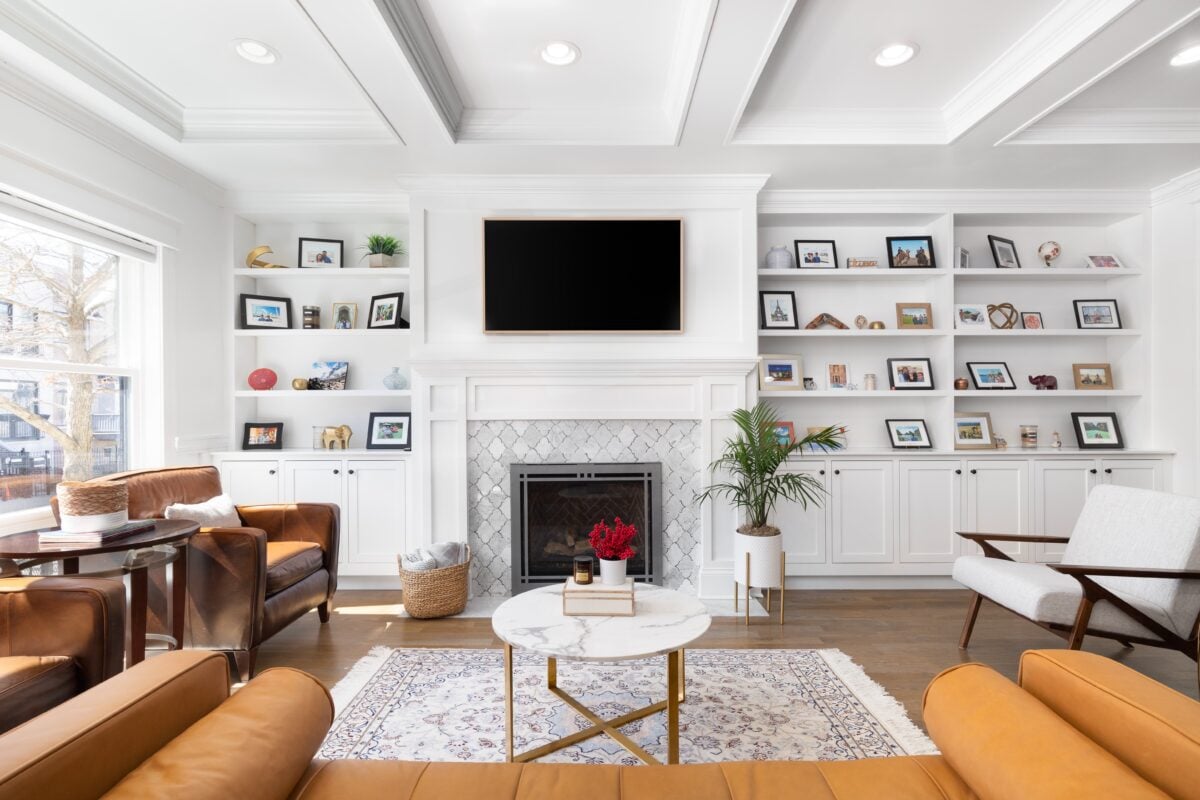 Get Creative with Clocks
The human fascination with time has spilled over into decor ideas with so many great designs of clocks and timepieces out there today. Clocks have also become a great design feature of the home and are the perfect feature to incorporate into your fireplace decor. 
Having an array of clocks of all different shapes and sizes as an integral part of your decor above your fireplace is a great design idea for this section of your fireplace.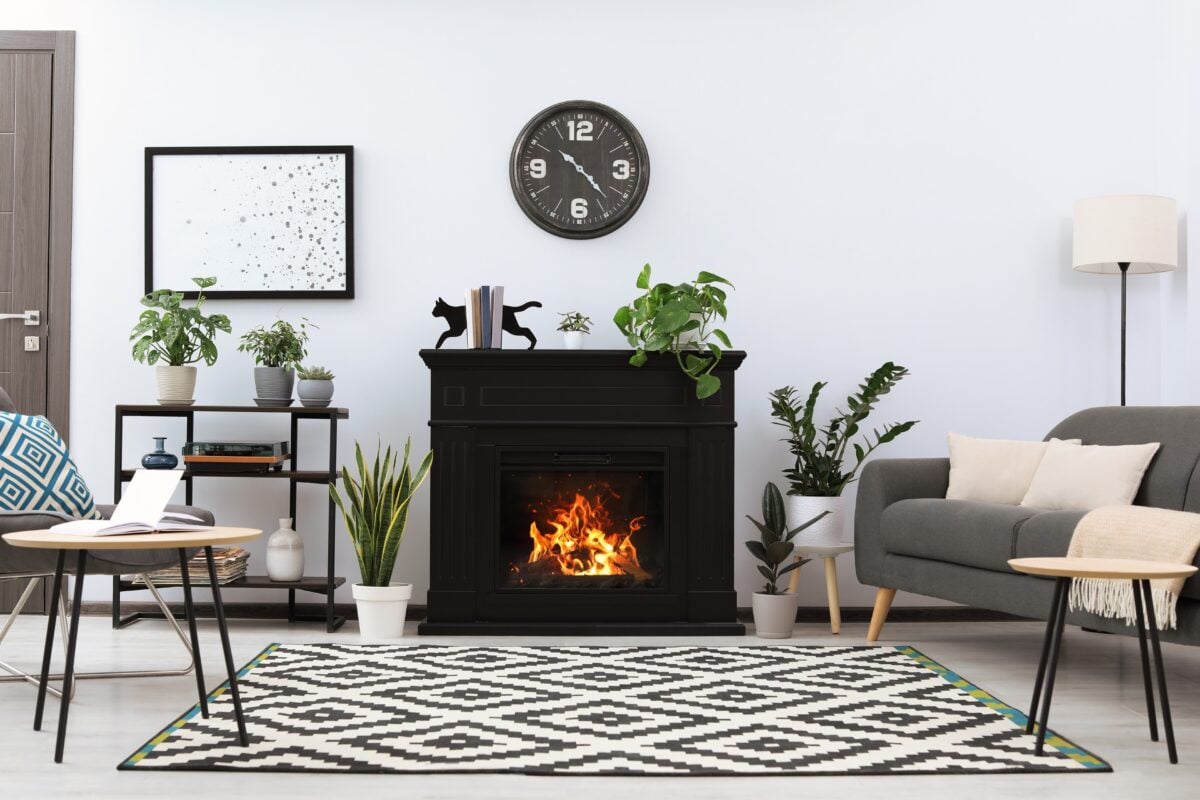 An Ode to Nature
If you are a nature and plant lover like so many of us in this world, then the area above your fireplace is one of the best places to put plants. You can either have a fabulous display on your mantel with different-sized pots for your house plants. 
Alternatively, you could consider having a vertical garden on the wall above your fireplace. Having plants in your living room is great to bring the mood of the room up and makes humans feel calm thanks to the biophilic effects elements of nature have on the human psyche.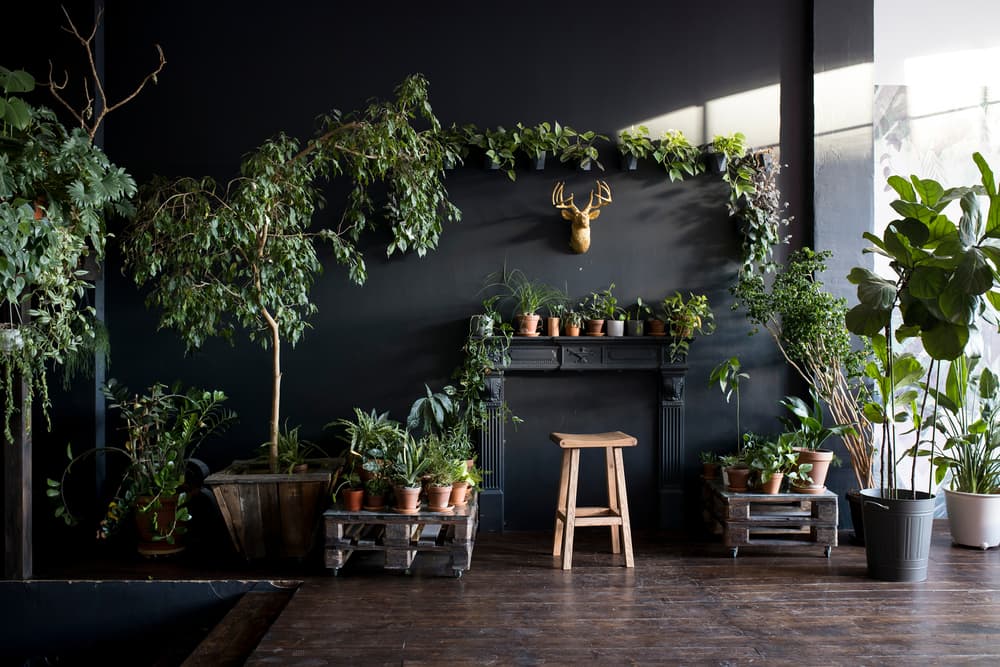 Hang a Chalkboard
If you have young kids or you work in the creative space, having a chalkboard is one of the best ways to ensure that your creativity runs free and is also a great outlet for interactivity with the space. You can also use the chalkboard to write inspiring or loving messages, which will add a welcoming nature to your home. If you think this idea is the one for you, consider hanging a temporary board so that it is easily removable when you want to transform your room into a more formal setting.
An Antique Display
As you move through life, you're bound to acquire some interesting items either from family members or as gifts. If you have a passion for all things vintage, then one of the best ways to display your trinkets is above the mantelpiece. 
You can also get some small shelves to add height dynamically to the display, giving the design more depth and creating space for you to add more detail. The pieces you put there will become talking points for the room and will allow you to feature items of sentimental value to you.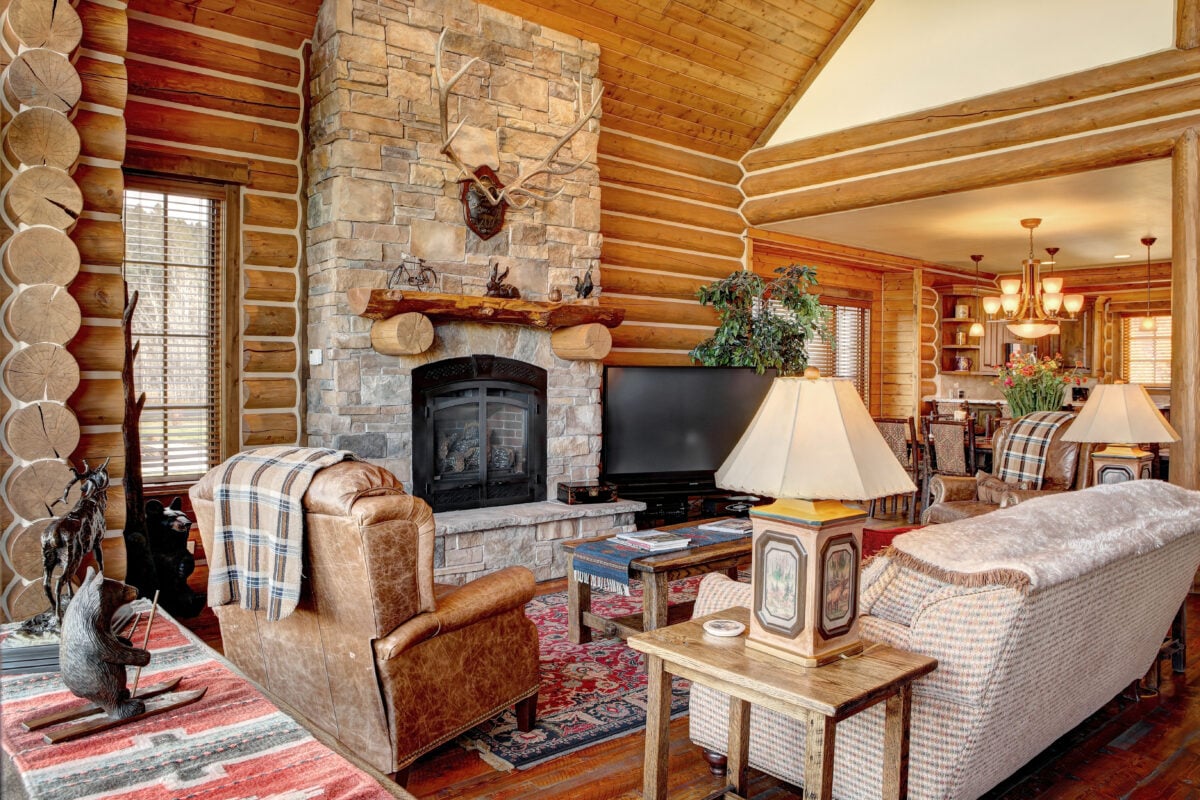 Candles and Incense 
If you want to create an atmosphere that's cozy, calming, and zen, then you should use candles and incense for your above fireplace decor. Having different-sized candles will make your decor more complex, and when they're lit, the ambiance is romantic and more intimate, especially when the fire is lit too. 
Having incense as an additional feature is not for everyone, but you can enhance the scents coming from the fireplace with additional aromas of incense. You can also complement the design by hanging Moroccan-style rugs and throws for the ultimate boho-chic look.

Wall Vinyls
A wall vinyl is a great way to decorate a plain wall. They are also ideal if you have a fireplace in a rented space, as they do not require you to drill holes in the wall to hang stuff up. Wall vinyl designs are also temporary, so you can change them up according to what you prefer at different stages. If you go for this option, you should try to go for a design that has more of a matt finish over the stickers, as glossy designs tend to detract from the sophistication of the room.
Textual Artwork
If you want to create a room that oozes love, then you'll love the look that textual artwork brings. You have so many options when it comes to your choice of textual artwork, and placing them as features for your decor above your fireplace is a great way to add that extra special personal touch to any room. Choose from inspirational quotes to your favorite movie lines or even poems. Many people also like to incorporate popular proverbs into these designs, which add an inviting ambiance to the space. Designs can also vary in fonts, sizes, and background designs so you can have an array of quotes in different styles.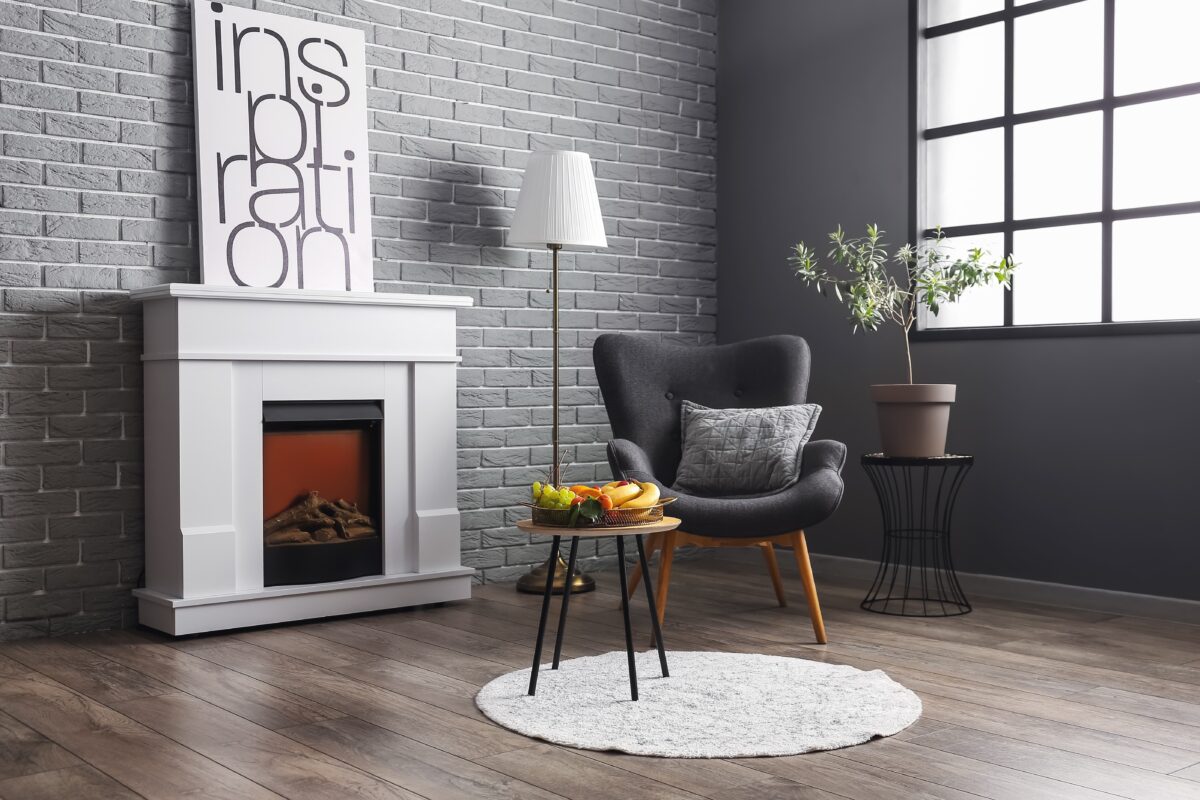 LED or Neon Lighting 
Another very popular modern trend is using LED or neon lighting for your decor above your fireplace. Homeowners with a flair for the glow wave look love this design idea, and you can also play around with different color pallets and styles. Similar to word art, you can choose to have a short quote or a single word above the fireplace lit up in either a bright color or a more neutral light like white or a warmer light. This design idea is perfect for a modern home with darker walls so that the neon light shows up more effectively.
Posters and Maps
Have you traveled to some interesting or special places? Maybe you're a massive fan of a band or play. Why not show some appreciation for your experiences by incorporating mementos like maps or posters into your above fireplace decor? Having aspects like these in your decorative display is also a great way to add a personal touch to the room, and they also offer conversation starters that are perfect for when you have guests around. 
You can also base the room's color scheme on your favorite colors in the pieces you hang on the wall to really tie the design of the fireplace and the room together.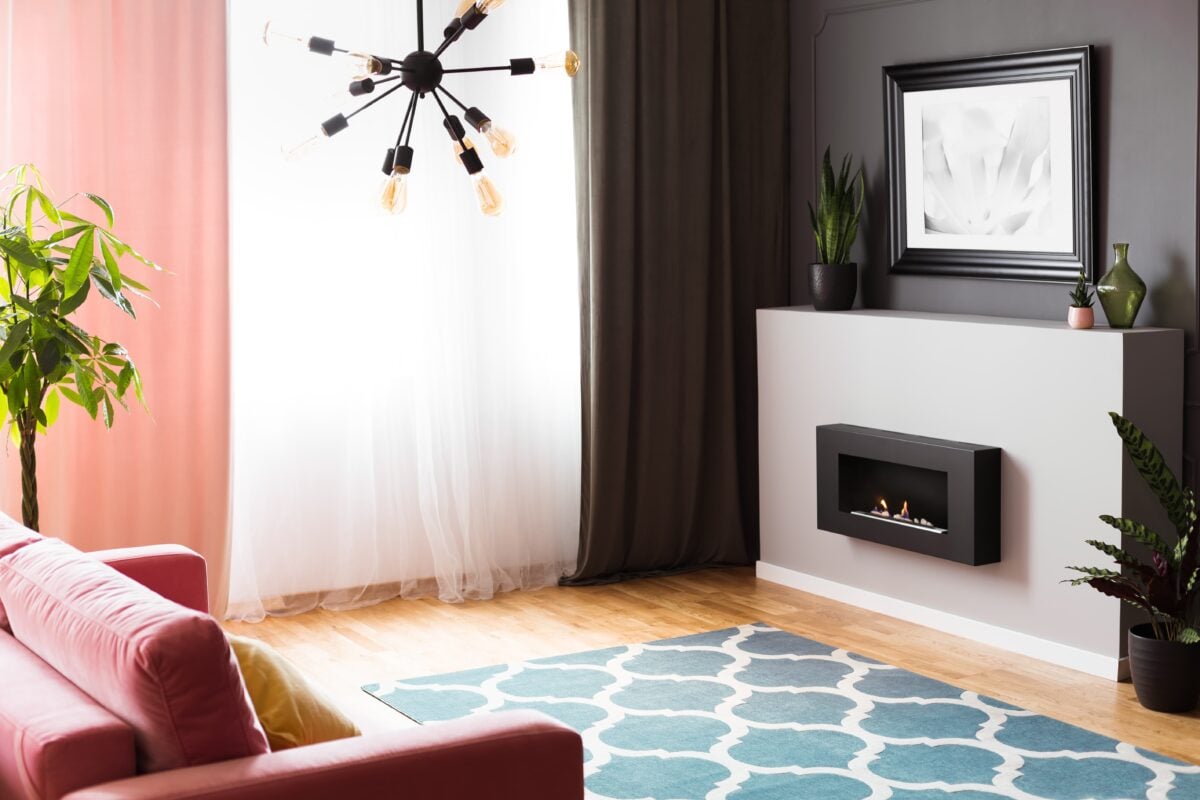 Mantel Accenting
With any fireplace, one of the key features is the mantel that sits above it. A great design trend to add a splash of uniqueness to the design is by accenting the mantelpiece. Let's say you have a section above the fireplace that is painted white or a light neutral color. 
You can draw attention to the mantel by painting it in a contrasting color or using a different material that creates a bold statement against the fireplace. Materials like hardwood or stone are great options for the mantle. Alternatively, you can use a softer, lighter wood and paint it in a color of your choice.
Brick Fireplace Paint Kit
A versatile kit for painting brick fireplaces a fresh and modern look at economical prices
Money Back Guarantee
Free Shipping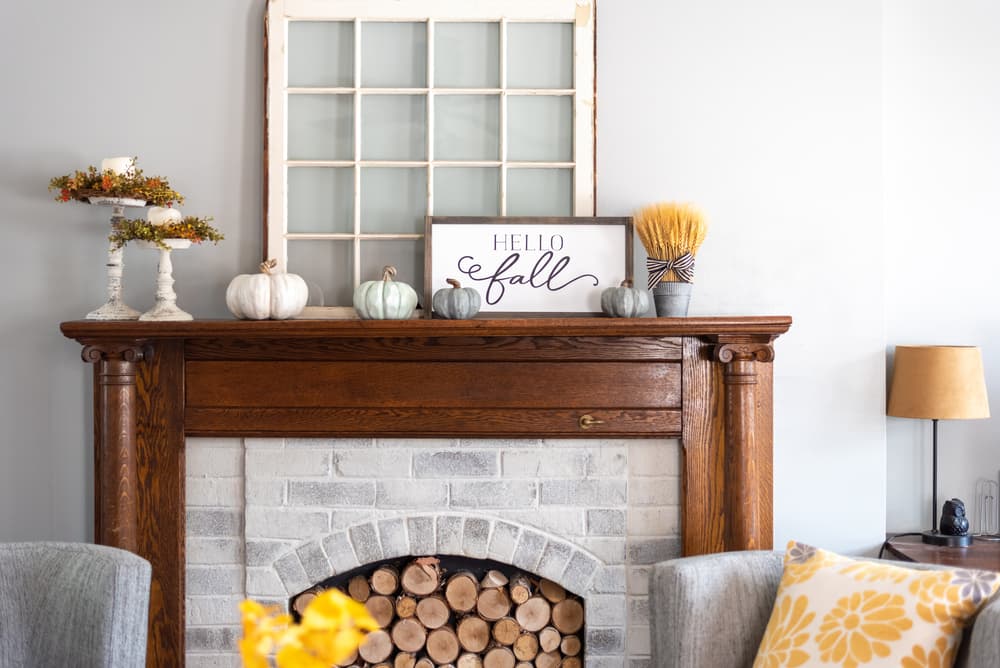 Vases and Flowers
If you have a passion for flowers and enjoy loads of color in your home, then the section above our fireplace is the perfect place to add flowers and vases. One of the best things about this design idea is that you can change the flowers and vases you display regularly, so the design changes constantly. You can also play around with the designs of vases you use, creating dynamics with different sizes and styles, which can be further enhanced by the flowers you choose to put in them.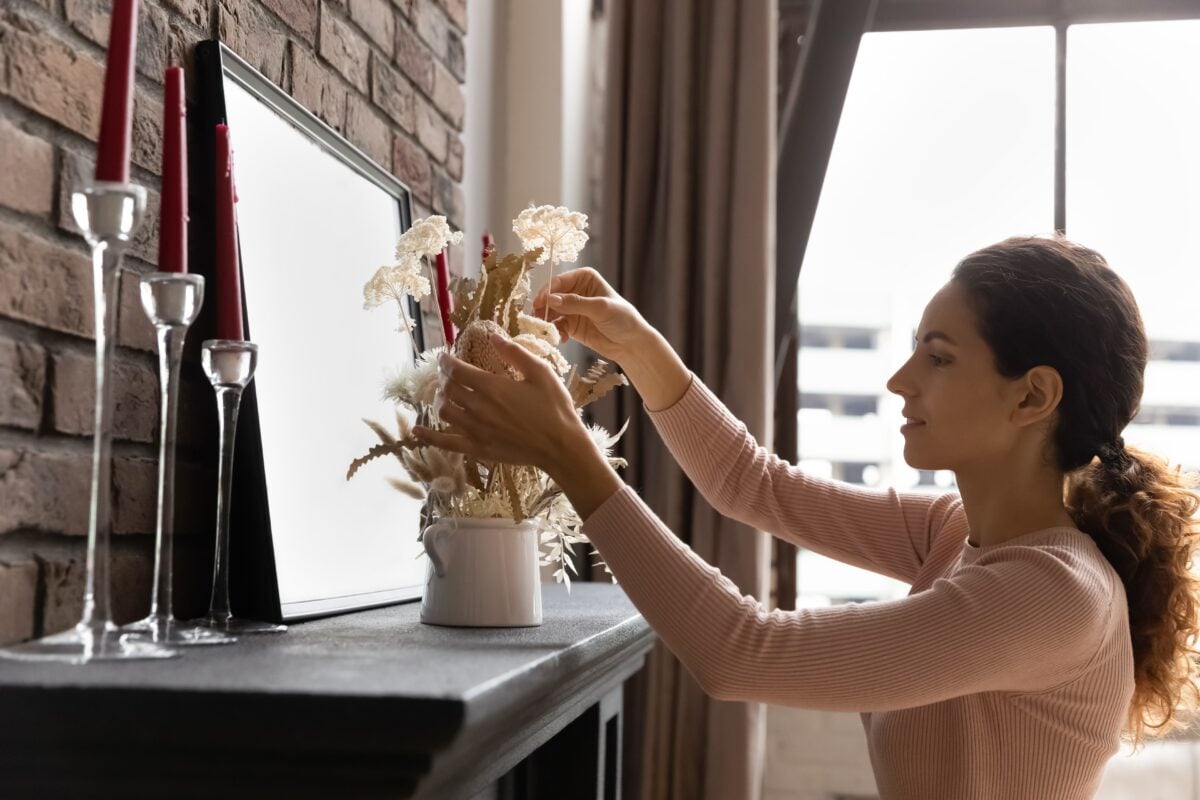 Featured Ornaments
We've all been in that situation where we've been in a home store or at a market and fallen in love with a figurine for no apparent reason. But where do you put these ornaments when you get home? Try incorporating them into your decor as a display platform and they will be there for you to look at for as long as you want. Ornaments and figurines are also great outlets for specific styles and bring the theme of the room or the house together very well.

Symmetrical Designs 
If you're looking for a design that is very neat and clean-cut, then the above fireplace decor you decide to go for should work off the principles of symmetry. Having a symmetrical decor design above your fireplace constructed with either books, patterns, or symmetrical artworks will bring an element of sophistication to the space. 
You can achieve symmetry by working in a binary manner – ensuring that the left and the right-hand side of the section above your fireplace are as similar as possible.
Functional Mantel Designs
Another great way to ensure that your space remains as functional in its design as possible is to use the area above the fireplace as additional storage space for books or other items like blankets and pillows. 
If you have space above a fireplace and you live in a smaller home, then this section can be used to optimize the space available to you. This is also a popular design idea for anyone who wants to have certain items on display or showcase photographs, smaller pieces of art, or family heirlooms.
Hang Woven Baskets
Woven baskets are a great feature to have in homes with a neutral color pallet. In themselves, they come in different designs so they bring some intrigue to the above fireplace decor. You can either hang woven baskets on the wall above the fireplace or have them on top of the mantel, where you can store blankets or magazines. The material of woven baskets also brings some stunning natural elements into the design and is a great way to add a sense of serenity to the room.
How Will You Decorate Above Your Fireplace? 
Hopefully, you've gained some inspiration for the decor above your fireplace after reading this guide. There are loads of ideas out there for you to choose from, but the most important thing for you to remember is that the design entirely depends on your preferences and style. It's fun to play around with different looks and styles. If there's something you love, put it in your above fireplace decor. 
Related Posts