Having a fireplace in the living room or den is a plus for many homeowners, but sometimes an outdated design can create more problems than pleasant, cozy feelings. Thankfully, there are ways you can give your prefab or masonry fireplace a quick facelift without having to spend a fortune.
Benefits of Refreshing Your Fireplace
In most layouts, the fireplace serves as the focal point of the room. That means it could make or break the interior style and decor choices you've made. By refreshing the facade, you can create a significant impact on the entire room and improve the feel of your home without much effort. Even if you only change the exterior color, you have the option to create a brighter feeling with lighter tones or make an accent wall with a bolder hue. It all simply depends on how you want to improve the space.
Making cosmetic changes to your fireplace can also increase the value of your home. The National Association of Realtors conducted a study where participants rated fireplaces as one of their most desired features. In fact, 40% said that they would pay extra for a house that included one in a living space. Making updates could be vital if you plan to sell soon or want to borrow against your equity in the form of a loan. A more visually appealing fireplace could help to increase the value of your home, meaning you might receive more capital if you are looking to finance another renovation project or make a quick sale in a competitive housing market. 
No matter if you have owned your home for years or have just purchased it, updating your fireplace is a good home improvement project that can be completed in a few short days. Below are four of our favorite DIY projects that can give your fireplace a quick and easy makeover.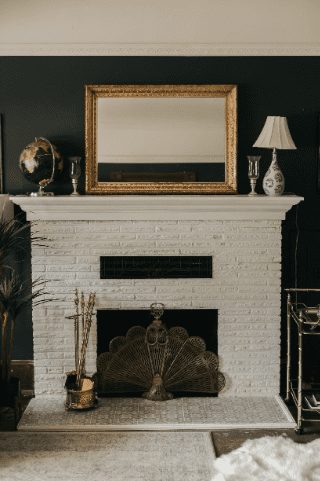 1. Paint It a New Color
Masonry or stonework can be a great feature and design characteristic for the home. However, if the color of the stones or bricks doesn't naturally match anything else in your house, you may want to consider painting them a different color. While this might sound like an intimidating project, it can be quickly accomplished in a few steps.
Before painting, you have to prepare the surface of your fireplace. This means you'll need to thoroughly clean it to remove any built-up dust, grime, or soot. Using warm water and cleaning spray, wash the areas you are going to paint. Make sure to rinse again with clean water and that the surface is dry before continuing.
Once that step is complete, it's time to move on to painting your bricks or stones. You'll need a base coat, a few different accent colors, and a glaze. After deciding on a color, you can use a paint kit to purchase all of the necessary materials in one transaction. You may also want to get some paint for the firebox if it is looking chipped or faded. 
To prevent making any messes, tape off areas and lay down drop cloths to protect the floor. Then you can start painting your fireplace with the base coat and adding more colors after the first complete layer. Using a variety of tones gives your fireplace dimension and a more natural look. 
2. Replace Outdated or Damaged Doors
Besides painting, you can also give your fireplace a new look by replacing the glass doors. This update is beneficial if your current doors are unfashionable or have any scratches or cracks. If the glass is damaged, you may want to replace them as soon as possible to avoid safety concerns when using the fireplace. Scratches or cracks in the glass weaken the integrity of the doors.
Depending on how damaged the glass is, it could shatter while in use, creating a mess and even a fire hazard. Imperfections can further create an eyesore for your otherwise pristine fireplace. To replace the doors, you need to measure their dimensions and figure what type of fireplace you have, whether it's masonry or prefab. With that information, you can order new fireplace doors that better fit your interior design and are safer for the home.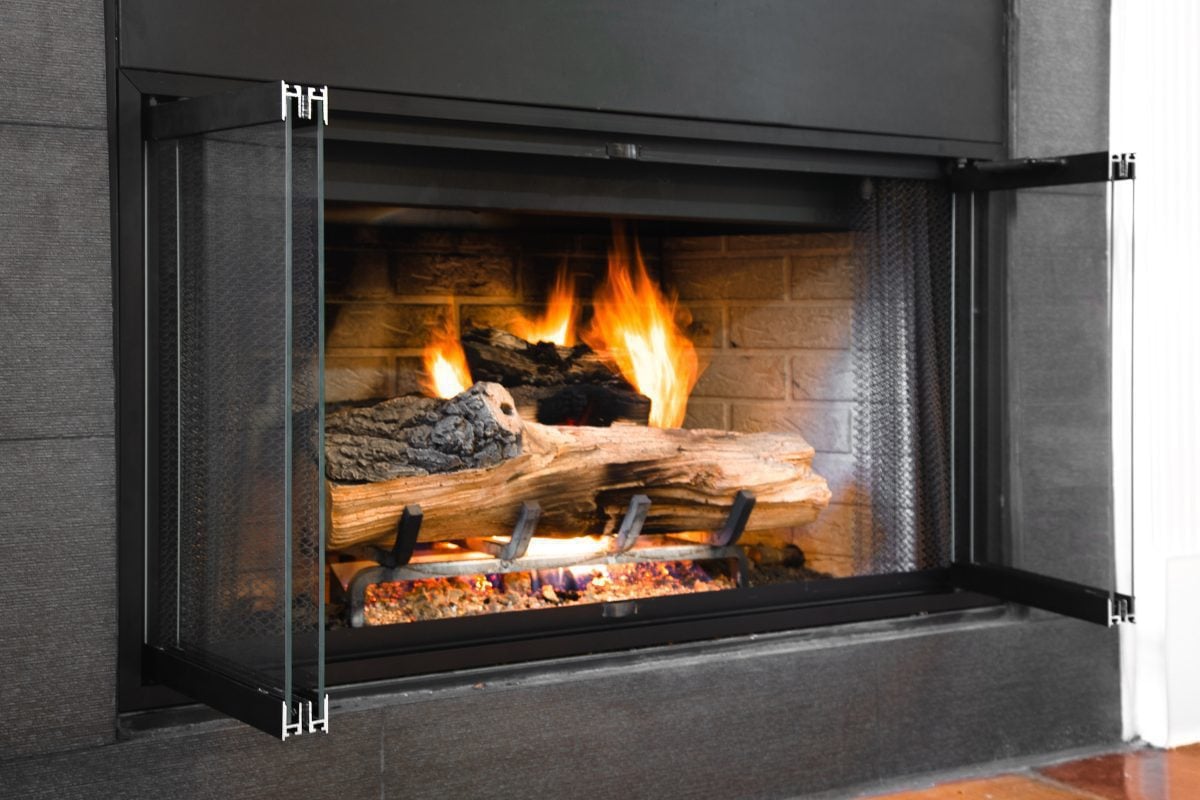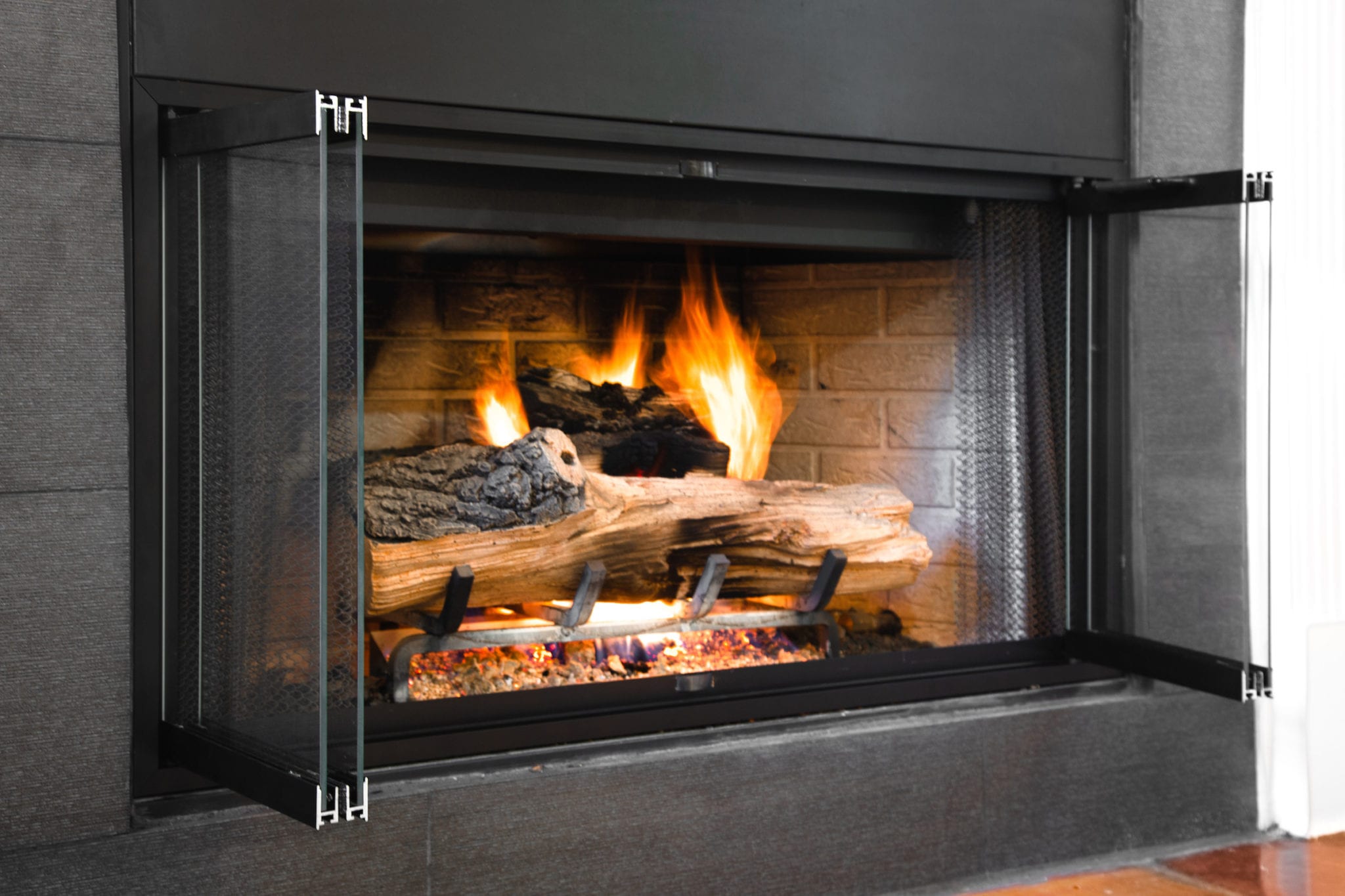 3. Install a New Mantel
Fireplace mantels come in a variety of shapes and sizes. Some may only be a wooden shelf, while others could include a decorative surround and stonework. Depending on the style of your home, your mantel could be due for an overhaul that will better match your intended aesthetic. 
Over the recent years, wooden mantels have become popular for their varied designs and affordability. Most wooden mantels are typically made from attractive hardwoods that can be painted or stained depending on your preference. You could purchase a completed mantelpiece from a home improvement store or find a vintage one at a salvaged lumber yard.
For a more hands-on approach, you can even build your own mantel with cheap materials like pine boards and wood veneers. You simply create a hollow wooden box that will be stained and installed over the existing one, giving the fireplace a new look for less time and money!

4. Add Extra Storage with Shelving
As a homeowner, you may be on the lookout for ways to create extra storage space throughout your house. Fortunately, your fireplace makeover could include building new shelving to hold books, collections, or even household odds and ends.
If your fireplace is in the center of the wall, you probably have room on either side of it. Instead of leaving that wasted wall space empty, you can create built-in bookshelves or even an entertainment center. This design accommodates additional storage for your living space and can spark new ways to decorate your home. 
An out-of-style fireplace doesn't have to hold back your interior design dreams. By taking a few days to give it a quick update with paint or a new mantel, you can make your old fireplace match any style. 
Related Posts