It's fall season, and some of you are already experiencing the excitement for these next few months. The crisp chill you feel as you walk outside into the fresh air, the crunch of the auburn/brown leaves as you walk across the floor, and the smell of pumpkin-spiced lattes can make anyone feel better after the end of summer. 
All these signs also mean it's time to change the decorations on your mantel and incorporate them with the new season's theme. However, you may be stuck if you've never decorated your fireplace before or have run out of ideas. But don't worry; we have a ton of inspiration for you. 
10 ideas to transform your mantel
Scroll through these ten ideas and see if any of them sparks your creativity for your own mantel this fall:
Introduce fall colors
Everyone talks about fall colors, but what exactly are they? The colors most associated with this season tend to be earthy, such as orange, brown, red, and yellow. It provides a warm theme to your room, so consider choosing decor to add to your mantel in these colors. 
Bring the forest indoors
Foraging in the forest is a huge fall activity, so why not display your love for it on your mantel? Adding a few woven pieces representing a wicker basket and a few touches of nature, such as large pieces of dried grass and feathers, can go a long way this season. 
Express your love for the fall
Of course, if you add a few fall colors and leaves onto your mantel, you provide the room with an extra special look for the season. However, it doesn't let people know exactly how much you love the fall. Consider purchasing a frame, adding a quote, or writing a chalkboard message about how special this season is. 
Add some LED candles
Adding more flames onto the mantel can be a cause for disaster, and you can't always control it when it is out in the open. However, the dim glow from a candle represents the fall season better than anything else. So add a few LED lights to spruce up the area with minimal risk. 
Incorporate leaves
When you think of fall, what's the first thing that pops into your mind? For many, its brown, and orange leaves fall off the trees and scatter all over the place. You can either purchase some fake leaves, make some out of paper, or collect and dry out real ones to add to your mantel. 
Don't forget the pumpkins
You can't get ready for the fall without introducing some form of pumpkin-themed items in your home. So why not add it to your mantel? Just like with the leaves, you can purchase fake plastic pumpkins to decorate across the fireplace area or add some real ones. 
Stand out with some gold
Gold isn't always the first color people run to when they are decorating for the fall, but it actually works really well at providing a warm and rustic feeling to any area. You can introduce some gold-painted lampshades to the area, incorporate a throw, or even switch up your picture frames with a new gold theme. 
Keep it simple
Minimal is always the way to go when decorating your mantel, so it should be no different in the fall. Instead of cluttering the area with every fall-inspired item you find in the shops or your home, consider adding a few items to make the space look beautiful. 
Start layering it up
While we just said to keep things simple, a little bit of layering won't hurt. For example, if you want to add some brown and red leaves on top of your orange ones to showcase all the colors, that will be perfect. Just make sure not to add too many different objects at once. 
Mix your warm and cool tones
People often focus too much on warm colors when decorating their mantel for the fall, but that doesn't always have to be the case. In fact, if you introduce a few cool tones into your decor, you can keep the same feeling without overwhelming your room with too many of the same shades.
What to consider going into winter
Fall quickly moves into winter, and you feel like you have to redo your entire mantel again. However, this isn't always the case. Sometimes, you just need to switch out a couple of things, but you can still keep some of your fall decorations, so you don't have to spend more money or put in too much more work. 
Here are some ideas you can consider as it starts to transform into the winter season:
Add some more candles
The winter is known for its dark nights and the holidays, both of which are known for lighting candles and sitting around with family. If you've already incorporated some LED candles onto your mantel from the fall, then why not keep them there and add a few more? You may also be able to spruce up the area by switching out some of your picture frames with some cozy winter scenes. 
Switch out the leaves for snowflakes
Undoubtedly, you most likely incorporated some form of fall leaves into your mantel setting, so it's super easy to replace them with some wintery snowflakes. This could either be some of that fake fabric snow sprinkled across the area, or you can grab some paper and cut up your own snowflakes. It will make your fireplace appear like a winter wonderland, and you can sit down with a cup of hot cocoa, admiring the scene.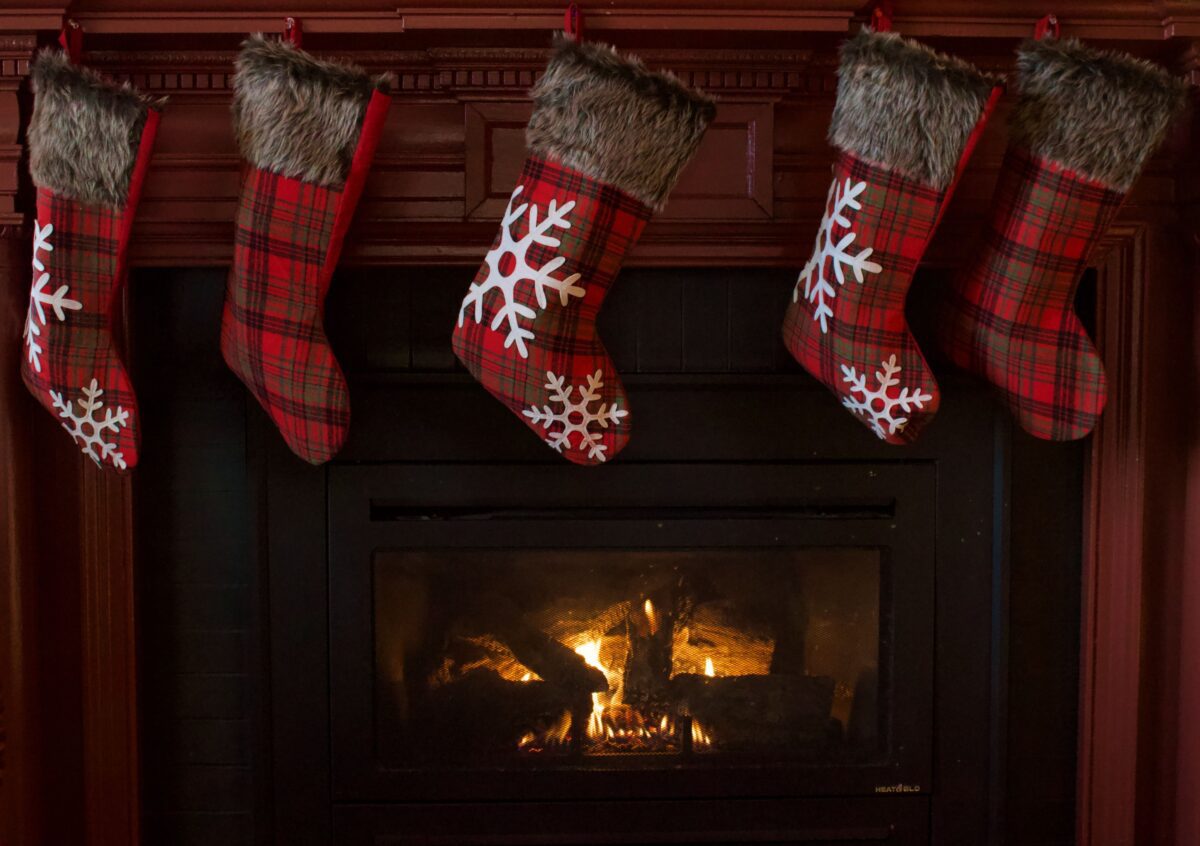 Incorporate extra cool tones
When fall is behind us, so are all the warm tones we got used to being around. Now, it is time for some cooler colors, such as icy blue, white, grassy green, and purple. It can be really easy to do so, such as switching out a red throw for a blue one or changing your candles to represent the winter. You also may have already added some cool colors to begin with, so this transformation will be seamless. 
Decorating on a budget 
We understand that not everyone has the funds to finance an entirely new display every year when the fall comes around. Luckily, there are tons of ways you can make your mantel look beautiful without spending your entire life savings. 
Here are some things you can do if you're looking to decorate your mantel for the fall on a budget:
Go thrift shopping
Thrift shopping doesn't have to just be for buying clothes; it's also a great way to find some unique decor pieces to add to your mantel. So, as the fall season ends each year, head on over to your local thrift shop and see what you can get for the following year. You'd be surprised how many beautiful pieces you can find, and you'll have plenty of time to brainstorm ideas on how to decorate. 
Make your own decor
Not everything on your mantel has to be purchased from a shop. Some of the best-decorated mantels and fireplaces have been put together using DIY items. We have already mentioned these a few times, such as making your own fall leaves, spray painting some items with fall colors, and even crafting fake pumpkins out of some fabric. It's a great way to spend very little while having fun at the same time. 
Use what you have
If you don't feel like shopping at all, you can search your home for some items you already own that you can add to your mantel. People often forget about half the things they own, so you may be surprised at how many things you can use. Look out for items or pieces of decor with fall colors, and see what you can do with them. Sometimes you can even use these bits to make your own decor.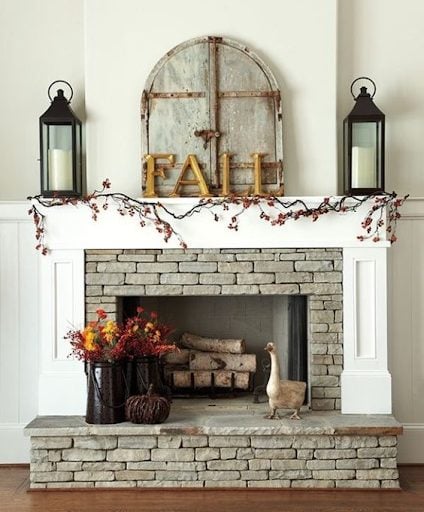 FAQs
What are some DIY ideas for mantel decoration?
There are many creative ways to make your own fall mantel decorations from the comfort of your home. Here are some of our favorite items you can craft yourself using products you can find at most stores: 
Cut out some fall leaves
Fall leaves can be used for various decorations on your mantel, whether by just spreading them out or putting them together to make a garland. They are also incredibly easy to make. 
Get together some different colored pieces of paper; red, brown, and orange. On each piece of paper, trace the shape of leaves so you fill-up the page. You can decide to add different lines and textures to them as well if you like. Once ready, carefully cut each of them out. You should then have a stack of leaves ready for you to decorate with. You can also wrinkle them up and straighten them out for a more realistic effect. 
Toilet paper pumpkins
This one may sound a little odd, but it is one of the best ways to make decorative pumpkins for your mantel. 
Grab a few rolls of toilet paper, depending on how many pumpkins you want to make. You'll also need some orange fabric that has been cut into squares big enough to surround the toilet rolls. Wrap up each toilet roll with these squares of fabric. You can then secure the material by tying it up with strips of green fabric. 
Voila! You then have a bunch of fake and inexpensive pumpkins to place above your fireplace for the fall. 
Create your own banner
If your mantel is high enough and your fireplace is protected with a door to prevent the flames from spitting out, you can make your own fall banner to hang above it. 
This DIY decoration is super easy. All you need is some colored paper of your choice, a marker, scissors, string, and clothing pegs. First, cut out squares of paper so they look like flags, and then on four of them, write the letters to the word 'FALL'. Once they are ready, peg them up on the piece of string and hang them from each side of your mantel. 
It adds some more color and lets everyone know the theme of your mantel. 
What are some good Halloween ideas?
When many think of fall, they also think of Halloween. Therefore, it's a great idea to use Halloween as the theme for your fall mantel decorations.
Here are some of our favorite ideas for decorating your mantel for Halloween:
Cobwebs
If you already have a great mantel decoration set up and don't want to disrupt it too much, you can leave it just how it is! However, you can add a little spooky twist by spreading cobwebs over everything. This can be done by either purchasing some ready-made cobwebs from your local party store or making your own with some cotton wool. Pulling out the cotton wool will give you the impression of cobwebs and get your mantel ready for Halloween. 
Black wreath
If you have a wreath made out of leaves or sticks, you can make it a bit more scary by simply spray painting it black. This can be hung directly above the mantel, or you can just place it in the center, so it sits watching everyone in your room. You can even add some extra spooky additions, such as some small plastic spiders, or wrap some cobwebs around it like described in the above idea. 
Candy
While Halloween is known for tricks and spookiness, it is also known for treats and lots of candy. Sometimes you don't want your mantel to be scary for Halloween, but you can still have a lot of fun by decorating it. Instead of dark colors, introduce some bright pieces into the mix representing the joy of eating your favorite candy. You can also grab some mason jars and fill them with different sweet treats for your guests to enjoy.
Final Thoughts
When it comes to decorating your mantel in a theme that suits the fall season, any of the listed ideas will be sure to liven up the room it's in, and will provide feelings of warmth and comfort as you step into the room. Fall offers a fantastic variety of decorative options, whether that's planning for halloween or preparing for winter, it's the perfect time to express yourself!