Overview
Featuring a sturdy 5/8" wide aluminum extrusion frame with an eight degree taper (see photo)

Tempered, 3/16″ glass with safe-finished edges.

Choose from clear, bronze, or grey glass color.

Your choice of Bifold Doors (fold back) that fully open at 180 degrees or Twin (Cabinet-Style) Doors

4″ Handles: Choose from Modern (Straight handle) or Simplicity (Rounded handle)

Warranty: 5 year against defects in materials and workmanship and 1 year warranty for the glass.

Fully assembled and ready to install with mounting hardware included.

Inside Fit Only

Fireplace Doors Must Be Open While Burning. Tempered glass must have room to breathe.

Available in ten powder coat finishes: Ancient Age, Mahogany, Natural Iron, Polished Brass, Rustic Black, Satin Nickel, Solar Bronze, Textured Black, Toffee, and Vintage Iron
Majestic MBU36, MBU42, MBUC36 and MBU42 may have a knob in the lower left corner of the fireplace. If you have this knob, these doors will not install. See EZ Door for Majestic Fireplaces and note on your order that you have a knob.
For luxury and convenience at its best
Strong Anodized Aluminum Frame
With its durable anodized aluminum frame and upgraded 3/16" tempered glass, this fireplace door features a quality construction truly designed to last a lifetime.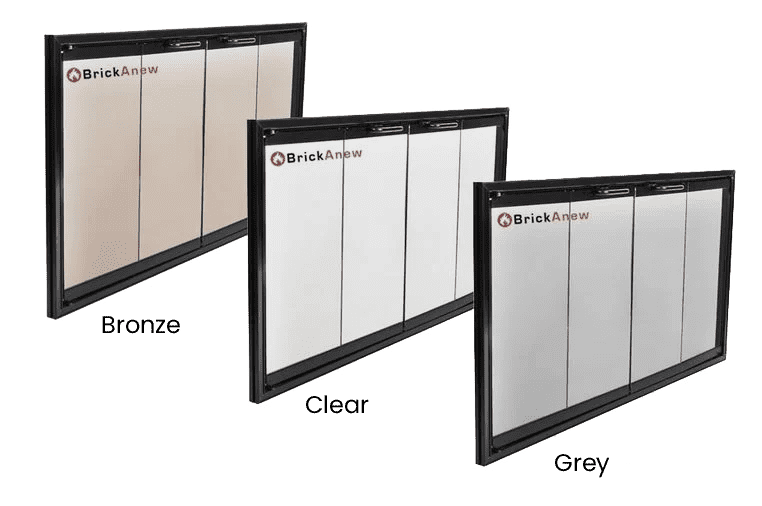 3 glass colors to choose from.
Hide leftover ash and soot in your firebox with tinted glass options—available in grey or bronze.