It's almost the most wonderful time of the year, and many of you have probably already started putting up the Christmas tree and other festive decorations. Your fireplace also needs to be stripped down of all the fall decor and replaced with something that represents this time of the year. But how do you do this when you've never done it before? Or maybe you just want to switch things up from previous years.
Luckily, there is no shortage of choice when it comes to festive fireplace decorations, and you can choose the design and layout that best suits you. We've found eight of the best ways you can decorate your fireplace this Christmas, so find the best one and try it out. 
Match your tree
Most people use the same Christmas tree and decorations every year, so you most likely already have a theme and layout that you've been using. You don't want to have a blue and white colored Christmas tree and then a red and green fireplace mantel, so the best thing is to match the two. 
Use similar decorations that are placed on your decoration tree around your fireplace. For example, if you use silver tinsel, then place some around the mantel and add some glittery silver angels on the top as well. They will complement each other beautifully. 
Introduce festive florals
If your fireplace mantel is usually a place where you place seasonal flowers, then you don't have to change this theme when it comes to Christmas time. In fact, you can add a ton of festive florals to the surroundings of your fireplace to give it a more magical edge while it matches the rest of your decorations. 
You may want to keep it simple with a singular wreath hung up above your fireplace, or you can add a number of different bouquets spread across the mantel. Anything from red petals to leafy greens can provide you with a Christmassy yet natural feel while brightening up the room. 
Give the decor lots of height
You don't have to keep your decorations small, like on your Christmas tree when sprucing up your fireplace. In fact, sometimes the taller, the better. It brings a lot of attention to the area and can make it seem much more exciting than any other time of the year. You can extend many items above your fireplace, and what you choose is up to you. 
You can either place some tall gold candlesticks on the mantel of the fireplace or some long-leaved festive plants. The number of possibilities is endless, but it'll help your fireplace area stand out much more than the rest of the room. 
An all-white color scheme
What is one thing you think of when the word 'Christmas' comes to mind? Snow! There are a ton of festive songs all about this glorious icy phenomenon, and you may want to introduce the same theme to your fireplace. Incorporating a range of white decorations around your fireplace will give your room a snowy appeal.
White tinsel is a great place to start, and you can hang it around the frame and mantel of the fireplace. From there, you may want to add a number of stars, snowglobes, or little snowmen to show off. You can finish the decorations with cut-up fake snow to present your winter wonderland to anyone visiting.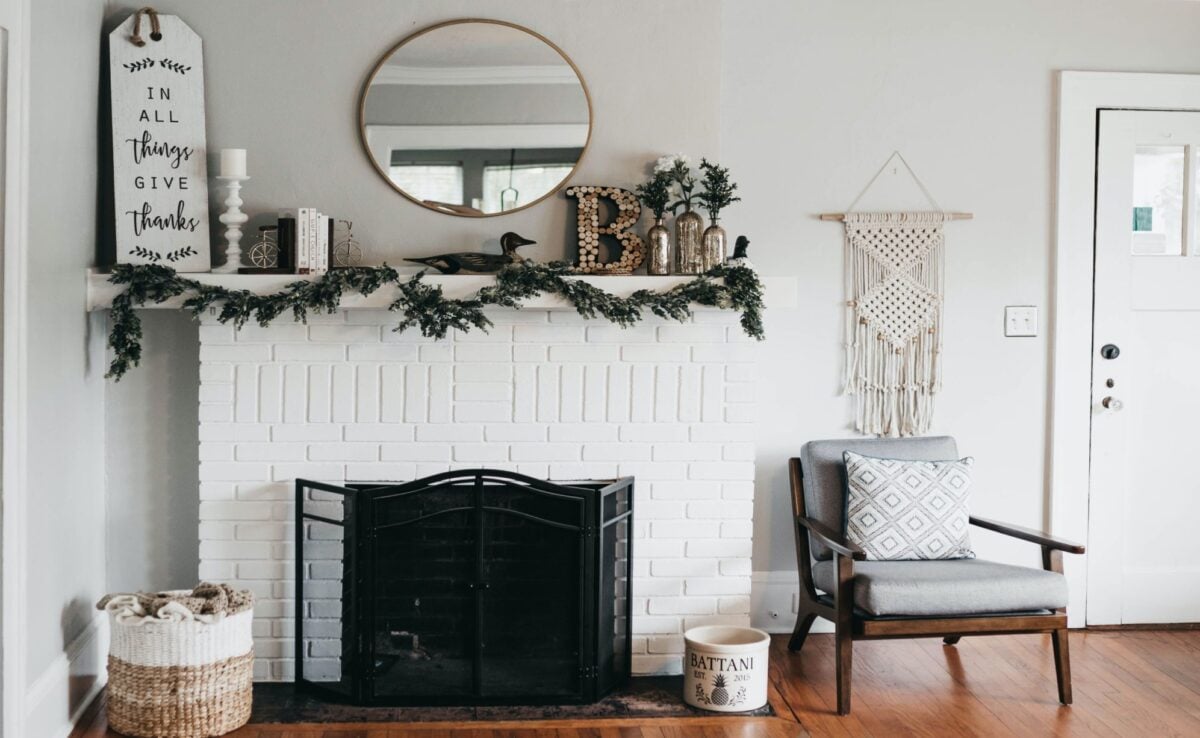 Add ornaments
Many people collect figurines and display them on their fireplaces all year round, and if this sounds like you, then you can do the same with Christmas ornaments. Similar to the sort of items you hang on your Christmas tree, they are small, but they can also be sentimental and come with a story. 
There are various ways you can showcase your ornaments, whether it's a number of biblical items that display a nativity scene or a collection of bright bulbous that make your mantel look even more magical. Either way, it makes your decorations much more special and unique than anyone else. 
Showcase your Christmas favorites
Do you have any Christmas sets that mean a lot to you? Maybe you put them on the window sill or on top of the piano all the other years. However, now you have a fireplace, and you can display them front and center for anyone who comes to visit.
Your Christmas favorites may be different from everyone else's, however some people tend to have similar items. You can have anything from a porcelain Father Christmas doll to a Little Drummer Boy, and they will no doubt put a smile on people's faces. You can even place them in silly poses each day, as though the magic of Christmas is making them move. 
Make it asymmetrical
Things don't need to match when it comes to Christmas decorations, which is the festive season's beauty. While stockings are often hung on the fireplace, you may choose to have them on one side and a bit of decorative tinsel hanging on the other side. They may not match, but sometimes it just works. 
If your color scheme is red and green, you can also use this to your advantage when making your decorations asymmetrical. You can have an 'all green' decorative side of the fireplace and then replace the other side with 'all red' decorations. It is a bit edgier, but it can make your fireplace stand out. 
Keep it simple 
You don't have to bombard your fireplace mantel with a ton of decorations to make it look Christmassy. In fact, sometimes less is more. You may choose to just add a bit of tinsel to the trim of the mantel and call it a day, or introduce a wreath to the wall above the fireplace, which is central to the room.
Sometimes adding too many decorations can make the fireplace look tacky, and there is no real theme to what you're trying to do. Choose some of your favorite decorations, add them to the top of your fireplace and then call it a day.