Here's a question we've learned that many folks struggle with before coming to Brick-Anew.com to purchase their brick fireplace paint kit—should I paint my brick fireplace?
Sometimes you might have an impulse to change things up, and one of the things you consider doing is painting your brick fireplace. While this can be a great thing for many reasons, you may want to consider all your options before you get started. And, like most things in life, there are pros and cons to painting your brick fireplace.
Luckily for you, we want you to have all the information you need to help you make your decision. Below are the pros and cons of painting a brick fireplace:
Painting a Brick Fireplace Pros
If you've recently moved into a new house and don't like the look of the fireplace, or you've had the same color brick fireplace for a while and want something different, a coat of paint can make all the difference. You can give it a fresh and modern look, and it will update the entire aesthetic of your living space. 
Wear and tear is expected with brick fireplaces, and they aren't going to look perfect forever. However, seeing a few stains or chips on your bricks might not look great. Therefore, adding some paint on top is a great way to eliminate these marks and create a more seamless appearance. 
Painted brick is much easier to clean than an unpainted one, and therefore it requires much less maintenance. You also don't have to stay up to date on regular sealing and other upkeep. This is a great time-saving tool, especially if you don't have the opportunity to clean very often. 
While you may not be looking to sell your home now, you might want to in the future. A freshly painted brick fireplace is a hot commodity on the real estate market and can add value to your home. It offers a more modern look which is attractive to potential buyers.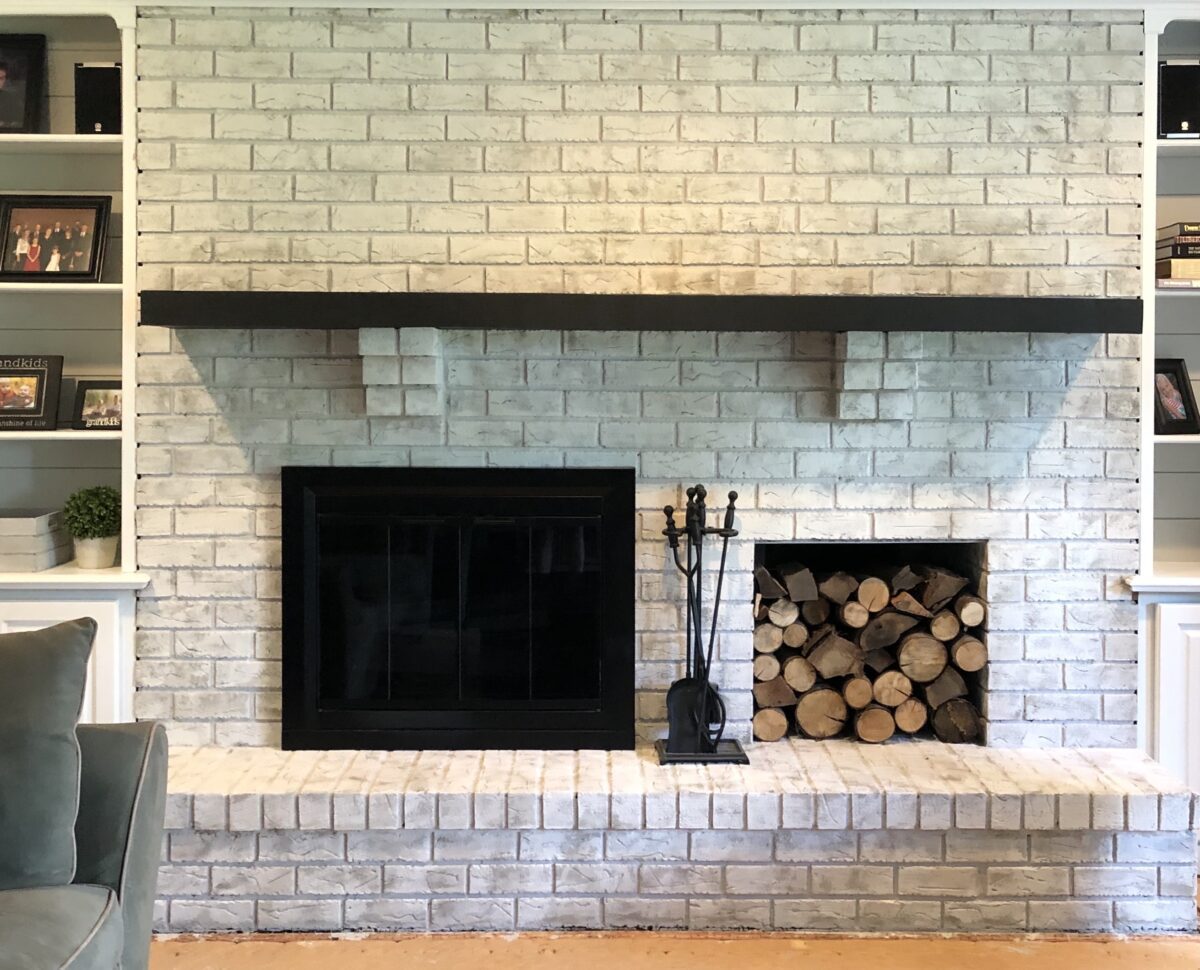 Painting a Brick Fireplace Cons
When you paint a brick fireplace, it can be hard to go back to the original brick look. While you may want to paint the area now, you might change your mind down the road, and it can be distressing finding the right way to remove the paint. You might have to hire a professional, and therefore, it could end up costing you a bit of money. 
Covers the natural texture
Brick fireplaces are beautiful before the natural texture they are built with. Painting over it can remove some of this unique look and the material's feel. If you are a fan of a rustic aesthetic in your home, you may want to consider keeping the original look and avoiding the coat of paint. 
Brick fireplace complements a specific kind of aesthetic, and so does painted brick. If you are someone who wants a modern and updated look, then painted brick might be the right thing for you. However, if you have a traditional or rustic style in your room, you might want to stray away from this idea. 
Painting a Brick Fireplace Tips
So, if you've read through the pros and cons and established that you'd like to retain the texture of the brick, and that your room could benefit from an update to the "look" of your fireplace, it's time to roll up your sleeves and get the fireplace prepped and ready for its makeover.
Clean up the brick
To make sure the paint will dry and properly, you'll need to clean the brick first. You can begin by using a wire brush to loosen and remove any soot, dirt and dust.
Once this is done, you can remove any additional debris or dirt on the surface with a mixture of warm water and white vinegar, a 50-50 solution is a good place to start to ensure you get the brick nice and clean.
Use a rag to apply the solution, and keep a bucket of warm water close by so you can wring out the rag regularly. You can also use brick cleaning solutions like TSP to clean the brick and prep it. Be sure to open windows and allow fresh air to circulate when working with chemicals.
Paint the firebox
When making over your brick fireplace, be sure to spend a little time on the firebox, too! You'll want to use a special heat-resistant paint when updating the paint inside of a fireplace.
Prime the brick
If you're trying to achieve a whitewashed look, or a lighter, airier finish like those offered by Brick-Anew, you can skip this step. Otherwise, choose a stain-blocking primer before you paint the brick a more opaque color. Using a primer will help protect your paint from soot stains in the future. Caution: Do not use primer on the interior of your fireplace, it is NOT heat-resistant rated.
Painting vs. Whitewashing vs. Brick-Anew
Chances are you've seen the pictures on home décor and DIY websites, so you know there is a big difference between whitewashing and painting your brick fireplace.
For a standard "whitewashing" treatment you can simply dilute acrylic paint, one part paint, to three parts water. Don't use oil-based paints for this project. If you choose this method, use a paint brush to apply the paint, and a clean sponge to a wipe away any excess paint and smooth out the brush streaks. This will help you diminish the streaks. The second coat can be applied using a paint roller.
One of the best, most comprehensive ways to update and lighten the appearance of your brick fireplace is with Brick-Anew's fireplace paint kit. The Brick-Anew kit includes 2 containers of base coat sealer and 4 undertone colors, a paint tray, 2 rollers, 1 cleaning sponge, 1 roll of masking tape and an instructional DVD to help take you through the process. In addition to the kit, you can also find the cleaning products and firebox paint you'll need to complete your project.
Related Posts