Choosing the right paint for any job is a hassle when you have thousands of options in front of you. However, it's not difficult to narrow down your choices when you know what you're looking for.
Why Paint Your Fireplace Brick?
Quite simply, brick gets ugly over time, and eventually you'll get tired of looking at dated, ugly brick. Even if your brick isn't ugly, changing up the color of your fireplace brings new life to a room. You could also paint your brick to cover up an obvious repair.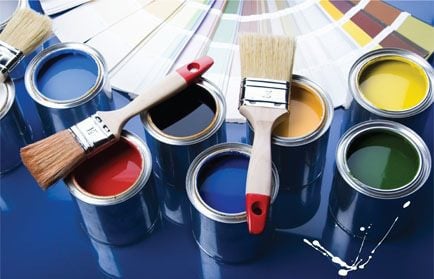 What To Consider When Choosing Brick Paint
Before choosing your paint, consider the characteristics of your fireplace:
 

Is the brick rough or smooth?

 Is it interior or exterior brick? 

 What look do you want to achieve?
When buying paint, you'll notice paint retailers have many grades available from good to better to best. The one you choose depends on how much you're willing to invest in the painting project. Also keep in mind you don't have to buy a specially formulated masonry paint. A high grade latex paint will get the job done.
The surface and texture of the brick play a role in which paint you'll choose. Porous brick and/or brick with an uneven surface are demanding, as they soak up a lot of paint. Use masonry paint in this case, or a primer with several layers of premium latex paint. The latter choice works in all but the most extreme cases. Use a high nap roller and a brush to get those hard-to-reach pockmarks.
Smooth surfaced bricks are much easier to deal with. They require less paint, and you can easily roll or brush the surface.
When to Use Interior Exterior Paint
Exterior paint is typically weatherproof and more durable than interior paint. It also has a mildew prevention agent. Outdoor projects are typically bigger than indoor ones, and therefore require more paint and time. For application to rough outdoor brick, use high nap rollers to minimize application time. The main issues to consider include:
Weather

Size of your project 

Durability of the paint
The Final Look
Last but certainly not least, you want to love the look of your finished brick. Most people want their brick paint to emulate real brick. Random patterns and shades make brick look distinctive. This look takes time to achieve with brick paint, and typically isn't feasible for a large outdoor project. For an indoor fireplace or brick back splash  it can do wonders for your décor. For this reason, we highly recommend Brick-Anew, which is an all-inclusive kit that helps you achieve the real brick look most people love.