When it comes to home design, our own individual sense of style and how we like to "live" in our own spaces are as unique as we are.
That's why we enjoy inviting home decor and design experts to share their signature styles, tips and tricks, and their design experiences with you so you can get inspired to try them out in your own home.
Today we'd like to introduce interior designer and friend Jennifer Woch of House of J Interiors in Edmonton, Alberta, to the Brick Anew blog family. We think you'll enjoy reading how she goes about developing amazing interior designs and how she created a stunning fireplace for one of her clients.
BA: How did you become interested in design and decor?
House of J: I always liked "pretty things." As a family we traveled to England when I was younger. I think the historical styling in Britain influenced me. I loved the depth and detail of the decor and architecture. I realized early on how much your surroundings can influence the way you feel and the way you live.
BA: What makes you so passionate about interior design and home decor?
House of J: It is inherent.  I can't help, but get excited by a beautiful interior!

BA: How do you go about choosing projects for yourself? What makes a project exciting for you?

House of J: When I first meet with a prospective client and learn a bit about them and their needs and dreams for a space, somewhere in there I find the magic that excites me. Usually it is hearing the client's vision or wish for their space. That's I feed off of. Then I find myself connecting to that and wanting to create that dream space for them. Aside from that, I really love getting the opportunity to work on a unique space. For example, I had the opportunity to design a local restaurant that was very boutique with a definite brand that needed to be represented.
BA: A lot of our readers are looking for ways to make their fireplace stand out in a room redesign or update. How do you approach a redesign or design challenge in a room with a fireplace?
House of J: A fireplace is always a focal point in a room.  It may not be the only focal point, but it has impact and should be treated accordingly. Fireplaces are so varied in size and styles that the decor must be varied as well.  In most cases the fireplace, mantle, hearth or tile/stone surround are the perfect place for adding decor, whether it be with art, candles, a mirror, branches, sconces, seasonal decor and the list goes on! When it comes to redesign for a fireplace, I start with removing everything.  I make it a blank slate.  From there I can try new and different ways to add back decor.  Sometimes you have to try a few things with placing decor before you find a style and design you like.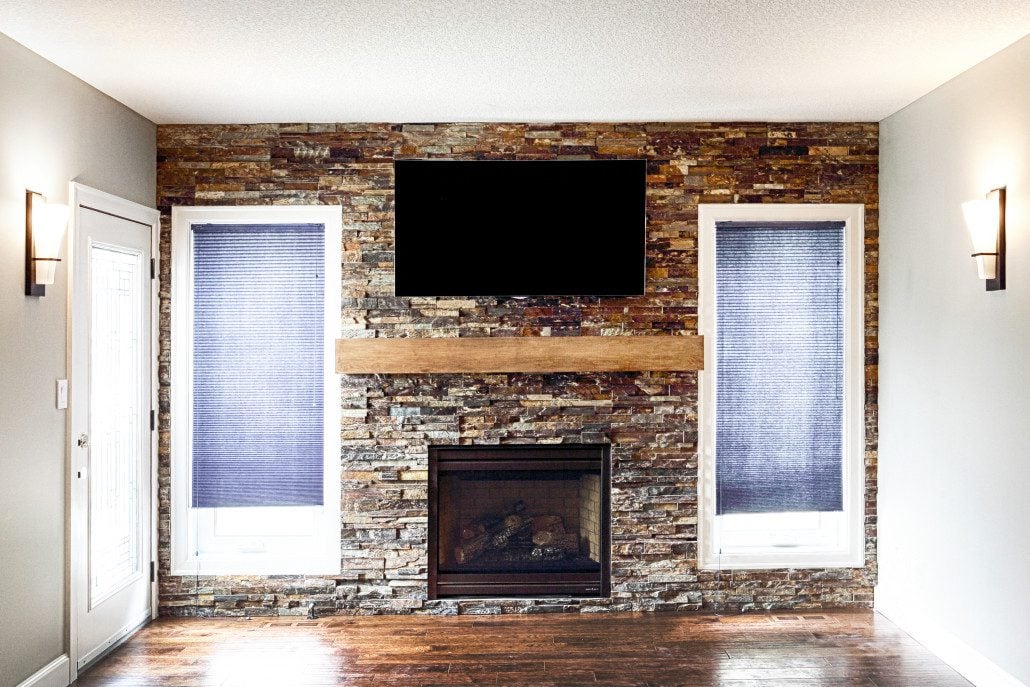 Slate family room fireplace, designed by Jennifer Woch, House of J Interiors, Edmonton, Alberta.Photo credit: Jennifer Woch, House of J Interiors
BA: We just loved your gorgeous fireplace wall project featured in the picture with this post. How did you come up with this idea?
House of J: In this case, we were doing a complete renovation for this client.  He wanted to keep his newly purchased blue blinds, so I wanted to make sure whatever finishes I chose would compliment not match.  The client liked the look of natural earthy finishes.  He originally wanted tile around the fireplace, but after selecting hickory flooring, maple cabinets and a detailed stone Quartz counter, stacked slate seemed an easy compliment to his other natural finishes.  This particular one with its deep orange rust and dark slate greys really tied together the other finishes in his home.The wall wasn't big and it was broken up with the windows and I knew he wanted to mount a TV as well.  It made sense to me to to cover the whole wall with slate and not just a section.  This made it a true feature wall and really brought out the beauty of the slate.  A simple thick mantle that coordinated to his cabinets was an easy choice.  The overall effect gives a bit of wow factor!

BA: In your opinion, what is the biggest challenge facing someone when starting a home design or update, DIY project?

House of J: I find that people struggle with where to start. I think that is partly because they sometimes don't know the road to take, so to speak. People know they want to renovate or make a change, but do they go out and buy flooring, do they paint first, do they phone a contractor first, do they need a designer. The process can be overwhelming if you don't know what process you're going to take.

BA: What are your best tips and advice for people who want to tackle a DIY or home decor project on their own?
House of J: Don't start anything until you have a definite plan and all the materials you need!
BA: What is the most frequently asked question you get?
House of J: "So how does this work?" I think a lot of people are not 100% sure as to how to utilize a designer or the way in which we provide our services. I'm always happy to meet with clients to help understand the process and what I can do to help them. I have detailed information on my website about the different processes to help people understand and navigate what services they may need: http://www.houseofjinteriors.com
BA: What is the question your clients, readers, viewers, followers, fans should be asking you?
House of J: Good question! People sometimes say to me "this might be a silly question, but…" I would tell people to ask away! Don't hold back. Definitely, when working with a designer, ask as many questions as you need to get the clarity you are looking for. Aside from that, people should ask,  "How can I make my space be stylish and functional for MY tastes?"
I think it is very important that a space is both appealing to look at, but also highly functional and most importantly it should suit the tastes of the person(s) using it. Don't go for the magazine cover or the latest trend, unless that is what is truly your taste in style!
BA: What's the most unexpected thing you've learned along the way?
House of J: A well designed space really can stand the test of time. I was at a client's home recently. I designed and decorated her whole home over 10 years ago. 10 years later every detail was still the same and I walked in and was amazed that it still looked beautiful and she still loved it.
BA: What room in your house resonates most with you?
House of J: My bedroom. It is my haven. A place to relax and be calm. The decor is beautiful and soothing to me. Even when the rest of my house gets in a shambles with daily life, my bedroom is always a peaceful tidy place!
A special thanks to Jen for being so generous with her time in getting this post together. We hope you enjoyed it as much as we enjoyed bringing it to you!
Related Posts