"I just wanted to say thank you so very much for creating such a wonderful product. My husband was very reluctant of me making this change. I showed him the Before & After pictures on your website and he gave me the go ahead. I prayed the whole time this would work for us too. After the about the 3rd step I almost stopped because I was so pleased with the results but continued until the end. I'm telling all my friends and family about Brick-Anew!"
That's what Merl and Nate, from Dover, Delaware, had to say about the Brick-Anew brick paint kit! Their dark brown brick fireplace competed with the light-colored surrounding stone and made it stick out like a sore thumb. What an eyesore!
They painted their fireplace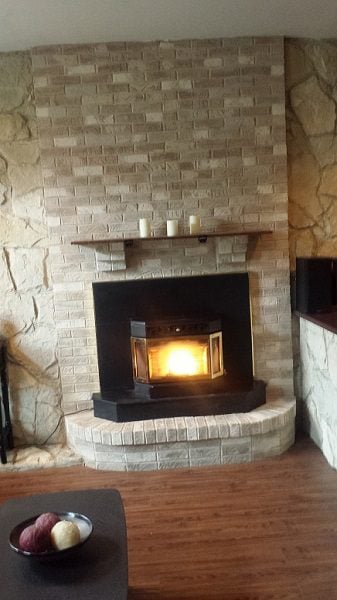 brick using our twilight taupe paint kit and created a softer look that makes the fireplace blend in with the surrounding stone,  creating a space that's calm and serene.  Here's to a  great job taking dated "Brady Bunch" brick and turning it into a beautiful focal point for their room!