A guide for buying home depot fireplace doors and other information on fireplace doors
Home depot fireplace doors are a great option for some fireplaces.  Overall, Home Depot isn't a bad place to start, but there are some things you should know before you make your final purchase.  Let's start with this video from one of the experts here at Brick-Anew.  He'll give you a few tips you should know before you even start shopping.
In this guide you'll learn:
Why 50% of America's fireplaces CANNOT have a fireplace door from Home Depot

The #1 fit issue with Home Depot doors and a real life example

Who really has the best price on fireplace doors and how to find the best price for your door
What kind of fireplaces can have Home Depot Fireplace Doors?
Home Depot, as well as all of the other big names like Lowe's and Amazon, all sell a brand of fireplace doors called Pleasant Hearth. These doors come in three sizes: small, medium, and large. Each of these can fit onto a range of different sized fireplaces.  (For example, the small size can fit on a fireplace between 22 1/2″ to 29 1/2″ tall and 30″ to 37″ wide.)  It is important to note that they cannot be installed on a prefab fireplace and are only for masonry fireplaces. Prefab fireplaces require a custom size door for the proper fit so prefab doors are custom built. It is important to understand the type of fireplace you have before you buy doors!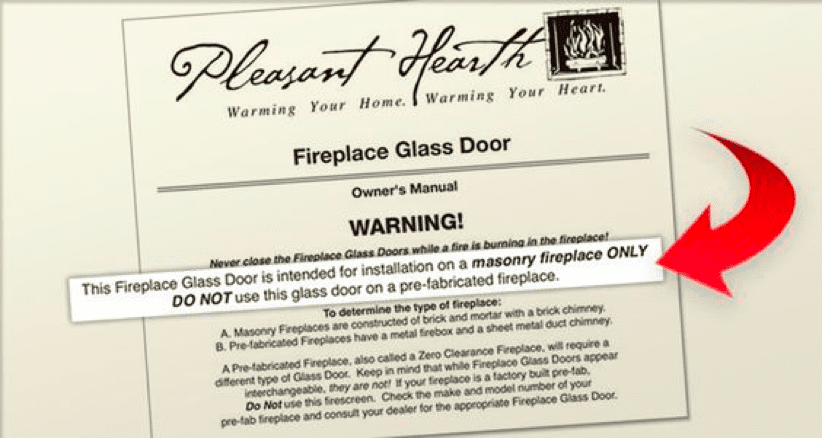 Prefab vs. Masonry: What kind of Fireplace Do You Have?
The key difference between masonry and prefab fireplaces is what they're made of.  Masonry fireplaces have a firebox made of brick or stone while prefab fireplaces have metal fireboxes.  While a masonry fireplace is built during the initial construction of the house, prefab fireplaces are prefabricated (hence the name)  in a factory and can be installed in a home at any time.  They are also known as zero clearance and factory built fireplaces.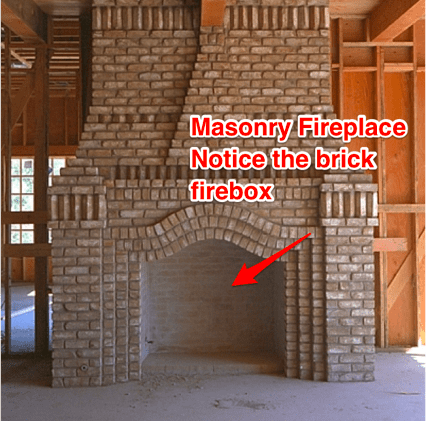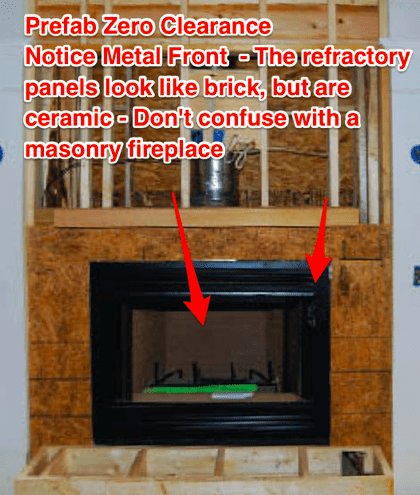 Prefab fireplaces are made by companies like Heatilator, Superior, Majestic, FMI, Temco, Martin, and Marco.  The firebox is made from metal, but usually the metal is covered by refractory panels.  The panels are made of a ceramic fiber and look a little like brick but aren't.  A quick rap on the inside of your firebox will immediately show you what material it is made of: brick (masonry) or metal/ceramic (prefab).  Prefab fireplaces often have a metal tag on the inside noting the brand and model.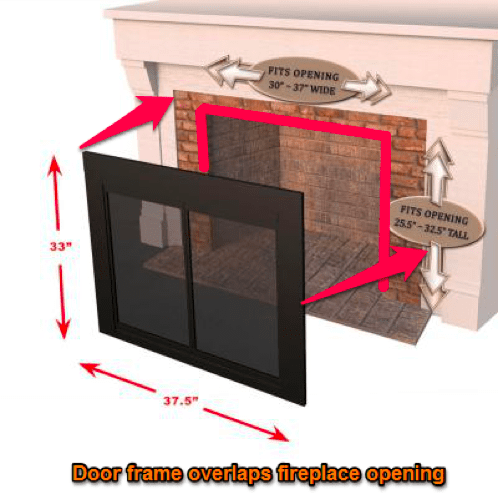 The type of firebox determines the type of door.  Masonry fireplaces have overlap-fit doors; these doors sit entirely outside the firebox and overlap onto the surround.  Prefab fireplaces have inset doors; these doors sit just inside the firebox and are flush with the surround.  Doors like this have to fit your firebox exactly, which is why they are custom made.  Prefab fireplaces require a precise fit for proper ventilation and to meet national safety codes.
Can My Fireplace Have a Home Depot Fireplace Door?
Now you know what type of fireplace you have.  However, Home Depot's advertising methods may still confuse you.

Home Depot advertises prefab fireplace doors online. You'd expect to click this link and find doors for prefab fireplaces.  However, the products listed are for masonry fireplaces only. Don't be deceived! Home Depot sells masonry doors only. If you have a prefab fireplace, check out the custom door options here at Brick-Anew. If you need more info on prefab fireplace doors, watch the following video.
Home Depot's Masonry Fireplace Doors
If you have a masonry fireplace, Home Depot can be a great place to get your doors.  As mentioned earlier, all of Home Depot's doors are made by Pleasant Hearth.  This company is located in Niles, IL.  If you have questions about their doors, reach out to their customer service team at (877) 477-4768.  For the price, Pleasant Hearth provides good quality doors.  They are all overlap doors, but they come in a range of styles.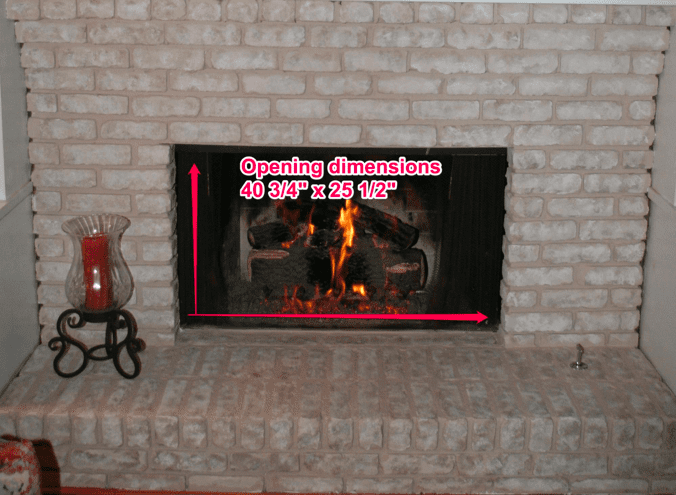 Measuring Your Fireplace
Before you order, you will need to measure your fireplace and determine which size door you need.  This masonry fireplace measures 40 3/4″ by 25 1/2″.  Based on the Pleasant Hearth size chart, we will need a large Pleasant Hearth door for this fireplace.
While our fireplace is in the acceptable height range for a large fireplace door, it is at the low end of the acceptable range.  This is cause for concern.
| Size | Fits Opening Width | Fits Opening Height | Actual Dimensions |
| --- | --- | --- | --- |
| Small | 30" ~ 37" | 22 1/2" ~ 27 1/2" | 37 1/2" W x 30" H |
| Medium | 30" ~ 37" | 25 1/2" ~ 32 1/2" | 37 1/2" W x 33" H |
| Large | 36" ~ 43" | 25 1/2" ~ 32 1/2" | 43 1/2" W x 33" H |
This is what that fireplace looks like with a large Pleasant Hearth fireplace door.  You can see that the top of the frame overlaps the firebox so far that some of the brick is showing.  An overlap that high is generally considered unattractive, and this installation would be considered sloppy by professionals.  The issue isn't with the door itself but with the pre-determined fit.
For many, the low price of these doors is worth a potential imprecise fit.  Especially if your fireplace is on the higher end of the acceptable size ranges, you're likely to get a nice, well-fitting product.
Pleasant Hearth Doors Price Comparison
Since Home Depot sells the exact same doors as many other big name stores, you can price shop to find the best deal!  This table compares the big name brands selling Pleasant Hearth doors.  The table shows the pricing of a Pleasant Hearth Alpine Door along with some other information.
Home Depot
Amazon
Walmart
Lowe's
Price
$277
$253
$253
$253
Shipping
Free 1 week shipping
Typically free shipping; 1 week minimum
Free 2 week
shipping
Typically free 2 week shipping
Support (1-5)
5: Products are easy to compare; great customer service through email or phone call; easy returns both in-store and online
2: Products are not easy to compare; no fireplace door assistance
3: Products are not easy to compare; minimal customer service; in-store returns only
3: Products are not easy to compare; minimal customer service; easy returns both in-store and online
Return Policy
90 days, no shipping charge
30 days, typically no shipping charge
90 days, only in-store
 180 days, no shipping charge
While the price is the same, you can see that each company has a different return policy, unique support procedures, and variant shipping times.
TIP: Make sure to price check once you've found the door you want!  It may be on sale with a different company.
Masonry Doors: Other Options
If you're worried about your doors fitting properly or matching your decor, you may want to check out the masonry door collection at Brick-Anew.  We offer stock doors (these are pre-made in three different sizes) in a range of styles and prices as well as some custom door options.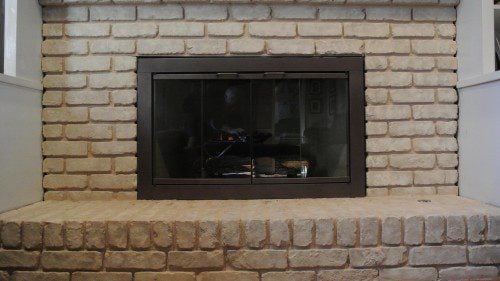 This is the same fireplace from above with a custom masonry door from Brick-Anew.  We could choose the perfect size for our fireplace as well as the type of door, the color of the frame, and the tint of the glass.  This results in a beautiful door that matches the fireplace bricks and fits perfectly.
Conclusions
If you have a masonry fireplace, Home Depot provides great pricing on an average selection of fireplace doors with a liberal return policy.  Once you've found the door you want, be sure to price check with other sellers.
If your masonry fireplace is on the low end of the acceptable size range, realize that the door might have a sloppy looking fit.  If your fireplace doesn't quite meet the acceptable size range or if it's on the low end, you might look into getting custom doors.
If you have a prefab fireplace, you won't be able to get doors from any big name sellers.  Check out the prefab doors here at Brick-Anew.
Related Posts