UPDATED 2020 EDITION
Stone Fireplace Painting Guide
Tips, tricks, how-to, and more information related to stone fireplace painting from the experts at Brick-Anew.
Painting a Stone Fireplace
Why should you consider painting your old stone fireplace?  If it's from the 1960's or 70's, it's probably a huge eyesore made from dark (or worse) speckled stone. Not only will painting your stone fireplace make it look new and modern, but a fresh coat of paint will lighten and brighten your room. The finishing touch of your dreamed home makeover.  Whether your fireplace has stacked stone, smooth stone, jagged stone, or limestone, remodeling with a fresh coat of paint can make it look updated and beautiful.
Painting can neutralize the color of multicolored stones, tone down the look of dark harsh looking stones, and dress up rustic stones.  A painted stone fireplace has a versatile, softer look which makes it easier to decorate around, especially during the holidays.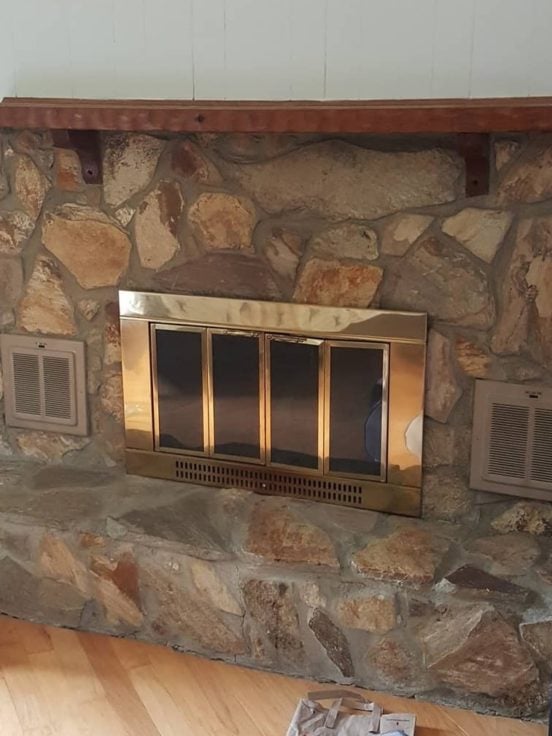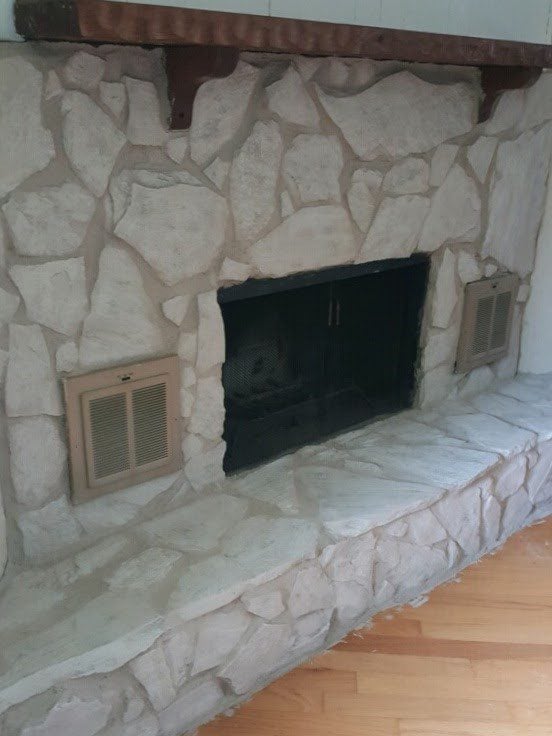 When you think of painting a stone fireplace, the first color that may come to mind is white.  Depending on your decor, white could look lovely or it could seem a bit stark. Luckily, there's more than one painting technique you can choose from to get just the right look for your taste and your room's decor.
In this article we'll explore the top three stone fireplace painting techniques:
Whitewashing your stone fireplace
Painting your stone fireplace one solid color
Brick-Anew Stone fireplace paint system
What Type of Paint Should You Use on a Stone Fireplace?
There are several types of paint that can be used on a stone fireplace. The most common types of paint used are oil based primer or water based primer along with latex paint in flat, eggshell, satin, or semi-gloss, or gloss.  It's up to you whether or not you want to prime your stone before painting. Acrylic latex primer and two coats of latex paint covers darker stone well when using light colored paint. Chalk paint, acrylic stucco paint, watered down paint, milk paint, and latex paint are all good options as well.
When painting your stone, you might choose to use a sprayer if you have a very large area to cover or to get even coverage on uneven stone.  Another option is to purchase a roller designed for masonry. A sturdy paintbrush can be used to get the paint into cracks and tight spaces.
Shades of white, cream, off white, ivory, light gray, dark gray and light taupe are popular color choices for painting a stone fireplace.
What Type of Paint Should You Use on a Stone Fireplace?
Latex paint is a popular choice for painting a stone fireplace.  Latex paint is easy to work with and gives great coverage. Since latex paint is water based,  there's no harsh odor.
The Best Paint for a Stone Fireplace
Latex paint is a great choice for painting stone since it's durable and has fade resistance and good adhesion.  Here is a list of popular color choices for painting stone:
How to Choose the Right Stone Fireplace Paint
Choosing the right paint  depends on the look you're trying to achieve.  If you prefer a solid painted look, you can paint over your stone with a latex paint product in a color that will complement your decor.  From white and creamy to bold and dark, you can choose a shade to match your room's decor and personality.
A stone fireplace painted white can help brighten the darkest rooms.  If your fireplace is located in a dark basement or in an area of your home that lacks windows that bring in natural light, painting your stones a creamy white along with some good lighting in the room will brighten the area.  Even in a sunny space, a fresh coat of light colored paint will look fresh and modern.
Painting your fireplace a dark, bold color such as dark gray or black can add a bit of drama to the room.  A dark color on the fireplace can make your room look cozy.
Other light color options for your stone fireplace include whitewashing your stone with white paint and the Brick-Anew Stone kit.
Whitewashing gives a subtle painted look where the stone peeks through a thin layer of paint.  The whitewash tones down dark, harsh looking stone and gives it a lighter, softer look. Popular whitewashing colors include light gray and white.
The Brick-Anew paint kit gives a natural brick look instead of a solid painted look.  The kits come in 3 color choices: Twilight Taupe which is a combination of light taupe, tan, beige and creamy beige; Misty Harbor which includes shades of light gray, light tan, and creamy ivory; and Frosted Sunshine which has shades of light tan, medium tan, and yellowish cream.
How to Paint a Stone Fireplace Step-by-Step
Whitewashing a Stone Fireplace
Tools:
Staining pads
Paint brush
Chalk paint (creamy white or light gray)
Water
Plastic container
Goggles
Painter's tape
Scrub brush
Rubber gloves
Lay down a drop cloth and remove all tools and accessories from around the fireplace area. Whitewashing is messy!
Tape off around the area to be painted and the mantel so paint doesn't spill over.
Clean the stones using  soap and water or brick and stone spray cleaner and a scrub brush. Rinse with water.
Create a whitewash mixture with paint and water (ratio 1:1) and stir.
Test the paint by brushing it over a stone and see if you like the look or if you need to add additional paint for more coverage..
Brush on paint in sections of the fireplace.  Use staining pads or an old rag to wipe away excess paint as you go.  Some of the stones natural color will peek through the paint.
Let the paint dry to the touch.
Clean brushes with warm soapy water.  Remove painter's tape and drop cloth. Seal containers with unused paint and dispose of empty cans.
Painting a Stone Fireplace One Solid Color
Tools:
Latex paint
Primer
Paint Brushes (small, medium and large)
5-Wire roller frame
Roller cover with at least 1″ nap
Scrub brush
Bucket
Water
Drop Cloth
Painter's tape
Gloves
Paint tray
Lay down a drop cloth in front of the fireplace and remove all tools and accessories from the area.
Use a sturdy scrub brush and brick and stone cleaner or soap and water to clean the stone.
Repair any large cracks in the stone with acrylic latex caulk.
After the area is dry, you can begin applying the primer with the roller. Use brushes to cut in and where space is tight.
When the primer is dry, apply the latex paint in the same way.  Use two coats for the best coverage.
Remove the painter's tape and the drop cloth and rinse brushes and rollers in warm soapy water.
Seal paint cans with unused paint and dispose of empty paint cans.
Painting a Stone Fireplace with Brick-Anew Stone Fireplace Paint System
Tools:
The Brick-Anew paint kit comes with all the tools you'll need for your project including:
3 nap rollers
1 roller handle
2 paint brushes (medium and small)
painter's tape
rubber glove
stir stick
paint tray
sponge
5 shades of  Brick-Anew latex paint products
Lay down a drop cloth in the fireplace area and remove all tools and accessories.
Use the painter's tape to tape off areas around the walls and mantel.
Clean the stones using soap and water or brick and stone cleaner. Rinse and let dry.
Apply the paint according to the directions in the kit and the instructional video.
Clean up area and let the paint dry.  The paint comes in plastic bottles with screw on caps so any unused paint is easy to store.  Remove the painter's tape and drop cloth.
The Brick-Anew paint kit for stone gives you a natural "real stone" look instead of a painted look.  While whitewashing and painting over stone with one solid paint color gives more of a solid painted look, Brick-Anew Stone looks as if you tore out your old stone and replaced it with a new lighter colored stone.
The Brick-Anew Stone  kit comes with 5 shades of latex paint products and all the tools you'll need to complete your project.  If you're not an artist or pro DIYer, you'll appreciate the fact that all the guesswork and trial and error of choosing paint shades has been done for you.  As soon as you kit arrives at your door (with free shipping by the way) you'll have all the tools, instructions and paint you'll need to complete your project.  The Brick-Anew Stone paint process gives great results and is more like following a step- by- step recipe than doing an artistic project. So if you're on the fence about which process to try, this turn key system has a satisfaction guarantee. If you don't like the look of your fireplace when you're done, ask for a refund and try another paint color.
How to Paint a Stone Fireplace Surround
The fireplace surround is the decorative wood that goes around the firebox opening.  A surround can be described as a type of mantel. Painting a wooden surround is an easy way to update the look of your stone fireplace. After painting the stone, you might decide the surround is too dark and you want to lighten it up or that it needs a pop of dramatic color such as dark gray or black to contrast with a lighter painted stone.
Tools:
Semi- Gloss Latex paint

Painter's tape

Drop cloth

Paintbrush

100 Grit sandpaper

Primer

Protective glove

Damp cloth
Lay down the drop cloth and remove any accessories from the area.
Tape off areas around the mantel surround.
Sand going with the grain of the wood (not in circles) to rough up the surface.
Wipe dust from mantel.
Apply primer with brush and let dry.
Brush on latex paint in 1 or 2 coats.  (Let paint dry between coats.)
Painting a Sandstone Fireplace
Painting a sandstone fireplace can be a little more difficult than painting regular stone since it's soft and brittle.  To begin, clean the sandstone with a cloth to remove any dirt or dust. Next, apply a light colored primer using a spray gun to ensure the paint get into all the indentions and spaces in the stone. Then, use the spray gun to apply a latex paint over all the sandstone.  Lastly, use a brush to apply a clear sealant to protect the stone from scratches or wear and tear.
How to Paint the Firebox of a Stone Fireplace
The firebox is an often forgotten part of the fireplace when a remodel has been done.  A fresh coat of paint on the stone and you're done, right? Wrong! The fireplace needs a little TLC as well.  After all, that's the part of the fireplace that does all the hard work. The area where the fire burns gets sooty and dirty.  Even if you don't burn real wood, gas logs can cause unsightly soot stains in the walls of the firebox as well. The firebox is the focal point of the fireplace so it needs to look fresh and clean.  Even though high temp paint comes in a variety of colors, the most popular choice is black since it hides soot stains easily.
Wire scrub brush

Bucket of water

Shop vac

Broom and dust pan

Protective Gloves

Goggles

Bucket

Drop Cloth

Paint brush
Lay down drop cloth and remove all tools and accessories from the area.
Wear goggles and protective gloves and remove any logs and debris from firebox.
Remove metal log holder.
Use the shop vac and the broom to remove ashes and soot.
When the firebox is empty, use soap and water and a scrub brush to clean walls and floor of firebox. Let dry.
Open windows and doors to allow for plenty of ventilation.  The high temp paint has a very strong odor until it dries.
Brush on firebox paint over the walls and floor of the firebox.
So as you can see, painting a stone fireplace is not as difficult as you might think.  And as far as remodeling costs go, painting is far less expensive than any other option such as ripping out the outdated stone and replacing it with another material.
Which Stone Fireplace Paint Technique Should You Choose?
Let's review the painting choices we've discussed:
Whitewashed:  A thin layer of paint with some stone peeking through
Solid Painted:  A thicker solid painted look that completely covers the stone.
Brick-Anew Stone:  The look of lighter, natural looking stone.
Do you need some inspiration so you can get motivated to get started on your project?  There are dozens of DIY websites and bloggers who have written about their stone fireplace paint projects online.  Here are a few of our favorites:
Did you discover a stone painting technique just right for your fireplace?  Go ahead and take the plunge! If you don't like the look of your dark stone fireplace, painting will not only give you a lot of bang for your buck but since you can do the project yourself and you can save hundreds of dollars.  Just think, with a little grit and determination, you could have a fresh new fireplace in just in time for fall!