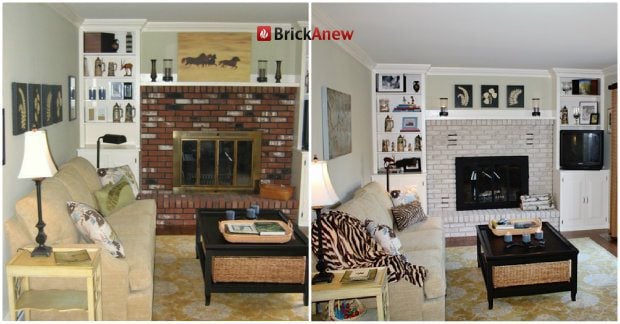 Designer Laura Putnam tells the story about how she made a sad room happy on her blog, "Finding Home".  She was working with a client who had an older home with all the 80's decor you can imagine…plaid couch, textured wallpaper, oak cabinets, and worst of all a big old dark red brick fireplace that seemed to suck the air out of the room.
Laura got to work having the trim painted, replacing the carpet with new hardwood floors, and knocking out a wall that divided the living room and kitchen.  Then she purchased new furniture in a light, soothing tone with accessories to compliment the lighter look.  But with all that done, she knew the room just didn't feel right.  Yet.  The dark brick fireplace was begging for a makeover.
She pitched the idea of painting the fireplace to her client, promising to make the brick a lighter color while keeping the "real brick" look.  Her client finally agreed as long as the project  wasn't too expensive to do.  Laura ordered the Brick-Anew do-it-yourself fireplace paint kit  and got to work.  The results?  Well, they speak for themselves.
A light, bright happy room and a satisfied client.
The Brick-Anew kit had everything Laura needed…a tool kit including a sponge, brushes, rollers, and a paint tray.  She listened to her favorite tunes while she followed the easy, step by step DVD instructions to apply the 5 shades of paint to lighten up the brick and get a real brick, not painted, look.  The difference in her fireplace is amazing!
So the moral of the story is that painting brick really is OK sometimes.  If tired, outdated brick is ruining the look of your room, give it a fresh, new look with Brick-Anew…
And be sure to check out Laura's blog "Finding Home"  to see all her creative decorating and DIY ideas!
SEE ALL THE DETAILS: http://findinghomeonline.com/painting-a-brick-fireplace/
Related Posts