Back in the day, you had a brick fireplace in your home, and that was it. You could paint it, but other than that, you were stuck with that design. However, now that we're in the modern age, a fireplace can provide you with so much more than heat. It is a place to display your belongings, something to match the aesthetic of your room, and even something to mix together with technology. 
If you want to update your fireplace or add a unique and modern fireplace to your room, you may want to consider a media wall. It is an innovative addition that will make all your visitors drop their jaws in awe. 
Keep reading to find out exactly how you can build one. 
What is a media wall?
Before you start your media wall, you must first know what one is. They've been around for the last decade, especially when flat-screen TVs started to become a big hit. People no longer had to place their chunky TV on a stand, but now they could mount them on the wall, even above their fireplace. 
Therefore, a media wall is simple. It is a wall with a piece of technology, such as a television or an electronic picture frame. You can have it with or without a fireplace, but combining them together gives you a much better result. 
Steps to create a media wall fireplace
Ready to get started in building your own fireplace media wall? All you have to do is follow these simple steps:
Put together some inspiration and design ideas
Before you start gathering materials, you want to have an idea of what sort of media wall you will place in your room. Do you want it to match the aesthetic of your furniture? Or do you want it to stand out a little more? There are a ton of things to consider, and you can often make your decision by looking for some inspiration.
The internet is a great place; you can often find images and descriptions of other people's fireplace media walls. You may find something that fits your exact needs right away, or you may have to look a little longer. 
The wall
Once you know the type of fireplace media wall you want, you need to find where you're going to put it together. Not every wall is able to withhold a TV and fireplace, so you need to find one that can. Most media walls are stud walls built from a wooden frame and covered in plasterboard. If you don't have one of these, you may have to consider alternative options. 
Another consideration will be whether you'll be adding any additional features to your wall or if you want the TV and fireplace to be central and alone. You could always add some bookshelves, photo frames, or other storage facilities, but the choice is entirely up to you. 
The fireplace
Finding the wall is probably one of the easier steps, but now you need to decide what sort of fireplace you want to add to it.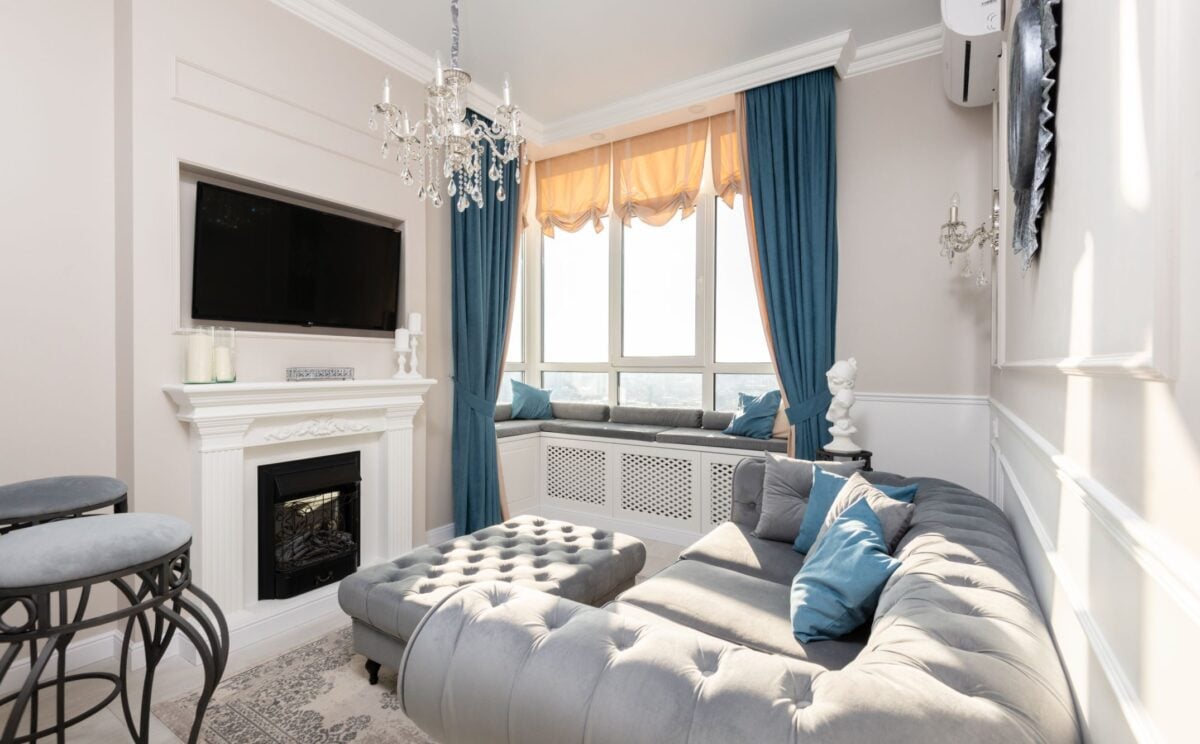 Will it fit?
Fireplaces don't all come in the same size, and some are bigger than others. If you have a specific fireplace in mind, you need to figure out whether it is actually going to fit on your wall first. You will need first to figure out how much space it will take up based on how it is incorporated into the wall and then take complete measurements.
If it seems like your fireplace may just fit in the space, we don't recommend taking the risk. Instead, you may have to just give up the fireplace you were first looking at and find one that meets your dimensions and your needs. 
Heat output
The whole point of a fireplace is that it will heat up your room during the winter months. Therefore, there isn't much point in purchasing a fireplace that isn't going to do its job efficiently. Any fireplace you choose should have a front heater, ensuring all the warmth is generated into your room and not within the wall. 
Other accessories like glass fireplace doors can also help with heat output. They prevent too much cold air from coming through the chimney and into your room when the fire isn't burning. 
 Clearance
While you've already checked that the fireplace will fit on the wall, you also need to check that there is enough space around your fireplace as well. This includes any furniture that may not be able to be moved. The heat of a fire can be intense if you are too close to it, so you don't want any personal effects that can be damaged nearby. 
Often, a fireplace manufacturer will guide you on how much clearance you will need. Look this up before purchasing the fireplace and ensure that your room can handle it. 
Design
Of course, you want to ensure that the fireplace you're purchasing and adding to your media wall suits the aesthetic and design of your room. If you want a modern fireplace, you may want to opt for an electric one with a sleek, black, or marble finish. If your room is slightly more traditional, you may want a whitewashed brick fireplace with distinct carvings in the mantel.
It is best to shop around for the perfect fireplace rather than settle on the first one you see. Your media wall will be with you for a long time, so you don't want to have any regrets once it has been installed. 
The television
Last but not least, you need to figure out what television you want. Of course, it has to be one that can be mounted on the wall, therefore, it should be a flatscreen. Every other aspect of your TV is entirely up to you. Will you be using it just for cable TV? Or will you be watching streaming services such as Netflix and Amazon Prime? You might want to opt for a Smart TV or one with extra HD. 
It is the final step in your media wall, and there are thousands of options out there, so make sure you find the right one. 
Final thoughts
A fireplace media wall is a fantastic addition to any home, but it isn't an easy thing to make. Luckily, with the help of Brick Anew, you can paint your fireplace to give it a modern, updated look.  You can also find the perfect set of fireplace glass doors to add a finishing touch. Your fireplace is best when it has all the right accessories, and we will help you find the perfect ones so you are happy for years to come.