*This image property of Janelle Hamann, janelletrinette.com
When I walked outside yesterday, I couldn't believe what I saw and felt.  Leaves in brown and gold colors were scattered around the ground.  A breeze was blowing.  The sky had lost it's pool-blue color that reigns during summer time.  
That's right.  Fall is on the way.
It feels like summer started just a little bit ago, but fall is right around the corner and with fall comes all that orange and red decor that is stashed away for most of the year.
The fireplace is home to warm orange-yellow flames.  Even if you don't have a fire going, adding some fall decor to your fireplace evokes mental images of roaring fires.  This makes the fireplace a super powerful decoration tool: it brings out the power of the imagination.
There are three main areas of your fireplace that you can decorate: the hearth, the firebox, and the mantel.  We'll look at decoration ideas for all of them, but first we need to pick a color scheme.
The Vision: Choosing a Color Scheme
This is the first step to fireplace decor.  This way the decor is consistent from mantel to hearth.  Autumn colors include yellows, oranges, reds, golds, bronze, and browns.
Rustic decor often includes grey shades while more modern decor incorporates greens.  Whatever you choose, try and use an off-white or cream shade as well.  Your fall decor might look outdated without it.
TIP: Your color scheme should work with, not against your room's current colors.
If your living room is decorated in muted neutrals, try using a candy-apple red and gold.  If your room already has lots of color, a deep brown and a muted orange might be the way to go.
Fall Decor Ideas for the Hearth
An amateur decorator might pile a bunch of fall-related items on the hearth and call it a day.  Instead, we need to carefully select items and where they'll be placed.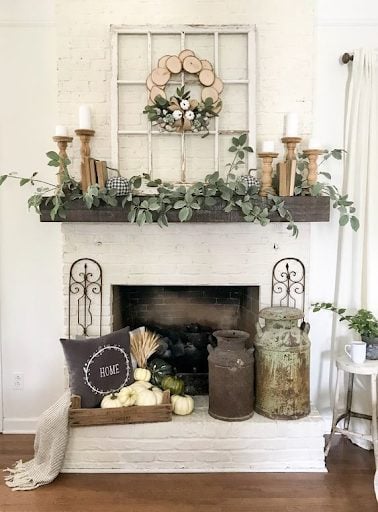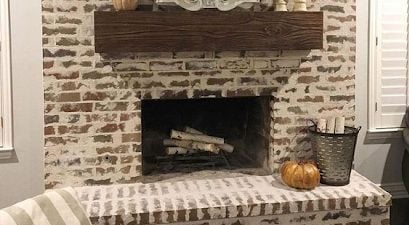 In general, we want to include decor on both sides of the fireplace.  Making the sides reflect each other is beautiful and elegant.  Mismatching the decor looks rustic and charming.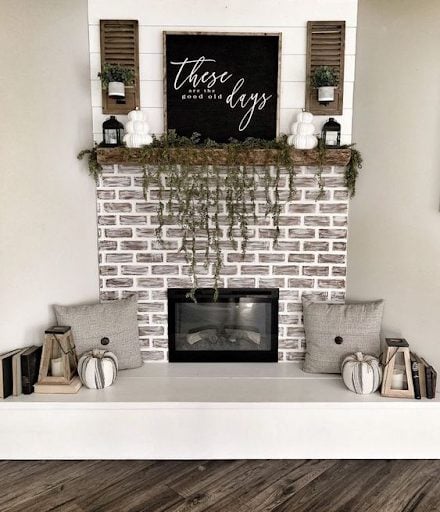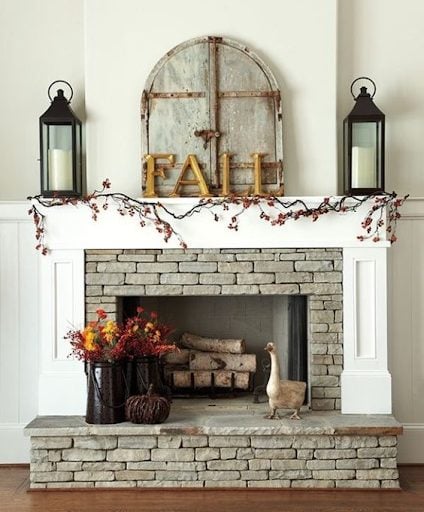 Tip: Appealing height patterns include shorter-taller-shorter and a short item next to one or more tall items.
In the first image, you see the shorter-taller-shorter height pattern.  They have arranged books then a lantern then a pumpkin.  In the second image, you see two tall metal buckets paired with a short pumpkin.
If you are mismatching the decor, you can use either of the height patterns, but you want something on the second side that is in between the heights of the items on the first side.  In the second image, the goose's height is in between those of the buckets and pumpkin.
Tip: A very tall item looks odd on its own; it should go with other items in one of the height patterns.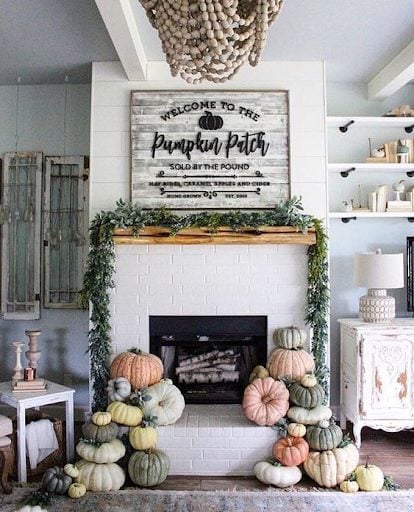 A collection of items of similar height can also be appealing.
But you'll want to add variety in another way.  These pumpkin collections are similar in height, but each pumpkin is unique in color and size.
As far as the items you choose, you can use quite a variety.  Pumpkins, of course, are popular as are buckets, blankets, baskets, candles, faux greenery, straw, and signs.  Here are some of my favorite options that all come at a great value:
[content-egg-block template=offers_grid]
Fall Decor Ideas for the Firebox
If you're in the south like me, you know that it won't actually be cold enough for a fire until at least November or December.  So I like to use my firebox for more decor.
Tip: Make sure the hearth and firebox decor go seamlessly together by keeping one of the two simple.
The firebox can either be a focal point with metallic pumpkins in a warm gold or have more natural elements like fall leaves.
If I'm drawing attention to the firebox, I like to give it a coat of paint to hide any dirt or soot stains.  You'll need to use a heat resistant paint so that it doesn't flake away when you start a fire.  This really takes firebox decor to the next level.
If you are planning on burning in your fireplace this fall, try adding a simple wreath to the screen.  You can take it off easily when you're ready for a fire.
Fall Decor Ideas for the Mantel
Now we've made it to the fireplace mantel.  It's crucial at this step to realize the fireplace is one whole made of three parts.  You can create a beautiful mantel that looks horrible with your hearth and firebox.
Tip: Include one element from the hearth or firebox to keep things unified and a few unique items to distinguish the mantel.
If you include too many unique items, the whole fireplace will look a bit cluttered and chaotic.  Let's look at some mantel ideas that blend seamless with the other decor.
Tip: The mantel is a great place to add fall garlands, signs, mirrors, and photos.
The fireplace is the first part of my home I want to decorate when the weather gets cooler.  I choose my fall color scheme and then get creative.  I love to try and incorporate some things I already have around the home or outside such as autumn leaves or pinecones.  Buying a few new pieces to add to my decor collection is really fun as well.
Let me know in the comments some of your favorite decor tips and tricks!
All images are from Pinterest.