Thinking about revamping your home and seeking inspiration for a fireplace a cut above the rest? You may want to consider checking out zero clearance fireplaces. 
So, what is a zero clearance fireplace? Zero clearance fireplaces are also known as prefabricated fireplaces, because they are manufactured offsite in a factory and delivered as a single unit before being installed in the home. 
These models can integrate smoothly into the home even against surfaces like wooden or white-painted walls. Unlike traditional fireplaces with mantle pieces and chimney attachments, zero clearance fireplaces are more space efficient and have several other benefits associated with them. Let's take a look at everything you need to know about these fireplaces. 
How Does a Zero Clearance Fireplace Work? 
Despite being a vessel for heat generation, a zero clearance fireplace does not require a traditional chimney. Ventilation options are versatile when it comes to installing these fireplaces as even venting through a nearby wall or ceiling is effective. 
These fireplaces are usually manufactured using metal with insulation on the inside, preventing heat from escaping through the firebox wall, and damaging any surrounding materials in the space. The heat inside the fireplace is completely self-contained. 
Of course, a fireplace also has to have an element of functionality to it. For this reason, they are designed so that the heat from the fireplace is effectively directed into the room it is intended to heat. Not only are zero clearance fireplaces aesthetically appealing, they will also give you the ambience you want on those colder winter days. 
Customization Options for Zero Clearance Fireplaces
Zero clearance fireplaces are somewhat difficult to customize once they are installed in the home, however, they are manufactured in so many styles you'll definitely have loads to choose from when you shop! If your budget allows, you can also order custom-designed zero clearance fireplaces, especially if you're looking for something unique to your home. 
Changing the color of a zero clearance fireplace can be challenging, given the fact they are typically made out of metal. Coloring will probably have to be done through color blasting or by using a specialized paint for insulated metal. Designers do not recommend painting the metal firebox as it flakes off easily. 
There are also two main classes of zero clearance fireplaces namely heat-rated fireplaces and decorative-rated. Heat-rated zero clearance fireplaces provide more functionality over aesthetics, warming the room in the most efficient way possible. On the other hand, decorative-rated zero clearance fireplaces focus more on providing ambience and feel intended to fit in with the design scheme of a room.
The Benefits of Having a Zero Clearance Fireplace Installed
Aside from the fact they look gorgeous, zero clearance fireplaces have several other benefits too. Ultimately, they will save you space and money in the long run. We've listed some of the other benefits you can look forward to when you decide to install one of these fireplaces in your home.
They're More Energy Efficient
Because zero clearance fireplaces are self-contained with smaller ventilation requirements, they do not require as much fuel to burn. They usually operate using wood or gas as fuel to feed the flame. You will not have to refuel the fire as much as you would a fire in a traditional stone or mantel-topped fireplace. 
The insulation in the firebox ensures the burn is as efficient as possible, saving you money long-term. Additionally, having a zero clearance fireplace in your home also means you will not have to have the central heating on, saving you money on electric and household gas bills. 
Most designs also come with a glass door, which one opens to refuel the fireplace. Closing the door while your zero clearance fireplace is in use reduces the smoke in your home and also creates a more efficient fuel burn. The heat in the firebox is also optimal for heating the room given the fact that you can close the fire door.
Aesthetically Less Invasive
The whole point of these fireplaces is that they do not require additional clearance in the home and can be built into a wall or even a wooden panel. For this reason, they give the impression that they are built into the home, optimizing space which creates flow within the home and living space. 
The compact design of most zero clearance fireplaces means that they integrate into the room smoothly, meaning the ambience is effortlessly implemented into the room. No wonder these models of fireplaces are so popular in modern home designs.
More Cost Effective Long Term 
In terms of installation, zero clearance fireplaces are far more cost-effective than more traditional designs. They are a lot cheaper than stone fireplaces or any model that requires a chimney for complete installation. Given the fact that these fireplaces are manufactured off site and installed separately, the work required inside the home is minimal, therefore reducing labor costs.
They're Easy to Install
Some zero clearance fireplaces come in a one-size-fits-all design, meaning they are super easy to install. Even in older homes, there is very little prep work required for one to be installed. Because of the self-insulated nature of these models, they can be installed in almost any part of the home. 
The ventilation requirements for zero clearance fireplaces are also minimal, which is an added installation benefit. A contractor can easily create a ventilation point through a wall or install one in the ceiling. The insulated firebox does not produce a lot of smoke from the fuel, therefore there is not as much ventilation required as with an open fireplace.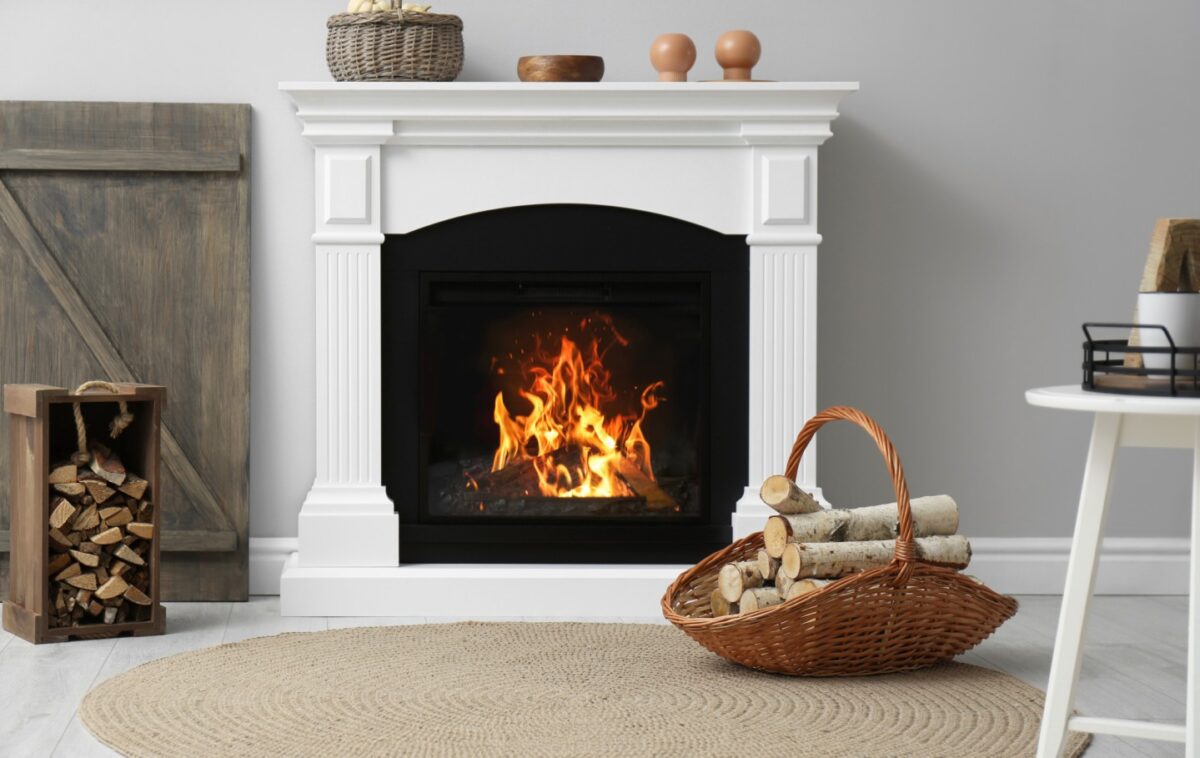 Better Ventilation
Zero clearance fireplaces can be vented relatively simply, making them easy to install and it also reduces the amount of space they take up. For propane-fueled fireplaces, there is not much smoke generated, meaning your fireplace will not require much ventilation. Some gas-fueled fireplaces can be free-standing, although it's always best to consult a professional for advice on chimney types and vents.
How to Maintain Your Zero Clearance Fireplace and Vents
To ensure you get the most out of your zero clearance fireplace, it's vital that the correct, regular maintenance is performed on the unit itself and that the air vents are looked after too. 
Cleaning the firebox is an important part of the maintenance program. Make sure you have the correct products in stock to avoid any issues caused by the incorrect use of chemicals. Cleaning your fireplace after every use is not necessary, but you should aim to do this every two weeks or once a month, particularly in the winter. 
There are also different maintenance requirements for wood-fueled fireplaces and propane-fueled fireplaces. For wood ones, you will need to clear out any coal or ash left over after the burn. However, propane or natural gas fireplaces only require a wipedown occasionally. 
It's also really important to regularly check that the vent or the chimney of your zero clearance fireplace is never blocked or obstructed. This can lead to leaks and further damage. A blocked vent can also cause hazardous chimney fires. 
Each zero clearance fireplace model will have its own cleaning and maintenance guide, which you will need to familiarize yourself with. The fireplace manufacturer will be able to offer you tips and advice on the correct maintenance method, so it's best to ask them. Some require more maintenance than others, so make sure you're aware of what is required before you purchase yours. 
Is a Zero Clearance Fireplace Your Next Purchase? 
If zero clearance fireplaces are sounding good to you after reading this post, then why not start looking around for your dream one? These models have so many benefits and can add a modern sleekness to your home you may not get with traditional fireplaces. There are so many designs and vent options to choose from, and they are super space-efficient. With all these great benefits, they're becoming more and more popular in modern homes. 
Related Posts