Looking to introduce a brick fireplace into your home but unsure of what design style to use? Try one of these unique fireplace brick designs and get your fireplace to pull the entire room together. 
Keep it traditional
Who says you need to change anything at all? Sometimes a simple brick fireplace is all you need for your room, and it may fit perfectly with the rest of your room. All you need is some neutral brickwork without any special engravings or bright colors, and it will keep the area looking simple yet nice to look at. 
You may still want to add a few little spruces to the fireplace, but that is entirely up to you. You can base your decor on the mantel around what the rest of the room's aesthetic looks like and change it if you ever change your furniture.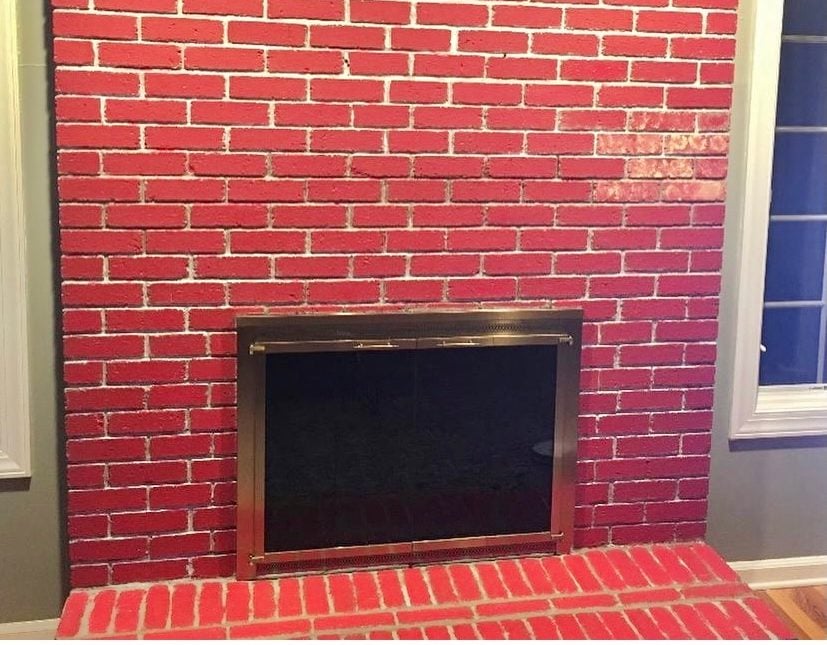 Add doors
Every brick fireplace needs doors, and this isn't just because they are extremely beneficial to use. They also provide the area with an extra splash of style, especially when you've chosen doors that pull the entire room together. You can opt for different colors and designs depending on the aesthetic of your home.
Fireplace doors also help prevent any damage to the surrounding furniture and walls of the room. It can help ensure that you are getting the most heat and that the draft from the chimney doesn't make your room too cold.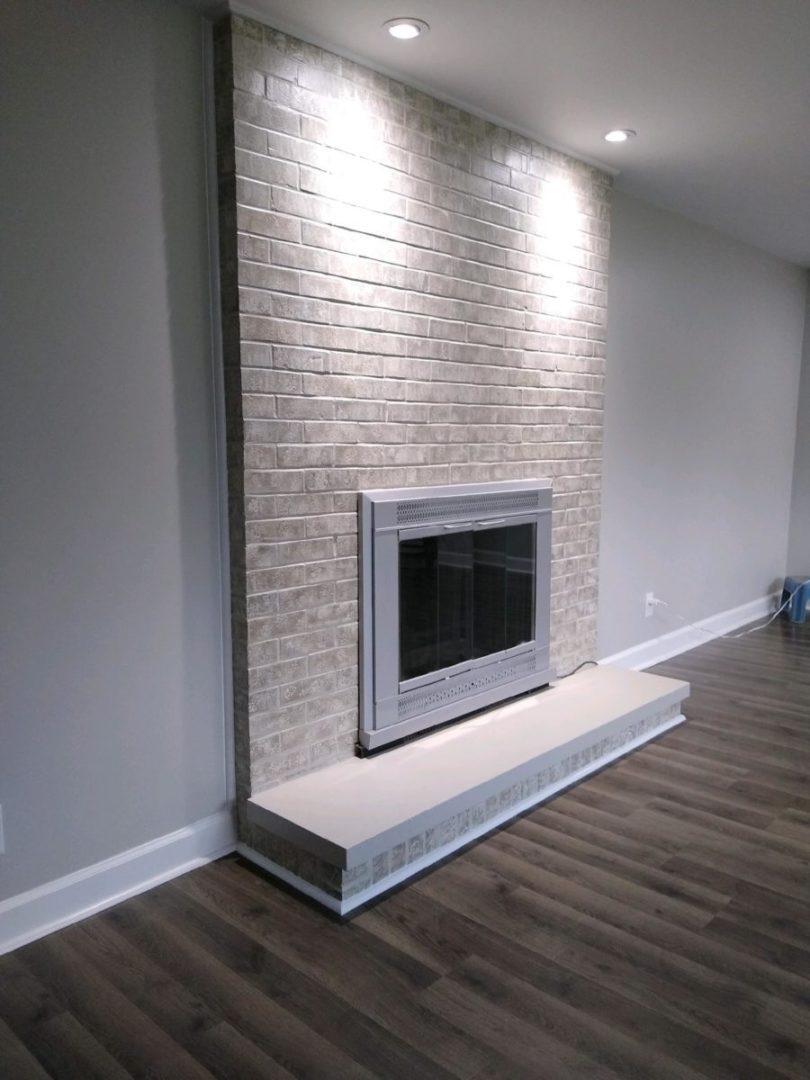 Create a new surround
The surround stands out most when looking at your brick fireplace, so if you want to change up the area, you may want to start creating a new surround. Of course, it will need to consist of bricks, but you can always change it up by painting it with a new color or adding special engravings. 
You can either place layers on top of the bricks that are already there or you can start from scratch. However you choose to do it will depend on your funds and the location of the fireplace, but it isn't often a difficult job, and it always looks great in the end.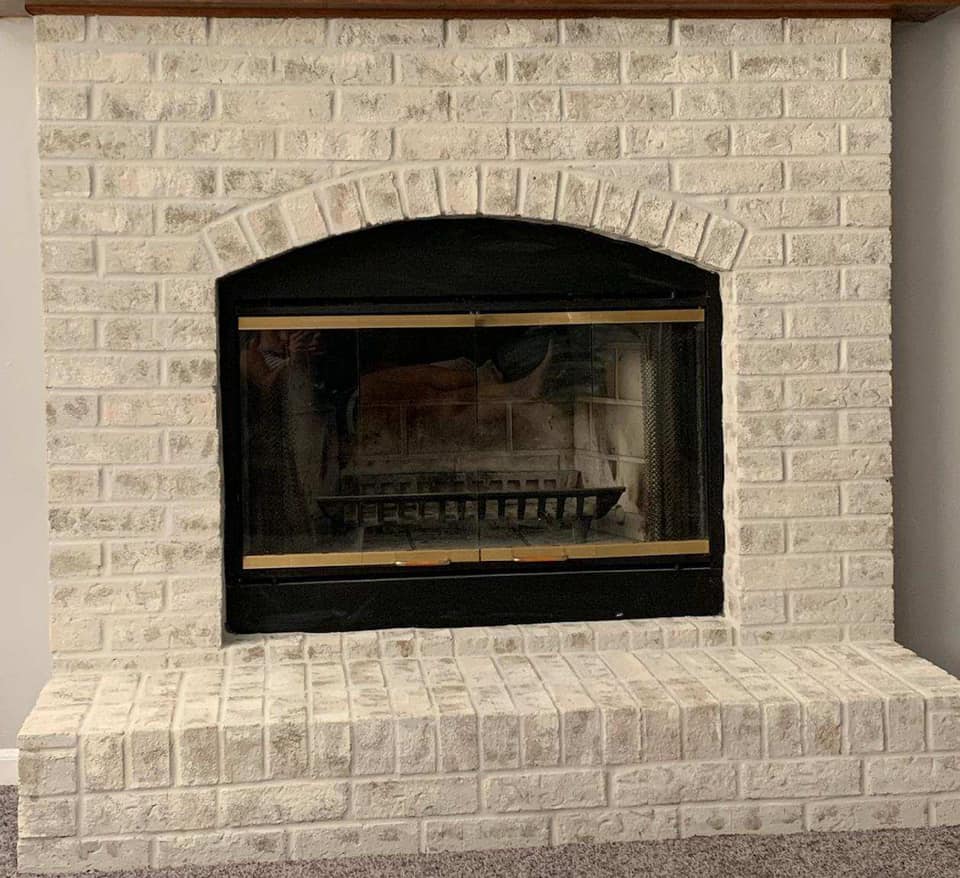 Install a floating mantel
Most mantels are drilled into the wall, and you can easily see the screws and stands showing up. However, a new trend with brick fireplaces is floating mantels which look like they are holding themselves up on their own. You don't see any anchors or nails, and it gives people who look at it a unique illusion. 
A floating mantel is hung on the wall by drilling nails into the wall and corresponding holes into your mantel. They will slot in together and provide the look as if it's standing on its own. You may need to get a professional to help with this.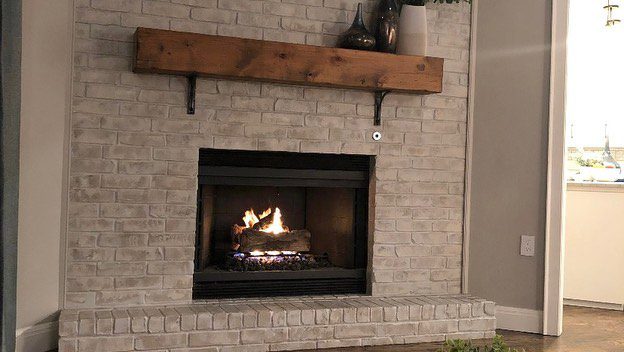 Keep it neutral
You can make changes to your brick fireplace without going too extreme. For example, you might not want to completely change the brick layout or bring in a bright color, but you can still make adjustments that give it a refreshed look. A good one is a warm dark gray color over the bricks that matches the rest of your room.
Touch up this design style with a white mantel and a fireplace door. It won't be hard to update your room's aesthetic if you ever change your mind and a neutral look appears quite modern as well.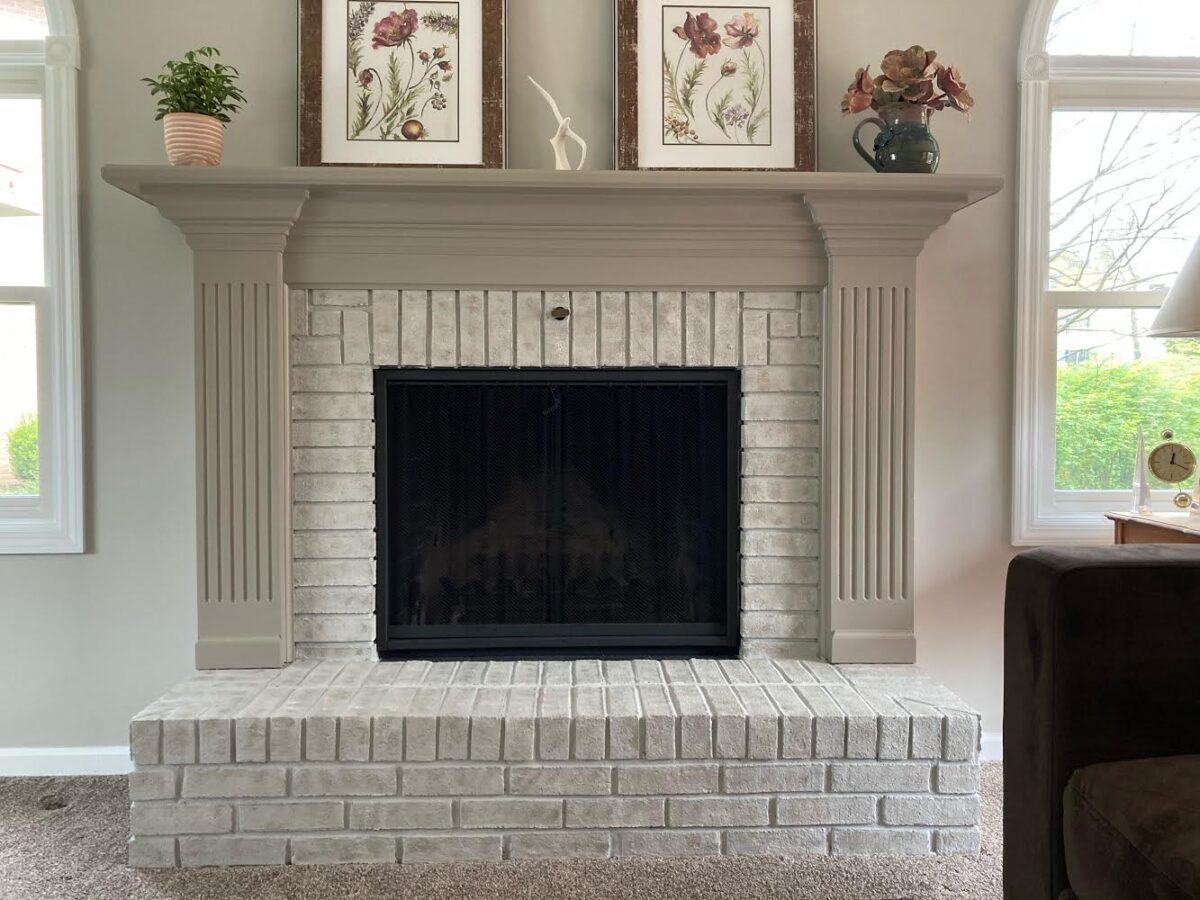 Make it modern
We've already discussed some ways for modernizing a brick fireplace, but there are other ways to make it a bit more updated. Of course, you can paint it white, but the color grey is also a great way to make it look sleek and fit in with the rest of the furniture and decor in your room. 
You may also want to mix things up in another way but introduce different finishes, such as gloss on the bricks. You can also introduce some contemporary decor on the mantel for a more elegant look that makes the area stand out.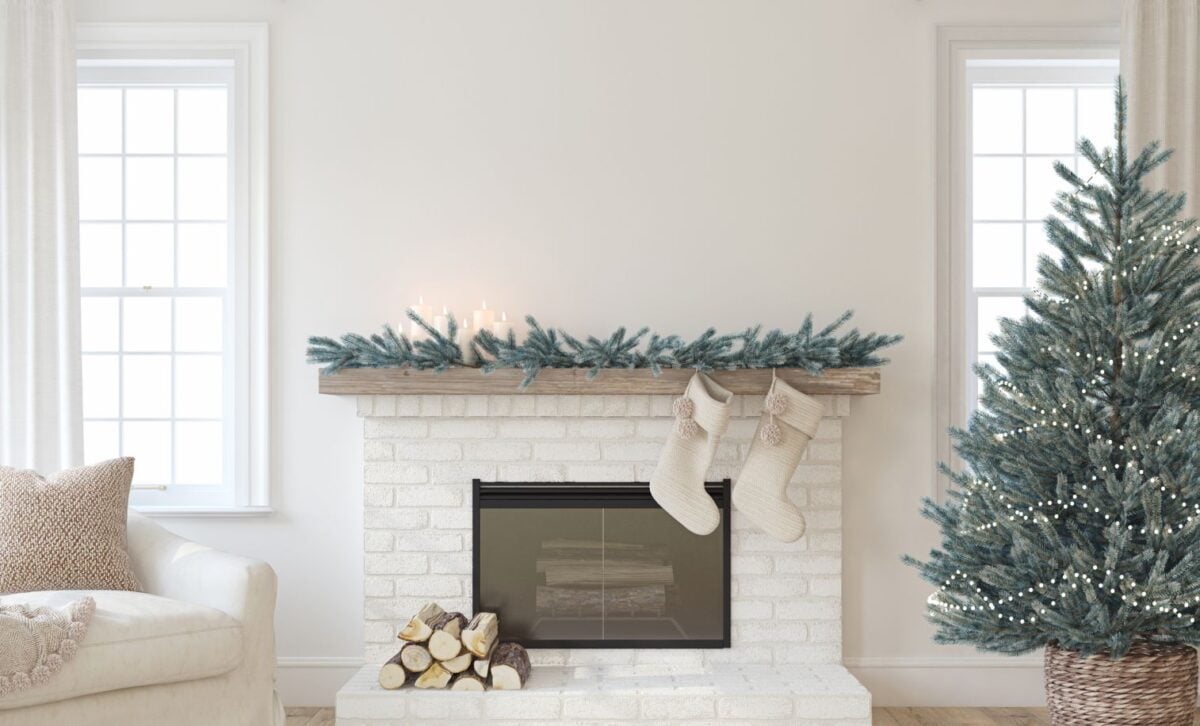 Mix with wood
If you opt for a brick fireplace in your home, you don't have to stick to just one material. While you may want to stick to pure brick for the surround and mantel, then that is fine. But after some time, you may want to give it a unique twist, which means adding another material into the mix and updating the look.
Wood is a fantastic material to incorporate into your brick fireplace, and the two materials perfectly complement each other. The best idea is to keep your surround as brick but then remove the original mantel and replace it with natural wood for extra warmth and texture.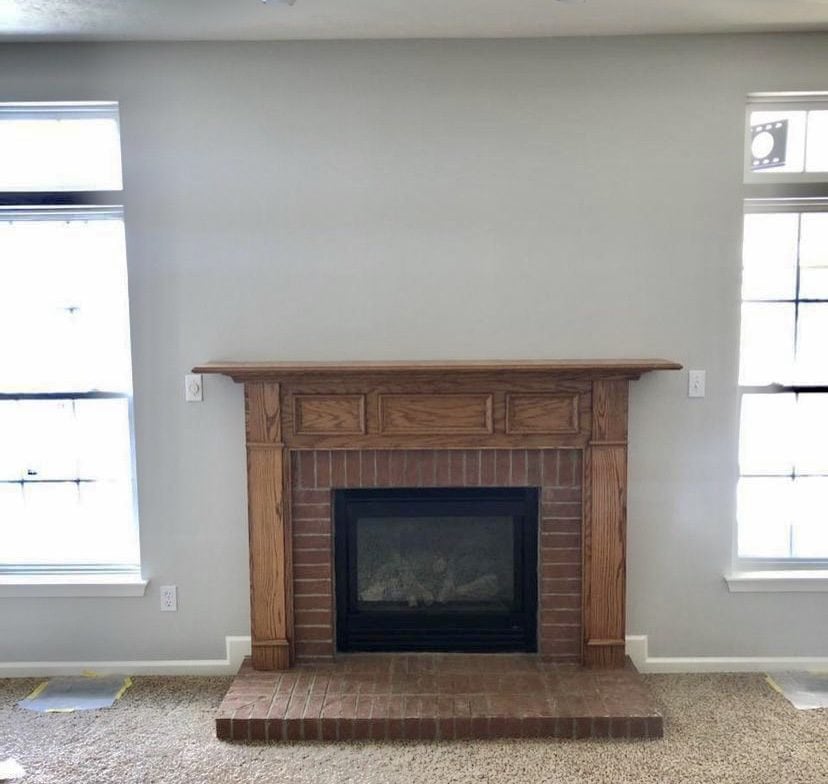 Make it graphic
If you've had a brick fireplace in your room for a long time, it may start looking out of date. This is especially the case if you've decided to change the rest of the room's design to something a bit more modern. It will stand out when you don't necessarily want it to, so it might need a bit of a graphic refresh. 
Some people may choose black paint for their brick fireplace, as it makes the area more of a bold statement piece than an out-of-place eyesore. However, depending on the color of your room, you may want to go for a different shade, such as navy blue.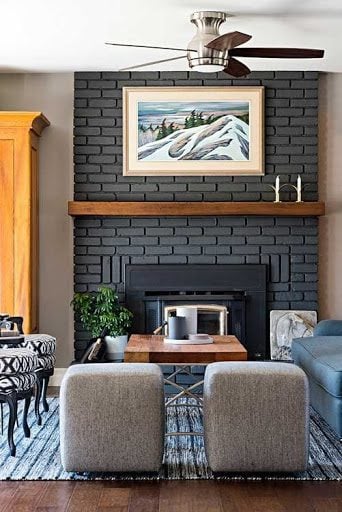 Paint it solid white
You can't ever go wrong with white, especially because it will go with almost any aesthetic. You can always change your room when you want, including painting the walls and buying new furniture without worrying about changing the fireplace. It will also brighten the room, especially if you usually get little natural sunlight.
You need to take a few simple steps when painting fireplace brick. Be sure to have the right equipment, such as buckets, paint, rollers, and brushes. You may also want to start with a primer before adding two coats of white and sealing it in with a top coat.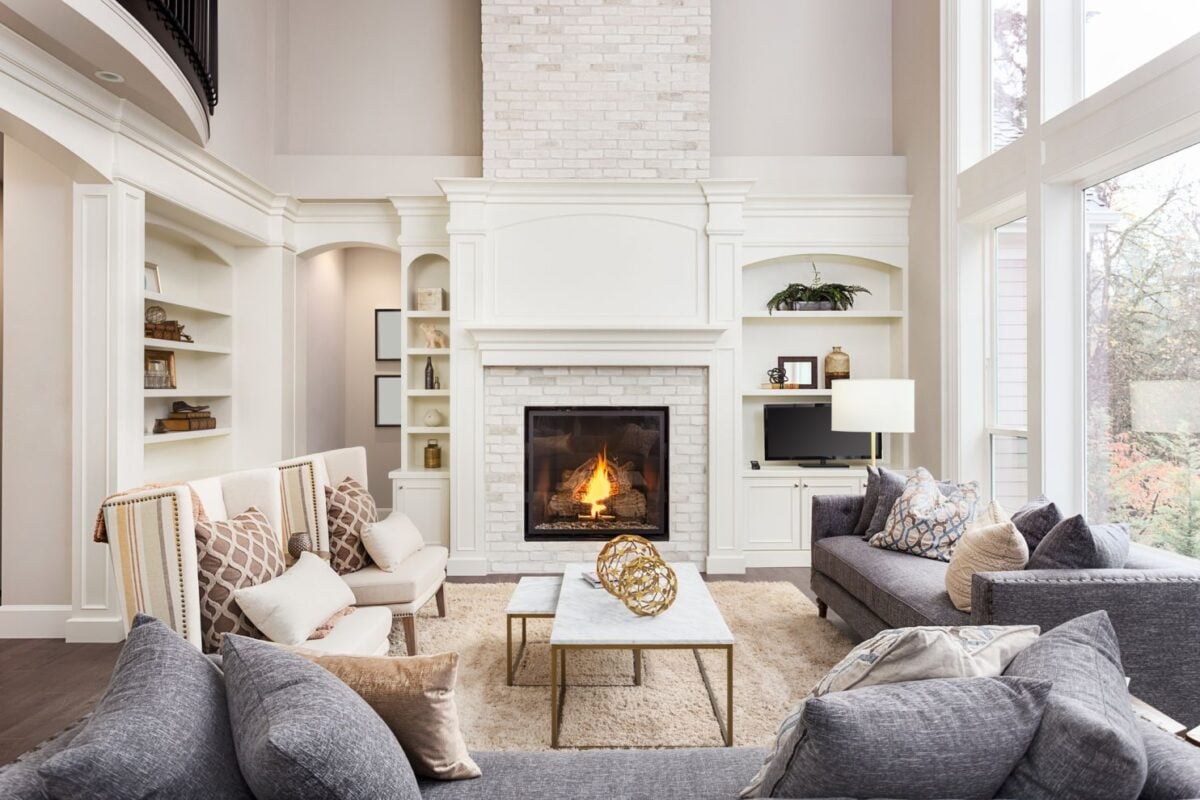 Display plants
If you've got a green thumb, then this brick fireplace design style is perfect for you. You may already have a ton of plants around your house, and you are looking for a new place to add some new ones. The mantel and next to the surround are great areas to add a bit of greenery to brighten up the room. 
You can stick with a theme of leafy greens or introduce some blooming flowers for a pop of color in the room. It is also trendy at the moment to introduce hanging plants and vines from the mantel for an extra unique look.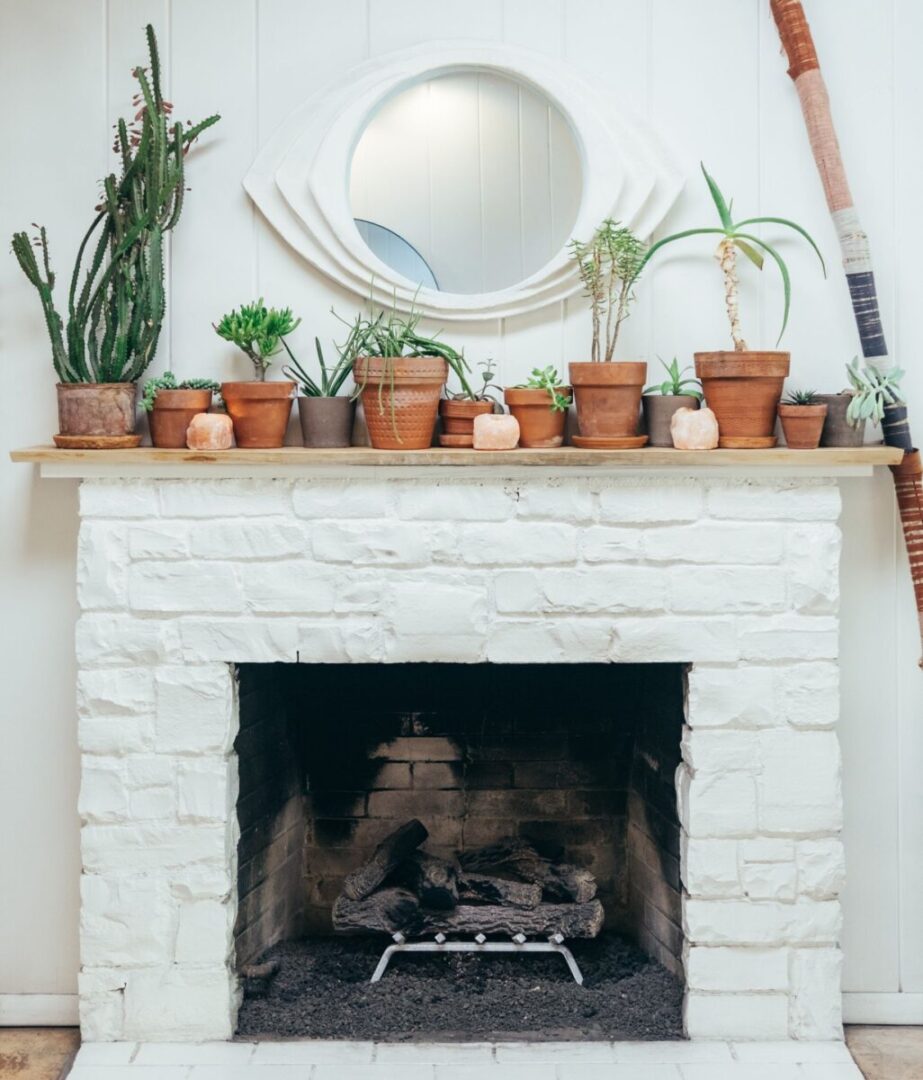 Follow the ceiling line
Most of the time, a brick fireplace will end where the mantel starts. However, it doesn't always have to, and you can actually keep the brickwork going all the way up the wall until it reaches the ceiling. It will basically outline where the chimney is and add a bit more attention to where the fireplace is. 
This look works especially well if you have a white wall backdrop because it will help it stand out. You will no longer have an ordinary fireplace, but instead, it will look unique, and it will have your guests in awe.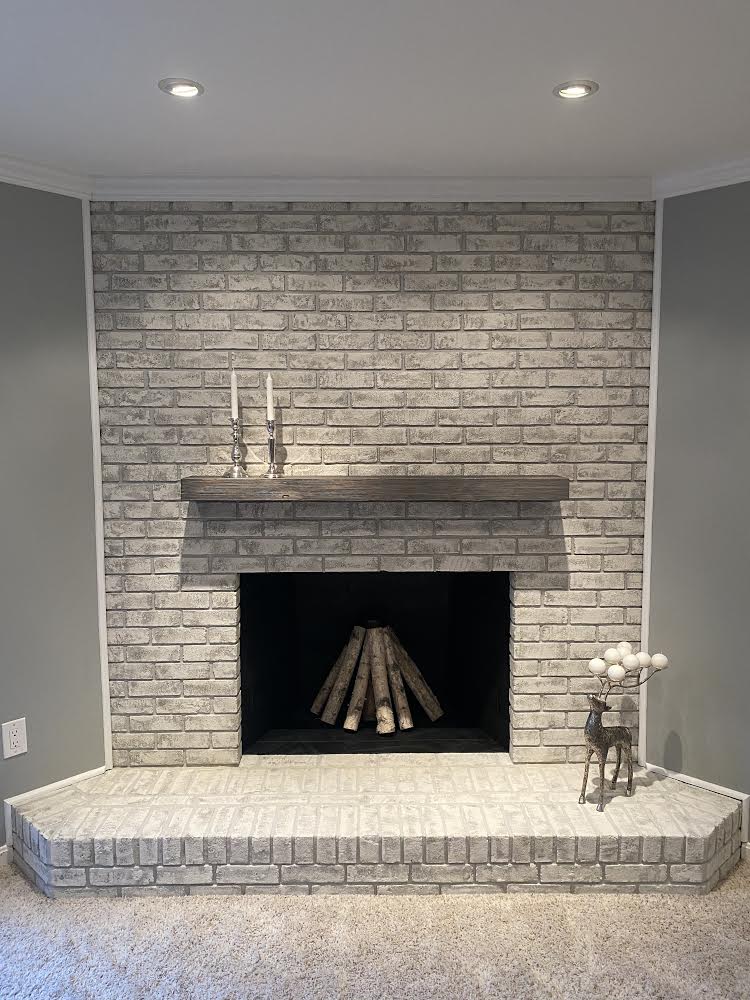 Create an arch
Most of the time, a brick fireplace will be square. However, this is very simple and not unique at all. If you want something a little different, you can opt for a fireplace that has an arched outline. The top will be rounded, giving it an old-school look and making it stand out from any other fireplaces in your neighborhood.
This only really works if you are putting the fireplace in from scratch and not if you already have one in your home. The bricks will create an outline for the arch, and it will look especially beautiful if you have a fire lit inside of it.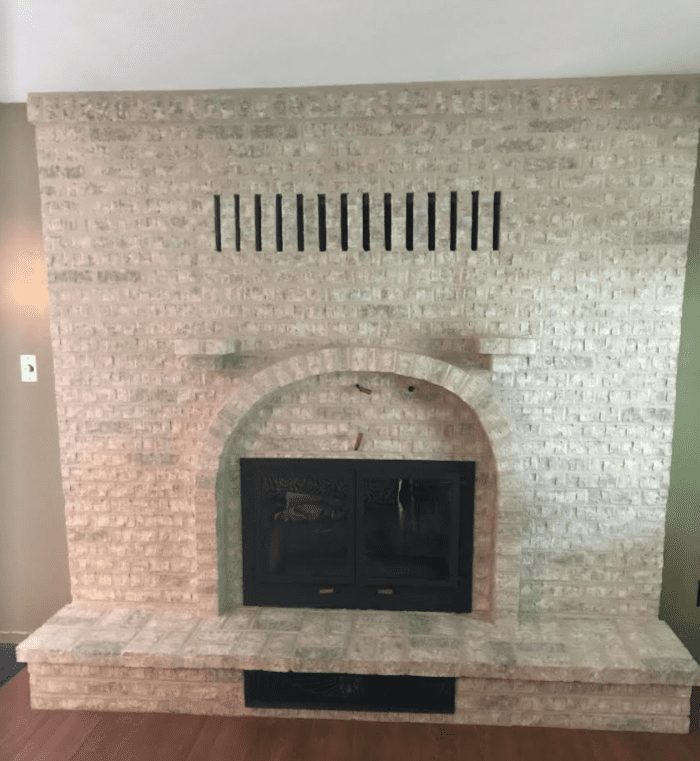 Anchor the fireplace
Who says a brick fireplace needs to be built into the wall? In today's modern age, there are tons of different ways you can build and style your fireplace, and one of them is by anchoring it on the ceiling. This may sound a bit crazy, but it looks absolutely stunning once the look has been completed.
Instead of having the chimney at the end of the room by the wall, you have it in the middle of the room with bricks cascading from the ceiling. Your actual firepit is then placed on a brick square or rectangle directly under it. 
Pair black and white
You can opt to paint your brick fireplace white, or you can choose to paint it black. But why don't you do both? Black and white are two shades that pair perfectly together, and when you introduce both to your fireplace, the room will look much more edgy and modern compared to standard red or brown brick. 
How you incorporate the two colors into a modern painted brick fireplace is up to you and your own personal style. You may want to paint half the bricks each shade, keep the mantel black and the surround white, or introduce different forms of decor to complement the fireplace. 
Minimalist brick fireplace
You don't always have to dress up your brick fireplace. While some people like to add different decor pieces onto the mantel or around the surround, others like to keep it simpler and focus on the function of the fireplace. A minimalist design style is perfect if the rest of your room is pretty basic and you don't want too much clutter.
Creating a minimalist brick fireplace is simple. All you have to do is keep the original design as it is. Don't update the mantel with a different material or decorate it with anything else. Simply use it for its main function – building a fire.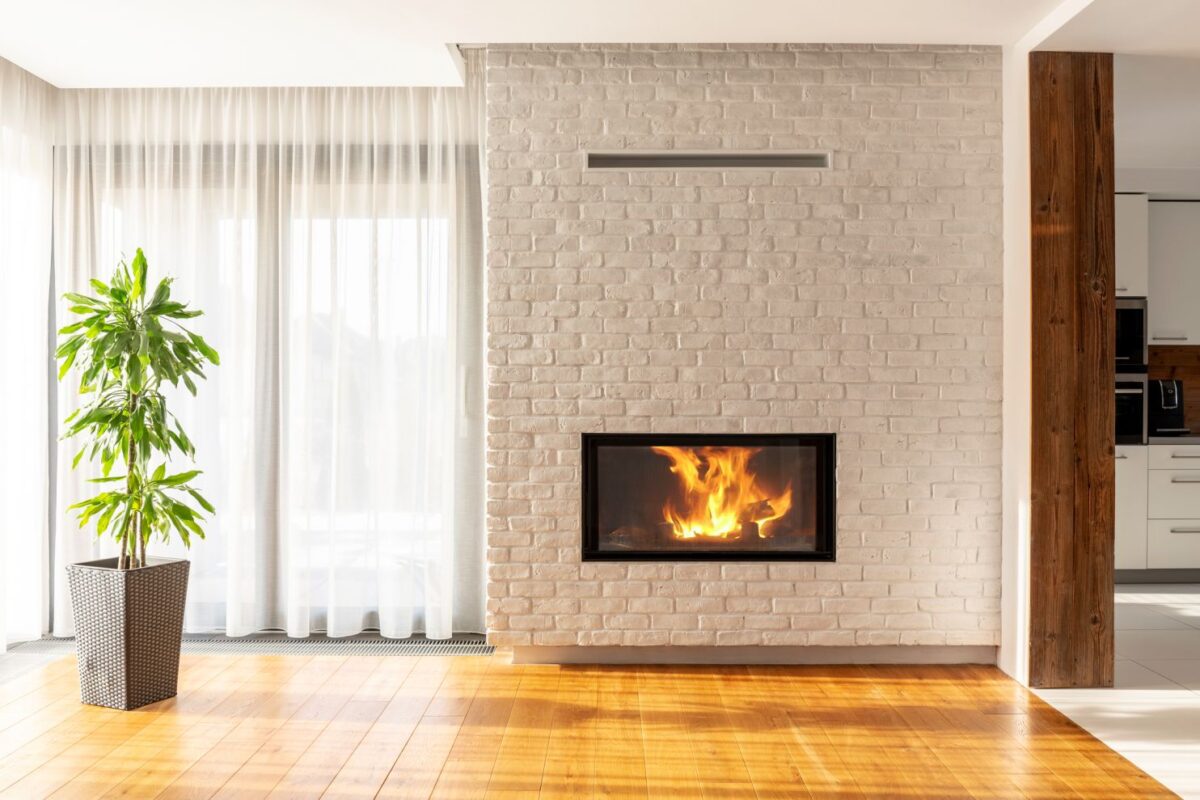 White and navy
We've already discussed a black-and-white combination for your fireplace, but why not try something more daring? White and navy is actually a fantastic color match, and it works especially well if you already have furniture or decor with the same scheme in the rest of your room. 
You may want to whitewash the bricks on your fireplace and introduce a navy door and pieces of navy decor on the mantel. However, there are a lot of combinations you can choose from, so select the one that best works for you. But bare in mind this may only work if the rest of your room's aesthetic matches it. 
Herringbone pattern
Many bricks on a brick fireplace are stacked in the typical fashion – one on top of the other. But this can be a bit boring, can't it? While the Herringbone pattern is often used on flooring, you can also introduce it for your brick fireplace. It will provide a great look for your eyes and add a unique twist to a simple fireplace.
To introduce a Herringbone pattern, you will likely have to ask for it when the brick fireplace is originally being built. If not, you may have to completely remove the bricks and start again if you already have a fireplace.
Include distressed brick
The bricks on a brick fireplace are often smooth and one color, but they don't have to be. Sometimes when the bricks look perfect, it can seem a little fake, so you may want to opt for bricks that are already a little bit distressed. This means they will have more dents within them, and you'll have a mixture of different shades of black, gray, and maybe brown on top of it.
You can do this when you originally build the fireplace, or you can add the distressed look to a fireplace you have already built in your home.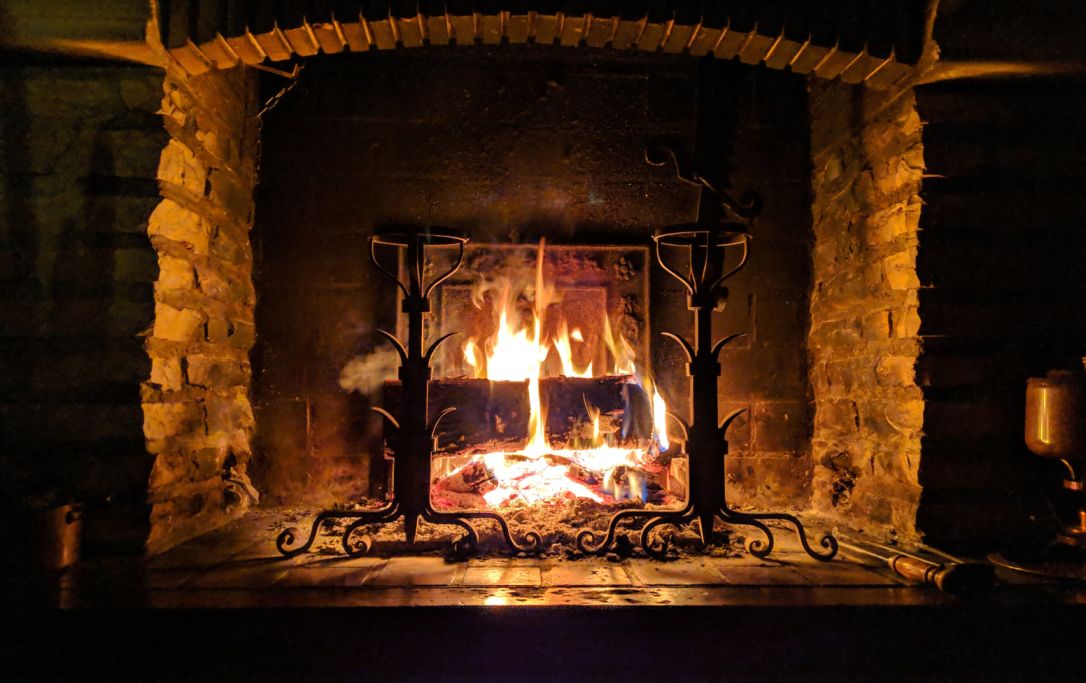 Make it industrial
Many homes come with a traditional brick fireplace, but if you're looking to change things up, you can opt for an industrial style. It is exactly how it sounds. Instead of a warm and rustic feeling with red bricks, you'll incorporate a range of different materials, such as raw wood and metal, into the surround and mantel. 
The mix of different materials provides your brick fireplace with a higher level of wow factor and will definitely catch the eye of anyone who comes into your home. You can choose where you want to introduce each material and where, and it will certainly look great in the end. 
Mixed-media decor
Most brick fireplaces are decorated with paintings above the mantel or pieces of decor around it. However, many people are starting to change it up and design a media wall fireplace. These typically include a television mounted on the wall above the mantel, but it can be different depending on individual style.
You may also want to introduce an electronic picture frame on the mantel, which acts like a slideshow of loving memories that your guests can look at. Or maybe you'll opt for something a bit more simple, like a family portrait mounted on the wall.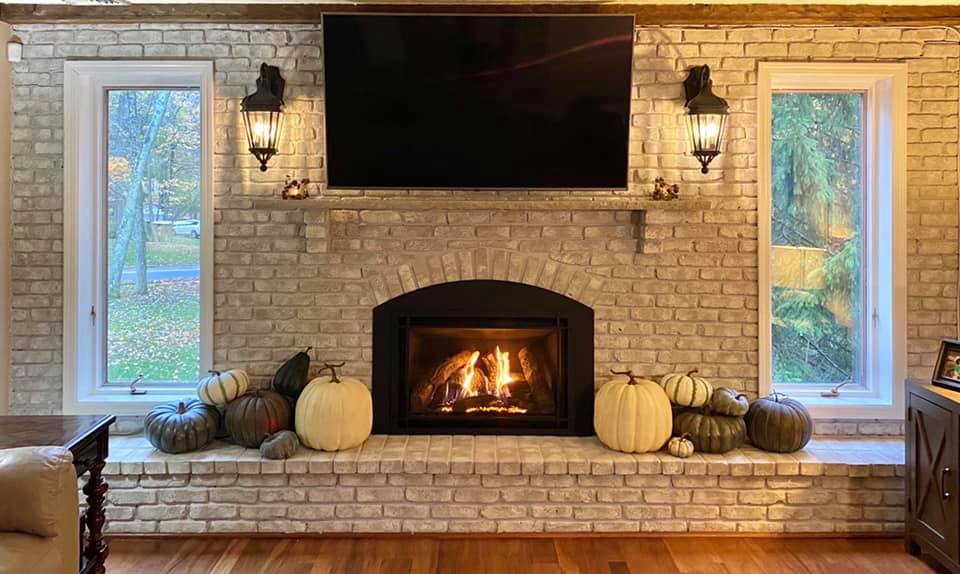 Make it double sided
We've already discussed an anchored fireplace in the middle of the room, but you can also place a double-sided brick fireplace in the center as well. This time, instead of it cascading from the ceiling, it will act as another wall and break up the room. There will be a hole in the middle, which is where the fireplace is. 
You can use this in the middle of a living and dining room. Each time you light a fire, you will be able to see and feel it on either side. It is quite impressive and unique to your standard fireplace. 
Go matte black
Sometimes a simple black is all you need for your fireplace brick. In fact, you may want to give it a bit more of a gothic approach by choosing a matte paint. It makes your brick fireplace stand out a little bit more than before, and it can complement the rest of your room's decor and furniture, depending on your color scheme.
The matte black color on the bricks pairs perfectly with white walls, a wide range of pot plants scattered across the room, and copper accents. And the best part? Black goes with almost everything, so you can update your room anytime you desire.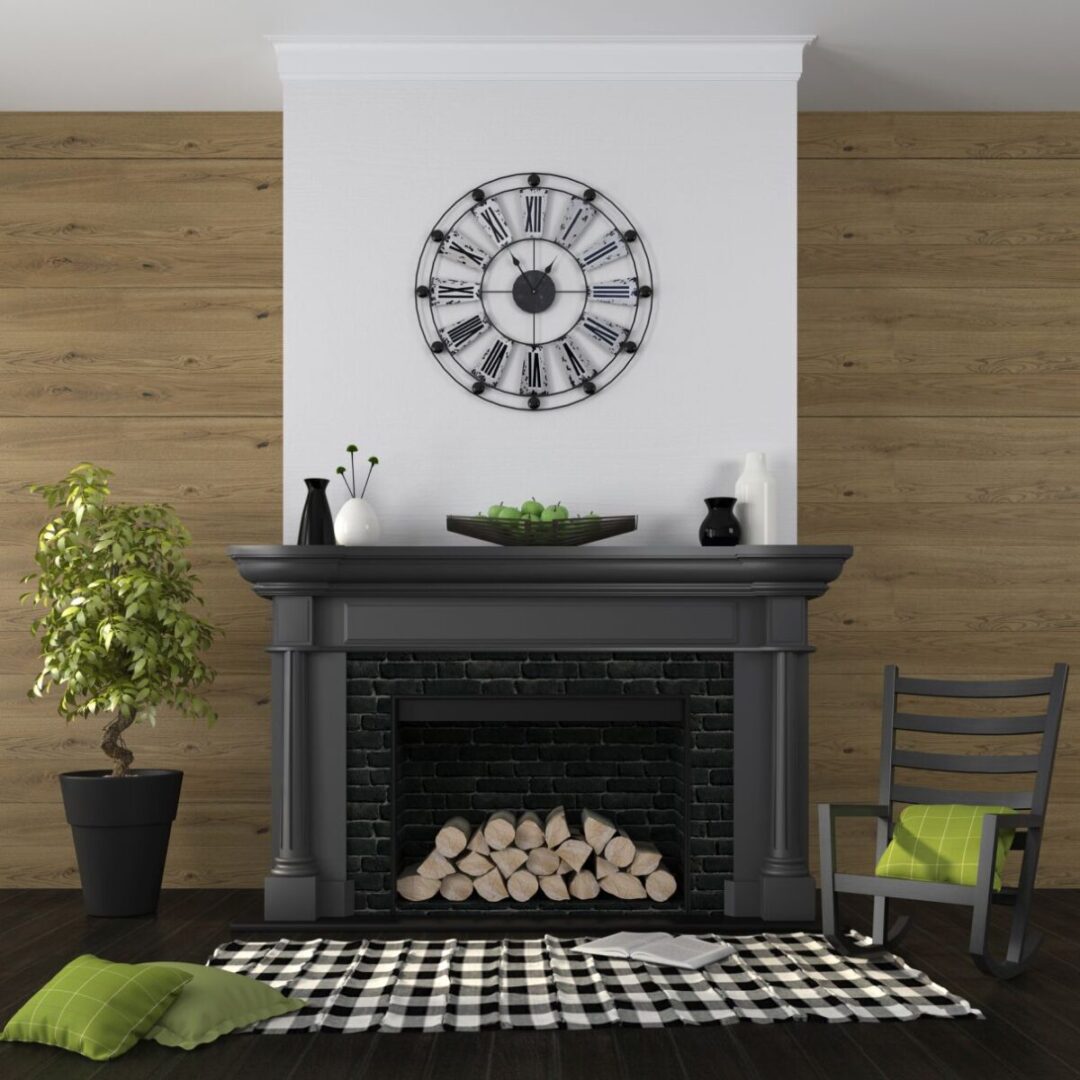 Go with the faux
Do you have a space in your room where you want to add a fireplace but don't need the extra heat or don't have the funds to build the real thing? Why not build a faux fireplace? You can use bricks to make it look like you have a fireplace in your home, but you won't need to go the extra lengths to build a chimney. 
You can use brick to create a fake surround and mantel, and you can even use faux brick to save on costs even further. Many people will think you have a fireplace to get cozy next to, but it will all be an illusion. We won't tell if you don't!
Decorate a non-working fireplace
Maybe you have a fireplace, but you don't have any need for it, or it stopped working a long time ago. These can become a bit of an eyesore, but not if you dress them up with a bit of extra style. For example, if you often have bonfires or BBQs outside, you can store all your firewood in the fireplace and keep it on display.
Other ideas for a non-working fireplace may be placing all your plants in the middle and letting them grow out of it or a miniature statue to make the area pop. There are a ton of opportunities to make the area look beautiful, you just need to find the right one for your home.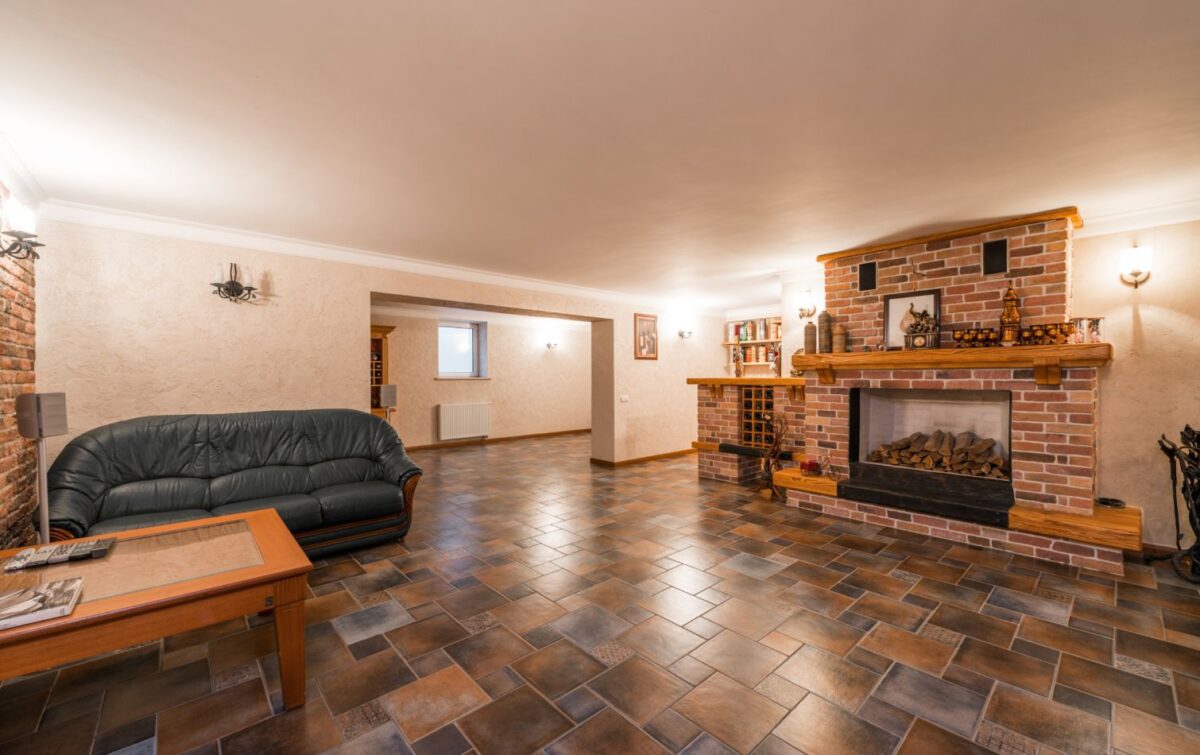 Add some signage
Nothing makes a home more than some inspirational signs. And what better place to hang them up than by your brick fireplace? Instead of placing a piece of art or television above your mantel, pick up a sign with a quote representing who you are and put it up for everyone in the room to see.
You can either mount the sign on your wall above the mantel, or you can simply lean it against the wall by placing it on the mantel. You may want one, two, or ten signs. The option is entirely up to you.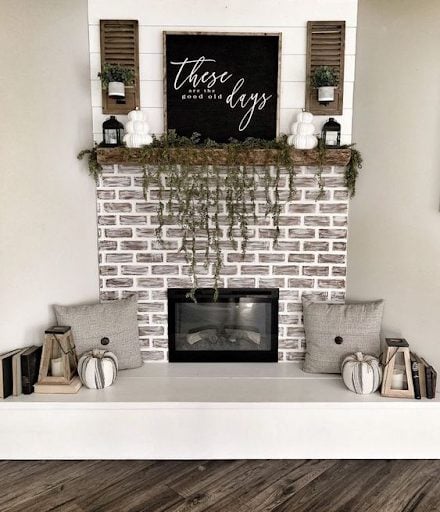 Have curved elements
Far too often, people rely on square or rectangular shapes in their living rooms. Of course, it is typical of the furniture, but it doesn't really stand out, and it looks the same as every other house in your neighborhood. However, you can mix things up if you add some curved elements to your fireplace to balance the room out. 
You can either set up a curved brick fireplace, as we have already mentioned, or you can introduce a curved fireplace screen for extra visual elements. There is also the option of rounded decor, drawing people straight to it as they enter the room.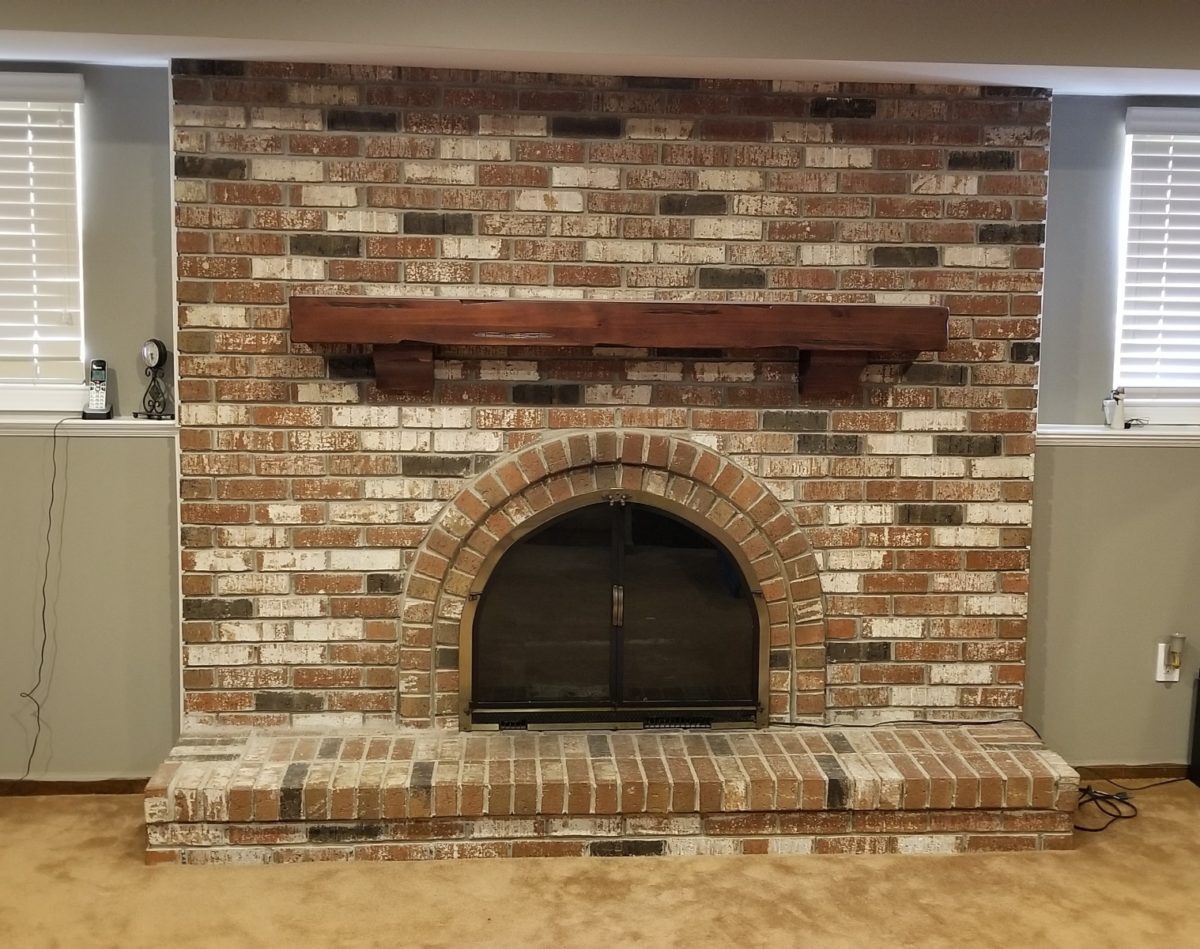 Celebrate original features
Your brick fireplace is always great as the standout feature of a room. And most of the time it comes with a lot of history, especially if it has been there for a while. Therefore why change anything at all? Instead, adapt the rest of the furniture and colors of the room to match your fireplace.
If your brick fireplace is red, choose furniture that compliments this color, such as bronze and neutral tones. You also don't want to draw too much attention to any other part of the room and keep the main focus on the fireplace.